USD market mover: Jackson Hole - five key things to watch
Subscribe to Weekly Highlights
The major market events for the week ahead right in your inbox.
Subscribe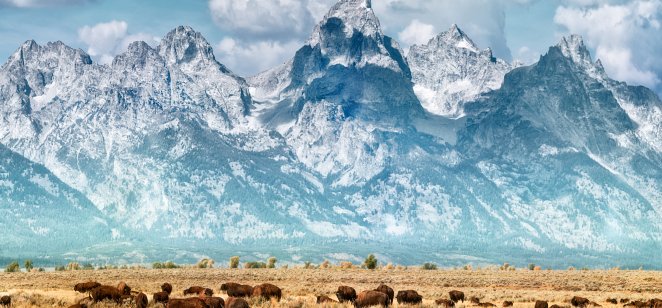 Content
Jackson Hole is the US Federal Reserve's annual August camp fire blow-out in the wild and it's a major USD-mover.
A long list of financial heavy-hitters and academics head for the Wyoming fishing retreat to chew and steer – public steering isn't guaranteed mind – market expectations of future rate hikes and inflation headaches, now at crisis point.
Will Fed chairman Jerome Powell risk a US recession to thump inflation back? How hard will the Fed push, given that US headline consumer price inflation slipped to 8.5% in July from 9.1% in June?
Powell's Friday sum-up in the no-income tax state is crucial.
Here's a five-point briefing as the A-list money men (women are a recent-ish innovation Bloomberg says) make for the mountains.
What is your sentiment on DXY?
Vote to see Traders sentiment!
First…that pesky I-word. US CPI inflation, as mentioned, slipped to 8.5% in July. How much will Powell advertise his willingness to push interest rates higher? The Fed has already semaphored a 4% rate may be on the table by the second half of 2023. Does the market accept this? Not broadly.
Neutral rate. Pay attention to Powell's testimony here. The neutral rate is the economy's 'happy place'. Or the Goldilocks 'rate' perhaps, where the economy doesn't need stimulus i.e. rate cuts, or slowing down, i.e. rates up. It's 2.5% currently but is it changing? How credible is it to sit at 2.5% with inflation at a 40-year high really?
Hawks over doves. Prepare for a tight Powell self-edit on 'soft landings'. In Fed speak, 'soft landings' infer dove-ish rate moves i.e. cuts earlier not later. To be fair, Jerome Powell has kept inflation anxiety front and centre but when the Fed hoisted rates by 75 basis points for the second time, late July, an unusually high burst, stocks still surged and bond yields dipped regardless. For the moment it's 50-50 odds on a 75-point or 50-point hike come the 20-21 September FOMC meeting. In other words, there's a credibility issue on Fed 'messaging'. Powell won't want to muff the ball again.
Super-pumped USD. It's a growing problem and risk for traders because the dollar's strength is now so extreme. Yet an out-of-the-blue surprise is still possible says Jane Foley, head of FX strategy at Rabobank. The buck's strength ahead of Powell's Friday sum-up "suggests that the consensus is expecting him to strengthen the Fed's commitment to beating back inflation at all costs". There is though a minority view, she goes on, "which sees the Fed as more sensitive to the impact of USD strength on the global economy which suggests he could present a less hawkish front as a result".
A last camp fire warning. Thanim Islam, market strategist at payments specialist Equals Money says the unprecedented year-to-date extreme USD positioning means "the bar is set very high for further dollar appreciation following the testimony…[but]…any hint of a pause in the current acute rate tightening cycle would see a steep sell off in the currency".
Trample risk downplayed – for now
Mayra Rodriguez Valladares, managing principal of MRV Associates, says the US labour market remains tight which is generally good for dollar growth. "If GDP numbers come in worse after this quarter and if the labor market starts to worsen, that is when the [Fed rate] conversation could change.
| | |
| --- | --- |
| Long position overnight fee | -0.0042% |
| Short position overnight fee | 0.0003% |
| Overnight fee time | 22:00 (UTC) |
| Spread | 0.00060 |
| | |
| --- | --- |
| Long position overnight fee | 0.0047% |
| Short position overnight fee | -0.0130% |
| Overnight fee time | 22:00 (UTC) |
| Spread | 0.014 |
| | |
| --- | --- |
| Long position overnight fee | -0.0052% |
| Short position overnight fee | 0.0005% |
| Overnight fee time | 22:00 (UTC) |
| Spread | 0.00014 |
| | |
| --- | --- |
| Long position overnight fee | 0.0000% |
| Short position overnight fee | -0.0001% |
| Overnight fee time | 22:00 (UTC) |
| Spread | 0.093 |
"Also, so long as inflationary pressure also exists in other countries, this could influence the Fed to continue raising rates or to at the very least keep them where they are."
PCE adjuster – migrating bulls?
AJ Bell investment director Russ Mould adds that Jackson Hole coincides with the PCE (personal consumption expenditure, read more here) measure of inflation, which the Fed often uses as a guide for action.
"If this confirms the trend seen in the July CPI reading of a reduction in inflationary pressures then it might give investors some reason for renewed optimism."
As far as currencies today, Marc Chandler Of Bannockburn Global Forex says markets are largely consolidating and the dollar is mostly trading inside yesterday's ranges.
"Yesterday's poor US data [the US Services PMI surprisingly contracted in August] played on growth concerns but, judging from the Fed funds futures, did not alter expectations for next month's FOMC decision, where the market leans toward a 75 bp hike."
Related reading