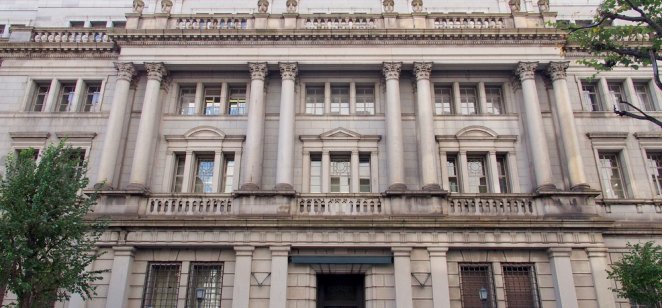 Weak economic data, increasing energy prices and a dovish central bank have sent the Japanese yen (JPY) on a sharp downward spiral ever since the war in Ukraine broke out late in February.
On Monday (28 March), the JPY hit its lowest level since August 2015 versus the US dollar as the USD/JPY exchange rate reached 125.10 before paring gains to 124, by midday in London. Since 24 February, when the war in Ukraine erupted, the JPY has lost 8.7% of its value versus the US dollar and the slump has sent some jitters among the Bank of Japan (BOJ) members.
Till recently, BOJ governor Haruhiko Kuroda has been steadfast in his view that a weaker JPY is a positive for Japan. However, according to experts, Governor Kuroda now appears a bit concerned about the weakness of the currency.
Weak currency a positive
After its monetary policy meeting last week, Governor Kuroda said the weakening yen is still "a positive overall" for Japanese industry but highlighted that "its effects are uneven, depending on industry sector and company size."
"Given that Governor Kuroda had previously not gone beyond saying that a weaker yen is an overall positive, this indicates a slight change toward showing more concern. Nevertheless, when asked about the current cost-push inflation, he said 'the rise in global commodity prices is having a significant impact but yen depreciation is a very small part of that,' and therefore left the impression that he is not concerned about a further weakening of the yen," said Mari Iwashita, chief market economist at Daiwa Securities, in a note.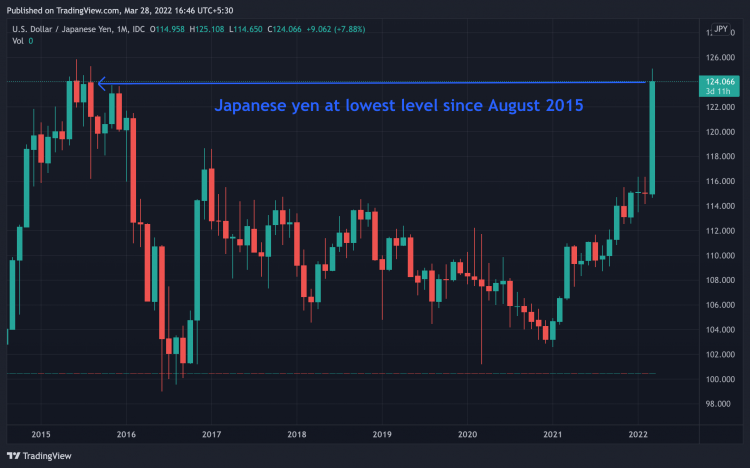 The Japanese yen is at its lowest level since August 2015 – Photo: TradingView
"It is actually the Ministry of Finance that is responsible for exchange rates, and the BOJ is unlikely to make any aggressive moves to prevent the yen's decline. It remains to be seen whether policymakers will respond if the USD/JPY rises above the 120 threshold," she added.
Dovish central bank
Inflation is on the rise in Japan, largely due to energy costs. According to a note by Pantheon Macroeconomics, since underlying inflation is largely stagnant, the BOJ is expected to remain dovish for sometime.
"Kuroda would prefer the Ministry of Finance to do the heavy lifting on the currency, as it has in the past, though the more recent instances have been to contain strength rather than prevent weakness. But while there is no chance of the BoJ changing interest rates to affect the yen, other policy tools could be tweaked. In particular, as we have argued for months, a widening of the yield curve control band—perhaps from 25 basis points to 50 basis points—is likely in the offing this year," the note added.
What is your sentiment on USD/JPY?
Vote to see Traders sentiment!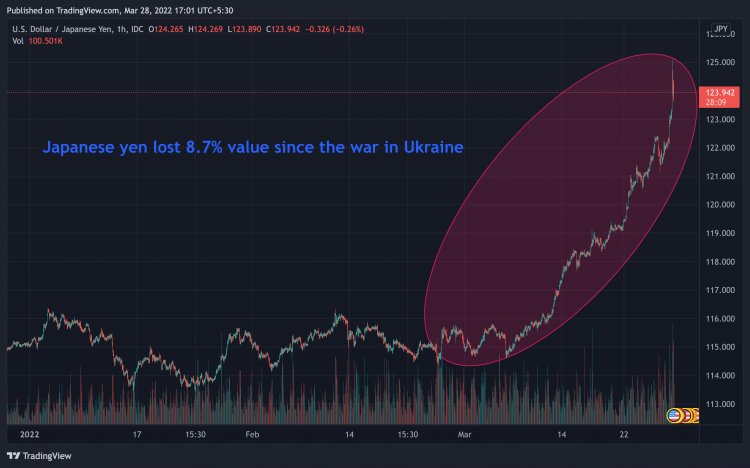 Japanese yen has lost 8.7% of its value since late February – Photo: TradingView
Slide to continue
Meanwhile, with the US dollar gaining strength from the US Federal Reserve's hawkish stance, a further slide in the JPY is expected.
"We think a move by 125 is USD/JPY is a matter of 'when' rather than 'if' given the bond market weakness on the back of rising Fed tightening expectations and rising energy prices, which are a negative for the export-dependent Japanese economy. Upside risks should continue to prevail even beyond 125 and 130 is well within reach in the near term unless the bond environment improves," Francesco Pesole, FX strategist at ING, said in a note.
Read more: