Iran offers to help tame energy inflation by raising crude oil output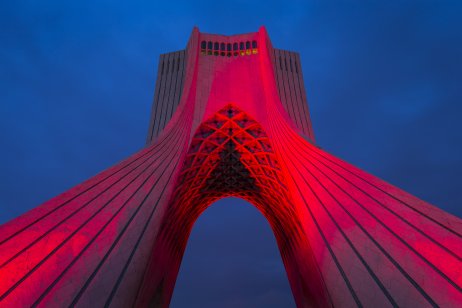 More Iran oil could soon be on global markets after the country said it is prepared to boost crude exports to bolster global supplies.
The statement comes ahead of an anticipated shortage of the fuel in the coming months.
Higher Iranian oil exports can help the world tame energy inflation, the nation's oil minister Jawad Owji has said. Iran is a member of the influential crude oil producers' cartel OPEC.
WTI Crude price chart
But the United States' sanctions on Iranian energy exports, and rising global food prices, are further strangling the Islamic republic's struggling economy.
This is putting more pressure on hard-line President Ebrahim Raisi's administration to boost revenues.
What is your sentiment on Natural Gas?
Vote to see Traders sentiment!
'Balanced and calm world markets'
Recent developments in the world economy show an increase in inflation's impacts on many countries and a remarkable rise in fuel prices, Owji remarked last week, after attending a virtual conference of oil exporting nations – the 30th OPEC and non-OPEC Ministerial Meeting.
"As I have frequently said in recent months, the global oil market is in a condition that (the) return of Iran oil can help to meet a part of customers' needs and make the world markets balanced and calm," Owji said, reported the state-controlled MEHR news agency.
Iran is also a major gas producer and Europe is desperate for stocks of the commodity due to the ongoing war in Ukraine but Owji kept his comments purely to oil.
US Natgas price chart
"Particularly, we will witness an increase in global oil and oil products demand as summer travels are to start in Europe and the United States, therefore; consumer countries are likely to face additional price pressures, especially from the oil products market," the minister added.
Eyes now on Saudi Arabia
"The focus now shifts to whether producers such as Saudi Arabia will dig deep into its limited spare capacity to increase (supplies) further," ANZ's senior commodities strategist Daniel Hynes wrote in a 30 June note to clients.
"The fact that the (producers') group continues to struggle to raise production suggests they won't."
Iran's daily refining capacity hovered at 2.2 million barrels in 2021, indicating a 1,000 barrels per day (bpd) increase over 2020, according to OPEC's Annual Statistical Bulletin.
Iran increase refining capacity
The country's refining capacity has increased by more than 480,000 bpd between 2011 to 2021, per the OPEC report published on 28 June.
The news comes a few week's after equipment issues caused a shutdown at a major US refinery in Texas operated by LyondellBasell (LYB) Industries.
LyondellBasell Industries
In its latest salvo on the Republic's petrochemical exports, the US Treasury Department, on 16 June, sanctioned a network of Iranian petrochemical producers and front companies in China and the UAE.
US targets Iran's petrochem sales
The Treasury said:this group of companies 'that support[s] Triliance Petrochemical and Iran's Petrochemical Commercial Company (PCC), entities instrumental in brokering the sale of Iranian petrochemicals abroad'.
``This network helps effectuate international transactions and evade sanctions, supporting the sale of Iranian petrochemical products to customers in (China) and the rest of East Asia," said the press release.