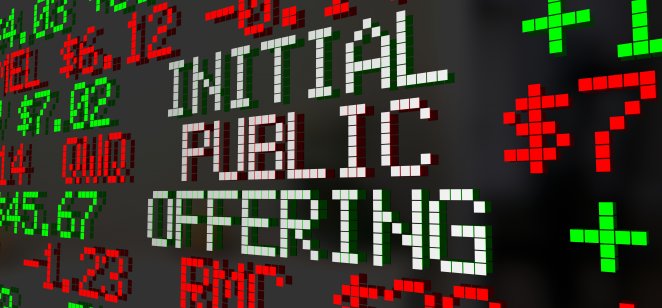 Content
The US initial public offering (IPO) business flopped up in the second quarter of 2022, with just $2.10bn (£1.71bn) in new stock issuance between both traditional IPOs and special purpose acquisition (SPAC) offerings, according to a new report from IPO research and investment products manager Renaissance Capital.
As a result, the Renaissance IPO Index – as well as the Renaissance IPO ETF (IPO) which tracks the index, suffered the worst quarter in its 13-year history.
Renaissance IPO ETF (IPO) YTD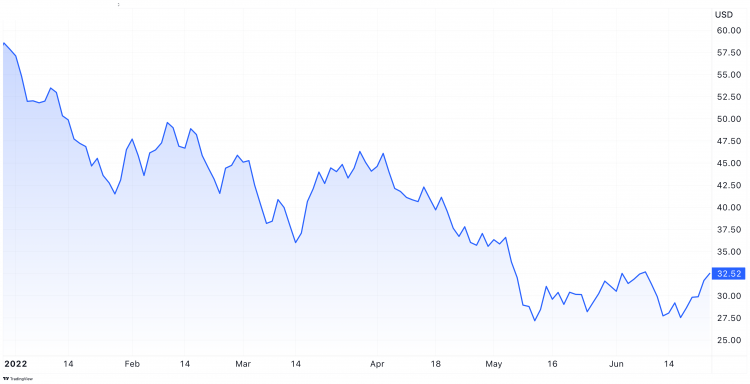 Renaissance IPO ETF (IPO) YTD - Photo: TradingView
"Our IPO Index had the worst quarter in its 13-year history," said Renaissance Capital Senior Marker Strategist Matt Kennedy.
"We're watching that index closely because returns will need to improve before the IPO market picks up again."
The Renaissance IPO ETF declined 27.5% during the second quarter to $32.73 from $44.62 on 1 April and had lost 43.3% year-to-date. Renaissance IPO ETF trades on the NYSE under the ticker IPO.
Renaissance IPO ETF (IPO) price chart
The majority of the IPOs that did price in the second quarter were small-cap stocks, as just six of the 21 total IPOs raised over $100m, including a scheduled $174m offering from Ivanhoe Electric (EI) set to price next week.
"Issuance was sluggish from the start and pulled back further in late May, as recession fears were heightened by record inflation numbers," noted Renaissance Capital CEO Bill Smith in a quarterly review. "Micro-caps accounted for the majority of deal flow, as a result, the median deal size shrank to $22 million, a multi-decade low."
What is your sentiment on IPOus?
Vote to see Traders sentiment!
Key Takeaways:
21 IPOs Raise Just $2 Billion in Slowest Second Quarter Since the Great Recession

Six IPOs Raise More Than $100 Million as New Issuers Wait for Better Conditions

Energy IPOs Are a Lone Bright Spot

Less Than 40% of IPOs Finish A6 IPOs Raise More Than $100 Million as New Issuers Wait for Better Conditions

SPAC Boom Ends as IPOs and Mergers Start to Dry Up

Fewer Than 40% of IPOs Finish Above Issue While the IPO Index Has Its Worst Quarter Ever

New Filings Sink to a Six-Year Low but Pipeline Remains Packed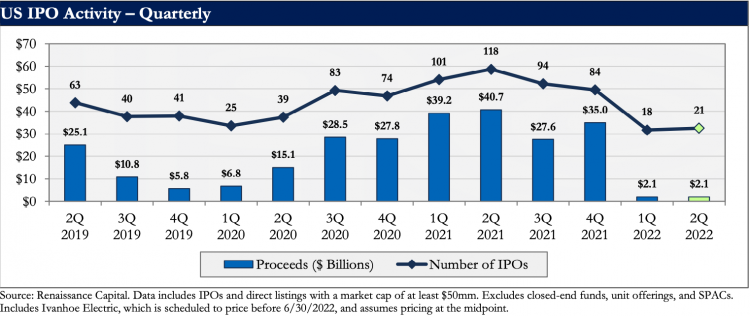 US IPO issuance volume by quarter
Bausche + Lomb largest IPO in 2Q22
"The quarter saw just six IPOs raised $100 million or more (including Ivanhoe Electric pricing next week)." Added Kenedy. "In addition to Bausch + Lomb (BLCO), we had two oil and gas IPOs, Excelerate Energy (EE) and ProFrac (PRFC), and two biotechs, HilleVax (HLVX) and PepGen (PEPG).
Bauch + Lomb (NYSE: BLCO) YTD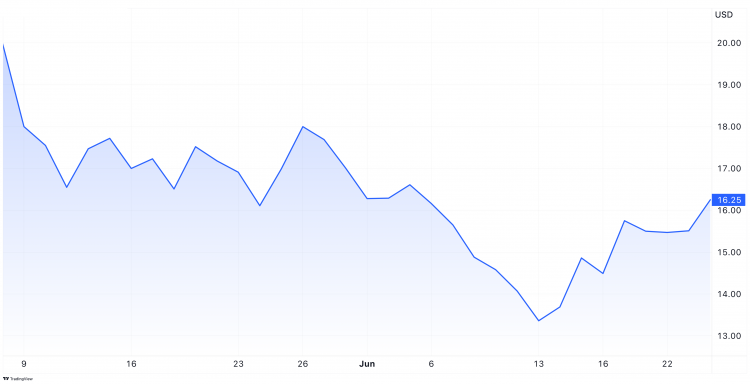 Bauch + Lomb (NYSE: BLCO) YTD - TradingView
Bausch + Lomb was the largest IPO to price in the quarter, raising $630m at $18 per share, valuing the eye-care unit of Bausch Health (BHC) at $6.50bn upon completion of the spin-off. Bausch + Lomb stock has lost 9.89% since its 5 May IPO currently trading at $16.43. Bausch + Lomb trades on the NYSE under the ticker BLCO.
SPACs sputter too
SPAC IPO activity suffered from a double whammy of adverse market conditions and securities regulations expanding liabilities of publicly traded acquisition vehicles seeking to merge with private companies intending to list the stock on the equity markets.
In late March, the US Securities and Exchange Commission proposed enhanced disclosure requirements for an increased number of parties in a SPAC IPO transaction.
"The proposed new rules and amendments would require, among other things, additional disclosures about SPAC sponsors, conflicts of interest, and sources of dilution," the SEC said in a statement. "They also would require additional disclosures regarding business combination transactions between SPACs and private operating companies, including disclosures relating to the fairness of these transactions."
Walmart-backed logistics SYM lose SPAC bright spot
"The SPAC boom ended as new offerings returned to pre-2020 levels, added Kennedy in an email. "Investcorp India Acquisition (IVCAU) was the largest SPAC offering, raising $225 million. We saw a handful of notable de-SPACs, with listings from robotic automation platform Symbotic, modular nuclear reactor developer NuScale Power, and music platform SoundHound.
Symbotic (SYM), backed by Walmart (WMT), completed its SPAC acquisition with SoftBank (9984) vehicle SVF Investment (SVFA) raising $725m for a 4.80bn valuation.
"The SPAC market continued to collapse with just 14 blank-cheque IPOs and 17 merger completions," added Smith. While several large IPOs in the pipeline updated their filings during the quarter, new filings sank to a six-year low."
"New issuers are still waiting for better conditions, and meaningful IPO activity is unlikely to resume until returns improve."
Further reading: