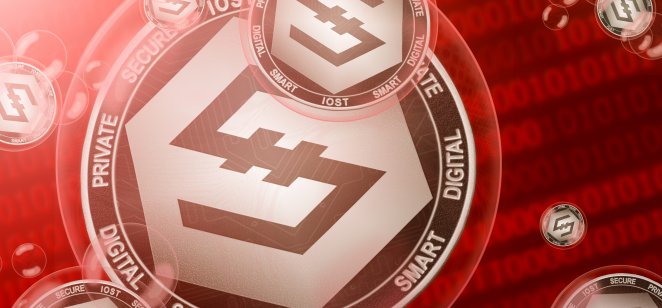 By 17 April, the price for the IOST token (IOST) was up 1,670% from the start of 2021. It has recently retreated, along with the other cryptocurrency markets, and is now up around 900% on a year-to-date basis.
IOST is one of a growing number of blockchain protocols emerging to support decentralised applications (DApps). But what is IOST really all about and how is the protocol developing, and what factors will shape IOST price prediction going forward?
In this article, we take a look at the project's ecosystem, recent IOST crypto news and long-term outlook for the coin's price over the next few years.
IOST targets high speeds for DeFi apps
Launched in January 2018, the Internet of Services Token (IOST) was founded by a team of software engineers and executives from Harvard, Tsinghua University, Uber, Morgan Stanley, LinkedIn and Deloitte, among others. Now numbering over 50professionals, the companyhas offices in Beijing, Tokyo, Seoul, Spain and Singapore.
Its aim is for the IOST blockchain to be the underlying architecture that meets the security and scalability requirements of decentralised online services. It uses what it calls a "proof-of-believability" consensus algorithm to process transactions at high speeds of up to 100,000 per hour.
The blockchain architecture uses a Distributed Randomness Protocol together with Efficient Distributed Sharding to achieve high speeds. Sharding allows groups of transactions to be validated simultaneously to speed up the process.
The IOST network is made up of nodes that contribute to the development of the ecosystem and validate transactions on the blockchain to ensure it is secure and decentralised.
The Servi & Node partner program pays out around 840 million IOST tokens annually. There are two types of nodes in the network. Partner Nodes are designed for non-technical users to earn rewards from contributing to the ecosystem without producing blocks. A Servi Node is a full node that validates transactions and produces blocks on the blockchain, storing the full transaction history.
The Servi Node option is for more advanced users with knowledge of blockchain protocols and coding. It requires access to a powerful server and large disk storage to process the blocks.
In March, the IOST Foundation completed testing on a cross-chain transfer bridge to connect to the Polkadot blockchain ecosystem. Polkadot integrates multiple blockchain networks, allowing them to operate seamlessly on a large scale.
The move is part of the IOST Foundation's plan to drive adoption of its blockchain by promoting its cross-chain interoperability. Most blockchains currently operate as independent ecosystems with their own tokens and DApps, without connections to other chains or data sources. The bridge with Polkadot will facilitate the transfer of transactions and information between IOST and the blockchains Polkadot supports, without having to migrate smart contracts.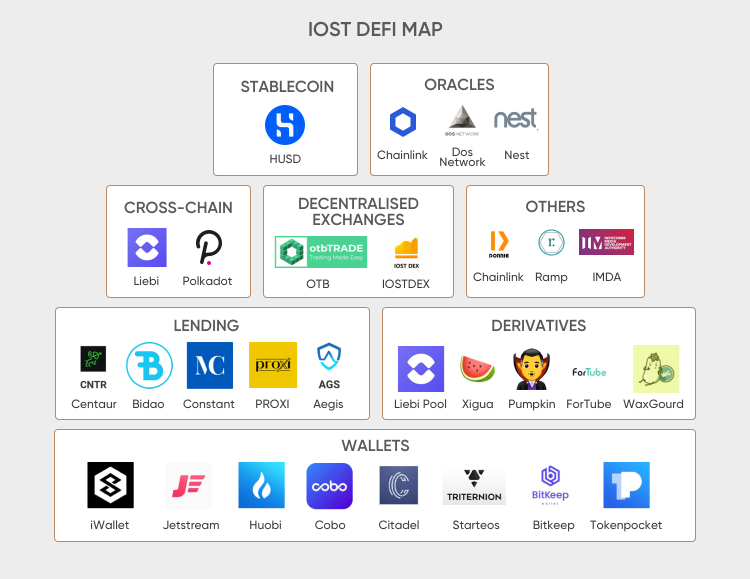 In response to the emergence of decentralised finance (DeFi) in 2020, especially running on the Ethereum blockchain, the IOST Foundation adjusted its roadmap to prioritise DeFi apps with low fees and high throughput on its platform. The cross-chain solution it is building with Polkadot is part of the plan to ramp up its DeFi activity.
In April, IOST launched a non-fungible token (NFT) standard and formed a partnership with Platinum Egg, a Japanese blockchain game developer, to create the TokenLink NFT marketplace. TokenLink is designed to allow IOST gamers to securely trade NFTs and in-game items. Auctions of 20 digital art and manga NFTs were held on TokenLink in April by leading Japanese manga artist Chihiro Tamaki. One of the works can function as a gaming item.
In early May, Asia-based staking pool network Moonstake said it will collaborate with the IOST Foundation to enable IOST coin staking on its platform. IOST also formed a partnership with digital asset service platform LinkFlow to expand LinkFlow's prime brokerage service platform to the IOST ecosystem.
IOST price analysis: recent rally falls short of 2018 peak
At the time of writing, 17 May, IOST ranks as the 104th largest cryptocurrency with a market capitalisation of $882.9m, according to CoinMarketCap. There are 16.45 billion tokens in circulation out of a maximum supply of 90 billion.
What is your sentiment on MATIC/USD?
Vote to see Traders sentiment!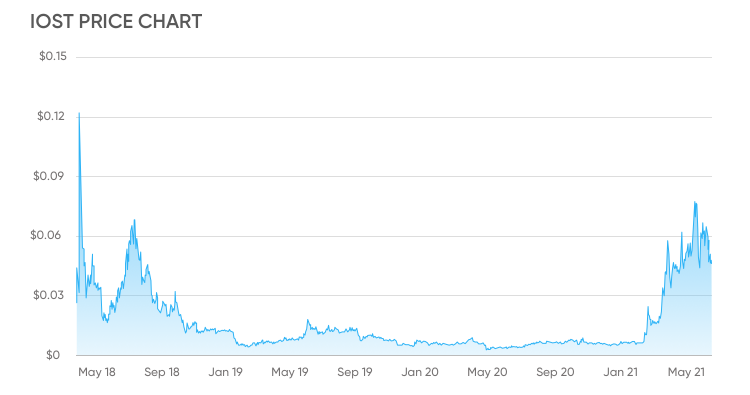 IOST rallied strongly when it launched in January 2018 as prices spiked throughout the cryptocurrency markets. The price jumped from $0.027 on 17 January 2018 to $0.1365 on 24 January 2018. It dropped back to $0.01678 by March 2018 as cryptocurrencies entered a bear market. IOST climbed to $0.0704 in May, but then retreated to $0.004195 by December 2018.
The IOST price briefly climbed above $0.01 in April 2019, but then trended lower until 2020, when the broader market started to recover. IOST entered 2021 trading at $0.005702 and climbed to $0.08917 in April, its highest level since the 2018 rally. But the price subsequently slipped back as cryptocurrencies retreated from the highs, with the coin trading around $0.04 in mid-May. At the time of writing, 17 May, the coin was changing hands at $0.0536.
Now, let's take a look at how the ongoing developments of the ecosystem will affect the IOST future price.
IOST price prediction 2021, 2025 and 2030: will the price rise over the long term?
Short-term technical indicators for the token are bearish, according to IOST price analysis from Coin Codex, with 15 indicators giving bearish signals and 14 offering bullish signals. IOST is trading above the 200-day simple moving average (SMA) and exponential moving average (EMA), but below the 3-day to 100-day moving averages. The average directional index and relative strength index (RSI) are neutral.
There is support for the price at $0.046089 and $0.044095, and strong support at $0.040728, while there is resistance at $0.051450, $0.054816, and $0.056811, according to Coin Codex.
Over the long term, Wallet Investor projects the price will rise from $0.0586 at the start of June to $0.0726 by end of 2021 in its IOST prediction. The cryptocurrency will then approach its previous high in 2022, ending the year at $0.122, and reach $0.271 by December 2025.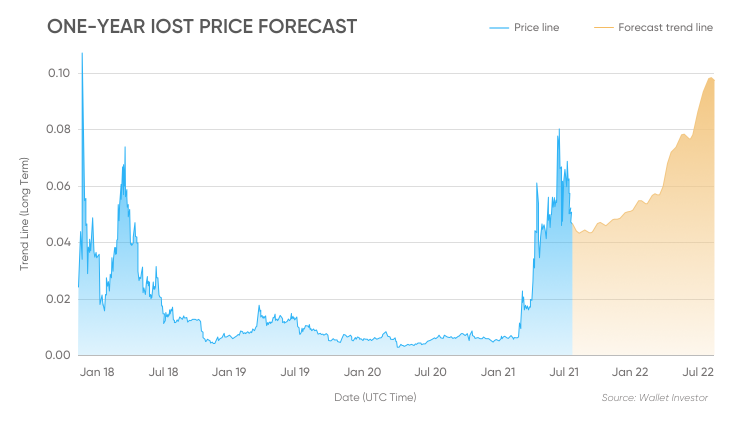 The IOST crypto price prediction from DigitalCoin forecasts the price to average at $0.07269 price target in 2021 and $0.08607 in 2022, reaching an average of $0.12161 near the all-time high in 2024. Longer term, its IOST coin price prediction expects the future price to average $0.14265 in 2025. Although the site didn't give its expectations for 2030, it forecast the price to average at $0.22332 in 2028.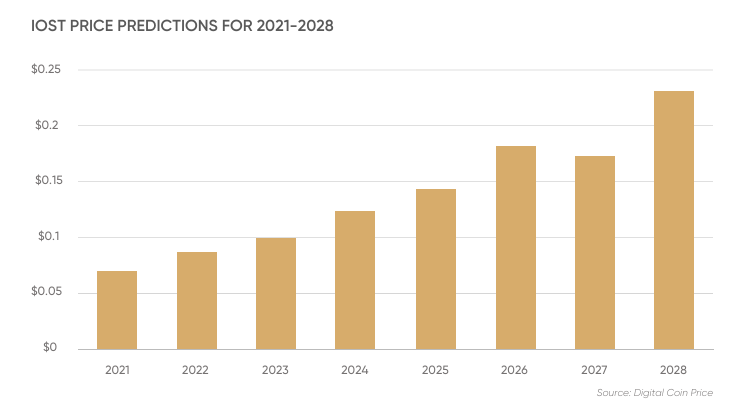 FAQs
The direction of the IOST price will depend on the adoption of the blockchain protocol as DeFi services develop and competition from other blockchains increases. It will also depend on sentiment in the broader cryptocurrency markets.
Cryptocurrency prices are highly volatile, resulting in a higher risk of losses than other financial asset classes. You should do your own research to decide whether IOST is a suitable fit for your investment portfolio. You should take into consideration your risk tolerance and other portfolio holdings and only invest what you can afford to lose.
You can buy the IOST token on cryptocurrency exchanges like Binance, OKEx, Huobi and HitBTC. You can then transfer your tokens to a digital IOST wallet for desktop or mobile, or use a hardware wallet for physical storage.