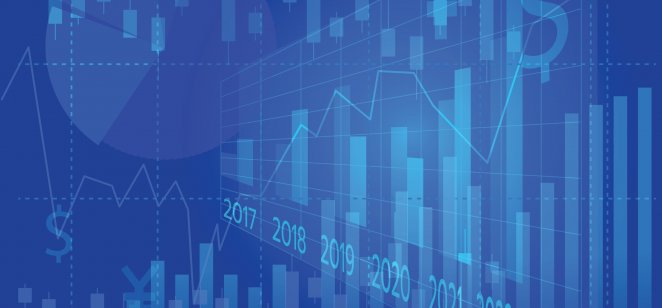 The Covid-19 pandemic fuelled demand for business and finance software solutions. Intuit (INTU) was boosted by the technology rally.
While some of Intuit's software catering to tax solutions continues to attract customers, its cloud-based subscription model could help the company generate stable revenue over the long-term.
Let's look at Intuit share price forecast for 2022 and beyond.
What is Intuit?
With a range of trademarked products that includes QuickBooks, QB, TurboTax, ProConnect and Mint, Intuit is a global technology platform that focuses on offering business and financial software and services.
Founded in 1983 in Palo Alto, California, Intuit has 20 offices in nine countries with 14,200 employees. The software provider boasted $9.6bn in revenue in 2021, and an impressive Intuit stock performance.
Intuit was reincorporated in Delaware on 12 March 1993, the day it went public. Intuit is listed on the NASDAQ-GS under the ticker INTU. Shares were trading around $528.55, at the time of writing (24 January 2022), giving the company a market cap of $149.66bn.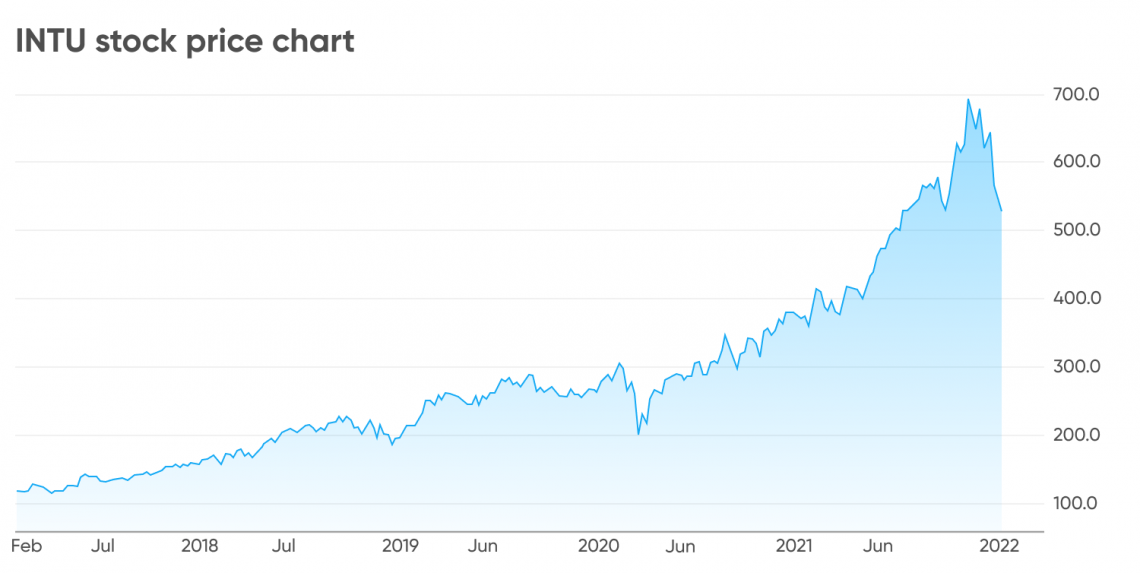 Intuit (INTU) headlines
Intuit stock news has been revolving around TurboTax. Intuit's TurboTax offers income tax preparation products and services. After entering into a multi-year strategic partnership with the Toronto Raptors on 4 October 2021, the NBA team named Intuit TurboTax as its exclusive personal and business tax software.
But recent news is weighing on investor sentiments. The US Federal Trade Commission (FTC) reported that it's staying the course with its fraud investigation into TurboTax, even though the Supreme Court reeled in the agency's powers to hand down penalties in consumer fraud cases. Despite the investigation being ongoing since 2020, several businesses continue to use the software.
In November last year, Intuit teamed up with the Georgia Restaurant Association to support small business growth and grant $100,000 to restaurants in the Atlanta metro area. Before that, INTU announced that it would be helping 1 million US small businesses cut their carbon emissions in half by 2030.
November 2021 was a busy month for the company, after Intuit closed the acquisition of Mailchimp for approximately $5.7bn in cash, 10.1 million shares of Intuit common stock with a fair value of approximately $6.3bn ($625.99 a share), and 573,000 restricted stock units.
This month, Intuit's Mint launched a new feature to help customers negotiate bills and curb monthly spending after partnering with ApexEdge's Billshark. With the new feature, Mint can now suggest areas where users could save on monthly payments. Users can then connect with Billshark to negotiate rates on their behalf.
At the beginning of this year, Intuit unveiled its brand campaign: "You do your thing. We've got your taxes." The 2022 brand campaign showcases how TurboTax Live tax experts can solve even the most complicated tax situations. The company prides itself on serving more than 100 million customers worldwide through its various software solutions.
INTU price analysis
Before heading into an Intuit share price prediction, let's have a look into its performance in the past months and years. According to Simply Wall Street's analysis, Intuit had a 17.7% annual earnings growth over the past five years. Stock prices hit an all-time high closing price of $694.66 on 29 November 2021. It's 52-week high stock price is $716.86, 35.6% above the current share price (as of 24 January). Share prices have risen 99.9% in the last two years.
Intuit's stock prices have also been lifted by its strong earnings report. In the fiscal first-quarter 2022 earnings call, the company reported non-GAAP earnings of $1.53 a share, total revenues grew to $2bn, up from $1.3bn the prior year. There was a significant boost from an increase in small business and self-employed group revenue 22% to $1.4bn. Revenues from the online ecosystem grew by 36% to $845m.
Along with all the continuing solutions and products, the acquisition of Mailchimp could also add to the strong momentum. The company has raised its fiscal year 2022 revenue guidance to 26%-28% growth.
As of 31 October 2021, Intuit's cash and investments were at $3.25bn. Intuit repurchased stocks worth $339m during the first-quarter fiscal 2022 along with a quarterly cash dividend of 68 a share payable on 18 January 2022, as with the board's approval.
Intuit Price forecast: what are experts saying?
To draw a forecast, let's look at some Intuit stock analysis. According to Trading View, Intuit's relative strength index (RSI) is 27.28, which is neutral for the month. However, the moving average convergence divergence (MACD) indicates a 'sell'. Overall, there is a 'strong sell' recommendation on the stock, with 17 analysts recommending 'sell' and nine standing 'neutral'.
As of 24 January 2022, the company holds a Zacks Rank #2 (buy). Zacks predicted sales growth of 51.7% on the previous year and earnings per share (EPS) growth of 49.18% for the same period.
According to Market Beat, based on 24 analysts' ratings, Intuit is a 'buy' stock with a target price of $662.70. In all, 19 analysts have tagged it a 'buy' stock – the list includes Deutsche Bank Aktiengesellschaft, Stifel Nicolaus, Jefferies Financial Group, Mizuho, The Goldman Sachs Group, Bank of America, Guggenheim and Argus. Analysts from Credit Suisse Group, William Blair and Royal Bank of Canada expect the stock to 'outperform' in the long run.
According to Wallet Investor, the Intuit stock price target could close the year at $668.397. Analysis by Wallet Investor predicted the share prices to reach $781.31 by 2023, climb to $899.84 in 2014, $1,018.08 in 2015 and $1,136.69 in 2026.
Wallet Investor does not provide estimates for 2030, but predicted that Intuit could reach $1,142.19 in early 2027.
Gov Capital expects the price to close at $1066.35 on 31 December 2023, edge up to $1479.66 by 2024, rise to $1943.59 in 2025 and hit $2407.97 by the end of 2026. However, the company also predicts prices to decline in the next 14 days, given the current trend. These predictions are from algorithms based on deep learning and may fluctuate.
Please note that these share price predictions are created by algorithms based on past performance and historical data. You should exert caution when reviewing them. These predictions can be affected by many things, such as market trends, partnership deals and strategy implementations. Analysts' forecasts can be wrong.
You should always do your research before investing, considering market trends, technology trends and market scope. Investors should keep in mind that your decision to trade depends on your attitude to risk, your expertise in the market, the spread of your investment portfolio, and how comfortable you feel about losing money. You should never invest more than you can afford to lose.
FAQs
Entering 2022, Intuit is in a strong position and with its new and popular services in the field of finance and taxation, the company could see continued momentum. Analysts at Market Beat, Zacks and Wallet Investor predict an uptrend.
Intuit shares have been sliding in the past few months. Its downward movement is reflected by the Nasdaq index's downtrend. The US Federal Reserve has been indicating sooner and faster rate rises.
Intuit stock prices could be poised to move up in the long run, according to forecasts from Wallet Investor and Gov Capital. However, changes in financial policies can affect the stock's performance in the short-term. However, you should always do your own research before investing. And enver invest money you cannot afford to lose.