Infinite Arcade aims to bring blockchain gaming to the masses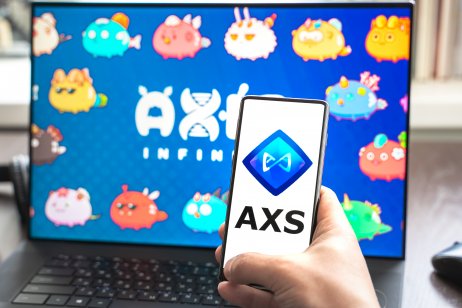 Axie Infinity stole the global crypto headlines in 2021 by generating $1.2bn worth of income from an active community of just 600,000 players. But one reason the number of active participants was so low is the sheer complexity of accessing blockchain gaming.
According to Şekip Can Gökalp, CEO of Coda and a founding contributor to Infinite Arcade, there are up to 10 stages that gamers have to go through before they can start playing a blockchain game, a far cry from UX (user experience) that consumers are now used to from downloading their usual Google or Apple apps.
In a video call with Capital.com from his London base, the CEO likens the current state of the blockchain gaming sector to an earlier era of computing where a degree of technological knowledge was needed to make use of IT equipment.
Blockchain game players need tech skills
"If you want to send an email today you simply open your phone, write your message and click send. Thirty years ago you literally needed to write code to send a message to someone and blockchain gaming is currently at that stage of usability.
"Currently, you need to go through between five and 10 steps and multiple layers in order to get to the stage where you can even play the game. And in this process, it is possible to make hundreds of mistakes that will cost you the money that you have put in, as a result, blockchain games are really only for the advanced user right now."
Infinite Arcade is looking to change that by creating a network of developers and dashboards and software development kits that enable games developers to reduce the barriers to entry that currently exist for games developers to access the play-to-earn sector and simplify tokenomics.
Online games have a long history, the iconic World of Warcraft has been around since 2004 and the typical image of a gamer is of someone who invests considerable amounts of time in their hobby, often playing their favourite game for several years.
What is your sentiment on ETH/USD?
Vote to see Traders sentiment!
Aiming for the casual gamer
But Gökalp is aiming at the far larger casual gaming sector, a gambit that has the potential to increase the audience for blockchain gaming from a few million players to the several billion people globally who own smartphones.
"There's a lot of venture capital firms looking at this sector right now because it's one of those generational enablers and everyone is looking at how to unlock this for the mass market.
"It's great that there are currently, say, 10 million people with active wallets involved in blockchain games but these are tiny numbers compared to what is happening in the non-blockchain world where you have three or four billion people with phones playing games."
Gökalp says that there is the potential for a thousand-fold increase in the number of blockchain game players and how to onboard these new users is the "trillion-dollar question" that firms such as Infinite Arcade are looking to answer.
Easing access
It is looking to do this in several ways. It is offering non-fungible tokens (NFTs), which act as access keys to Infinite Arcade's play and earn offering with the 9 March launch of its Gamers NFT collections, which is essentially a market for these digital assets.
The firm is also launching two tokens on the Ethereum blockchain, $ARC and $TIC. The former is a governance token, the latter an in-game token. The $TIC token will launch on QuickSwap in March.
Infinite Arcade is also offering virtual real estate for the blockchain game community to buy and build arcades on – though Gökalp is keen to stress he does not view this as a metaverse and instead prefers to use the term "network".
The final piece of the puzzle is a dashboard for buyers and guilds, organisations that sponsor players to participate in blockchain games, to manage their passive income and to play Infinite Arcade games.
Playing the long game
Despite the mass-market potential for blockchain games, Gökalp is conscious that this will be a long-term process. In response to Capital.com's question of whether his email analogy meant that Infinite Arcade was aiming to create a Gmail for blockchain gaming, he responded that there were several steps before that level of UX was achievable.
"I would love to say that, and that is definitely part of the long term vision. But I want to be completely transparent and upfront and say that it will take a while to get there. I don't know who it was that said, 'good tech becomes invisible over time' but that is what we are aiming for.
"But you can't force changes in user behaviour, there are steps and it's a collective effort and it happens over time. When the Apple Store was launched I don't think anyone, perhaps with the exception of Steve Jobs himself, expected that it would become a part of day-to-day life. But now it is and there is an app for everything."
The CEO says the first step is creating the supply of games. Currently, the firm has 10 mass-market games but plans to increase this to 200 by the end of 2022. The second stage is building communities around those games and importantly retaining them, the third pillar is token design.
"Tokenomics is, you know, a very important part of building blockchain games, but it's really difficult for a small team to figure it out. And finally, firms need to build games from scratch, so there are few pillars of core barriers to entry to the blockchain gaming sector, which Infinite Arcade is looking to help with."
Follow the author on Twitter: @aroaringboy