Industry looks to ASML earnings for fresh clues on the global chip shortage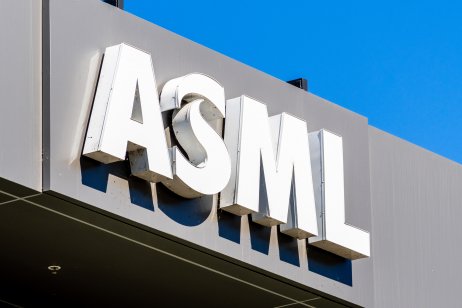 Investors will be keen to see what ASML (ASML) reveals in its second quarter earnings on Wednesday. But so, too, will be millions of industrialists, from automotive to electronics companies whose production rates have suffered under a global chip shortage.
The Netherlands-based company is a major supplier of equipment to the semiconductor manufacturing industry, which has struggled to keep pace with the massive increase in demand seen during and following the Covid pandemic.
ASML expects second-quarter 2022 net sales between €5.1bn and €5.3bn and a gross margin between 49% and 50%. This compares with first quarter net sales of €3.5bn and a gross margin of 49%.
Brokers continue to see ASML offering a degree of upside with 12 out of 17 analysts rating the shares a 'buy'; while the consensus rating is a 'moderate buy'.
Simply Wall St rates ASML as 10.9% undervalued, estimated using a Discounted Cash Flow model. It considers €522.43 fair value; compared to the current valuation of around €465.40 a share.
What is your sentiment on ASML?
Vote to see Traders sentiment!
ASML (ASML) share price chart
Pandemic-linked global chip shortage
Supply issues have been the major story this year (and last year) for semiconductors, with lockdowns stalling manufacture. Not only has it had an impact on anything from auto manufacture to PC and mobile phones, but it has also kept chip prices high.
Chipmakers struggled to satisfy huge order numbers from makers of PCs who witnessed an upturn in demand as millions were encouraged to work from home during the pandemic.
But workers now returning to the office and chipmakers including Micron (MU) and AMD (AMD) have pointed to a slowing demand for products requiring semiconductors. Rocketing inflation and the rising cost of living is affecting consumer spending on PCs and smart tech.
Investors will, therefore, be keen for any news on the oulook, and whether headway on the global chip shortage has been made since the first quarter.
China restrictions?
However, any cooling in supply pressures may be short-lived. Earlier this month shares in ASML took a hit (falling over 7%) after a Bloomberg News report claimed the US government wanted to restrict the company from selling equipment to China.
The majority of chips worldwide are manufactured with DUV lithography (which is what ASML provides).
Any restrictions, if imposed, would significantly hit China's chip manufacturing capacity and once again spark global semiconductor shortages.
China is ASML's third largest market, after Taiwan and South Korea.
According to reports, the US government is pressing the Dutch government to stop ASML selling to China technology essential in the production of chips.
The stock price of ASML fell as low at €409 after the news report but has recovered some ground since, to around €465.
As things stand, there is no imminent decision expected on restrictions to China. In late November 2021, the ASML share price reached as high as €770