Industrial metals: Copper prices fall on China demand fears
Subscribe to Weekly Highlights
The major market events for the week ahead right in your inbox.
Subscribe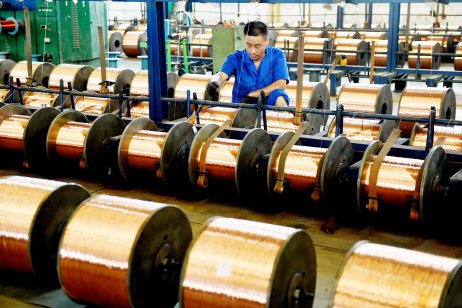 Content
Copper prices dipped about 0.4% on Monday morning and 5.2% this week, to about $3.5 per pound, subdued mostly by increasing demand worries from China, which has seen a slew of recent protests erupt over renewed zero-COVID lockdowns.
Although somewhat expected, with the country having faced stringent COVID-19 measures for several months now, these new protests have still heavily shaken up the commodity markets, especially for industrial metals, with iron ore suffering alongside copper as well.
Copper prices have been hit by ongoing zero-COVID protests in China
Why has copper been hit so hard lately?
Anti-zero-COVID protests erupted mainly in Xinjiang's capital city Urumqi, following a fire in a high-rise building causing the deaths of 10 people, with 9 more injured, due to a delay in emergency services as a result of increased restrictions.
This has sparked mass outrage at China's continued stringent COVID-19 regulations, which were already seeing some pushback in the last few weeks, due to an extensive toll on industries and the economy.
Manufacturers and investors alike are already worrying about how continuing restrictions are likely to affect factory output, which in turn, is taking a heavy toll on commodity prices such as copper, which is down more than 5% this week, and about 17.7% year-on-year already.
There have also been increasing calls for Xi Jinping, as well as the Communist Party to step down in increasingly violent protests across key cities such as Guangzhou and Zhengzhou. This has contributed an added edge of uncertainty to commodity markets, due to the Communist Party having ruled China for so long.
Furthermore, the International Monetary Fund (IMF), in this report, has also reduced China's growth forecasts for 2022, down to 3.2%. This marks the second lowest growth rate since 1977 and highlights the immense impact of continuing stringent zero-COVID norms as well as the struggling real estate sector.
The World Bank has also done the same, slashing China's growth forecasts for 2022 to 2.8%. Not only that, but the Asian Development Bank, in this report has also reduced Asian developing economies' forecasts to 4.3% from 5.2% for this year.
These forecasts have gone a long way to shake investor confidence in China, as well as other Asian developing economies, which has already reflected on commodity prices, especially base metal prices.
However, last week, the People's Bank of China also announced a cut to the reserve requirement ratio for Chinese banks, thus leading to more liquidity in the economy. This could potentially be seen as an attempt to support the economy somewhat.
What is your sentiment on Copper?
Vote to see Traders sentiment!
Copper technical analysis
At the time of writing, copper prices were down more than 5% this week, trading at about $3.5 per pound. Although the industrial metal still saw a monthly gain of about 5.6% this month, this could potentially be the start of a downtrend, as it is still down about 17.7% year-on-year.
Copper's relative strength index (RSI) briefly touched above 70 on November 11, which indicated potentially overbought levels, corresponding with copper prices touching about $3.9 per pound. This was followed by the metal sinking almost 8% since then, to the current $3.5 per pound levels.
Coming to the next resistance level, we may see the $3.9 per pound as the next one, which aside from being seen in mid-November, was last seen at the end of June. The next support level on the other hand, is likely to be $3.4 per pound, last seen on November 4.
Copper prices have fallen more than 5% in the past week
Copper lost over 5% this past week – Credit: TradingView
What is the outlook for copper?
According to Fitch Ratings, in this report, copper projections for 2022 have been slashed from the previous amount of about $9,500 per tonne, to about $8,700 per tonne currently. For 2023, the predictions have been revised down to about $8,000 per tonne from $8,500 per tonne.
However, in the coming few months, much depends on whether most of China relaxes its zero-COVID-19 regulations following these widespread protests and how long it takes for the country's manufacturing and real estate sector to get back on their feet again. In case of China sticking to its guns on current policies, copper prices are likely to keep floundering in the short term.
In the longer run, copper is evidently a key metal for the green transition, with severe deficits forecasted by a number of mining giants, as demand for electric vehicles, solar panels and wind and thermal energy pick up. In this scenario, copper prices are likely to rise significantly in the long-run.
Related reading