India's Bharti Airtel bucks market trend, hits 52-week high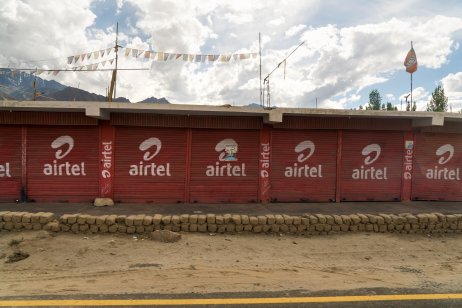 Shares of Bharti Airtel, India's second-largest mobile telecommunication services provider, rose to a 52-week high today following the company's decision to hike tariffs across products and services.
Shares of the telecom operator rose as high as INR755 before stabilising 4.3% higher at INR745 during trade before noon at the National Stock Exchange.
The New Delhi-based company led the stocks that beat the broader weakness in the benchmark indices which fell for a fourth consecutive day on Monday. The National Stock Exchange's 50-share Nifty50 index and the bellwether Bombay Stock Exchange's 30-share Sensex, both extended morning losses and were lower by at least 1.5%.
Maintaining a healthy ARPU
Clarifying the price hike in tariff, the company noted in its exchange filing: "Bharti Airtel has always maintained that the mobile average revenue per user (APRU) needs to be at INR200 and ultimately at INR300, so as to provide a reasonable return on capital that allows for a financially healthy business model. We also believe that this level of ARPU will enable the substantial investments required in networks and spectrum."
This, according to the company, would also provide it with an elbow room to roll out 5G in India. "Therefore, as a first step, we are taking the lead in rebalancing our tariffs during the month of November," the release added.
Bharti Airtel's mobile ARPU for the quarter ended 30 September increased to INR153 from INR143 in the same period last year as data consumption soared by 47.5% year-on-year and monthly data consumption per customer increased to 18.6GB from 14.4GB, the company said earlier in the month announcing its quarterly performance.
The tariff increase announced today in mobile and data services was in the range of 20-25%, the company release noted. The new tariffs will come into effect from 26 November. Bharti Airtel's quarterly revenue surged 18.3% on-year to INR198.9bn helped by a 20.3% increase in mobile business revenues.
Read more: Reliance Industries, Saudi Aramco to reassess planned deal