India's two-wheeler sales volume to shrink by 1-4%: ICRA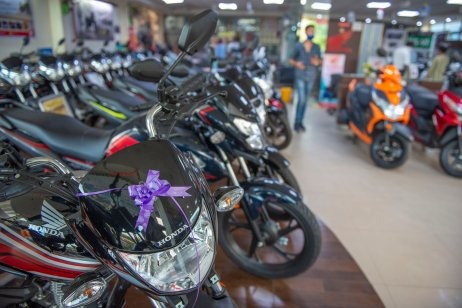 Indian credit rating agency ICRA Ratings expects two-wheeler sales volumes to contract by 1-4% for the financial year ending March 2022 (FY2022), after the sector's weak performance during the latest festive season.
Data compiled by ICRA, released on Monday, shows that sales for the seven months of the current financial year up to October were at 8.05 million units, almost unchanged from the same period last year despite a severely contracted base.
The sustained increase in two-wheeler prices during the year and record-high fuel rates have kept consumers at bay, the report added.
"The entry segment (75-110cc), which dominates 2W (two-wheeler) sales in India, has remained subdued this year, reflecting extensive (and extended) impact of the second wave of the pandemic," said Rohan Kanwar Gupta, vice president and sector head for corporate ratings at ICRA. "The lacklustre festive season performance also highlighted continued wariness among the low-income population regarding big-ticket purchases," he added.
Sales in rural areas affected more
ICRA also pointed out that sales growth in rural areas of the country have lagged compared with their urban peers due to moderated farm economy caused by uneven monsoons and delayed harvesting across regions.
In the urban regions, the delay in reopening of educational institutions, weak income sentiment due to job losses and salary cuts in the aftermath of the pandemic and extended work-from-home policies by corporations, impacted overall sales.
Vehicle-mortgage lenders too have contributed to slow sales as they have exercised caution in extending finance after witnessing higher delinquency levels since March 2020.
No significant growth expected this year
Demand in the premium two-wheeler segment, which accounts for about 15% of the overall domestic volumes, has fared better even as manufacturers faced supply constraints due to semi-conductor chip shortages.
ICRA doesn't anticipate any significant growth in wholesale dispatches for the remaining part of the financial year even as the existing inventory period at dealerships post-festive season stays at a high of 40-45 days. The inventory period shows how long the product is held as inventory before it is sold.
"Given the muted sales, the inventory at dealerships is also relatively high, which could mean only a marginal, if any, traction in wholesale volumes in remaining FY2022," ICRA' Gupta said.
While the recent cut in petrol prices, the upcoming November-March wedding season in India and opening up of labour-intensive industries like travel, tourism, and hospitality are favourable for demand recovery in the forthcoming months, meaningful growth is likely to be seen only in the next fiscal, the study noted.
Read more: India's PM to repeal contentious farm laws that drew protests