If US inflation misses, is the last Fed hike in sight?
By Macrodesiac
09:26, 13 December 2022
Tags
Subscribe to Weekly Highlights
The major market events for the week ahead right in your inbox.
Subscribe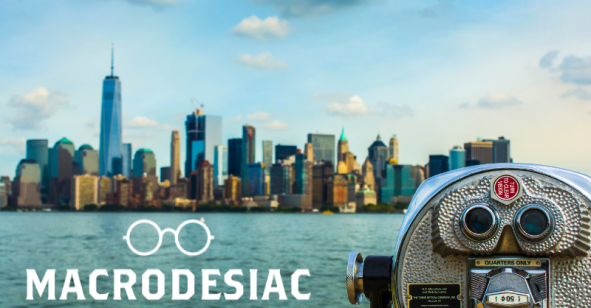 Content
You've probably heard already, but this is a massive week for markets.
The US CPI inflation report drops on Tuesday, followed by the Fed meeting on Wednesday, then the ECB, the Bank of England, Norges Bank & Swiss National Bank on Thursday.
It remains to be seen if central banks can actually pull any rabbits out of the hat. Where's the shock and awe coming from? A strong consensus has fortified around 0.5% hikes from the Fed, ECB, BoE, & SNB, with the Norges Bank expected to hike by 25bps.
Market angst has increasingly shifted away from inflation of late. Attention now is fixated on lower growth and recession worries. Inflation almost seem like yesterday's problem. Check out this Bloomberg chart: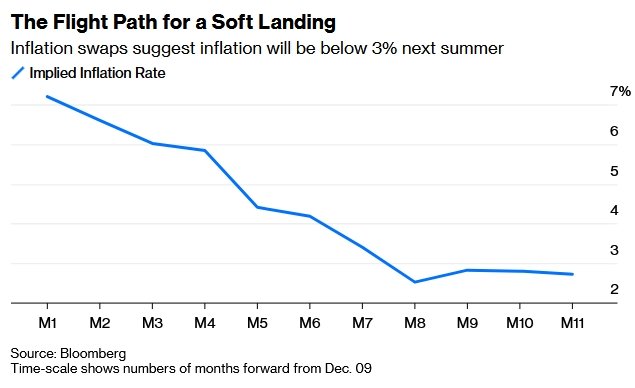 Now, this doesn't necessarily mean that the market believes that inflation will settle below 3% within the next eight months, it's more of an indicator for where inflation risk currently trading.
Per the New York Fed: "Inflation swaps are used by market participants to hedge inflation risk and to speculate on the course of inflation and by market observers more broadly to infer inflation expectations."
Perhaps it's just not worth speculating on higher inflation further out than eight months, at least until the effects of China reopening, and any potential spike in energy prices that could accompany it, have started to play out.
For now, the recessionary voices are dominating the market zeitgeist and it feels like the old story's over. Peak inflation, peak rates, peak hawkishness. Feelings shouldn't be trusted.
What if this is the Fed's last hike?
Everyone's focusing on the terminal rate and dot plot for the Fed meeting. The team at 3Fourteen Research highlights the risk that this could be the last hike, especially if history is a guide: "Historically, after the FFR-2Yr inverts, the Fed is done tightening."
At the time of writing, the two-year treasury yield is 4.37%. If the Federal Reserve hikes by 0.5% (50bps) as expected, that would bring the Fed Funds Rate (FFR) into the 4.25% to 4.5% range. The inversion is within touching distance.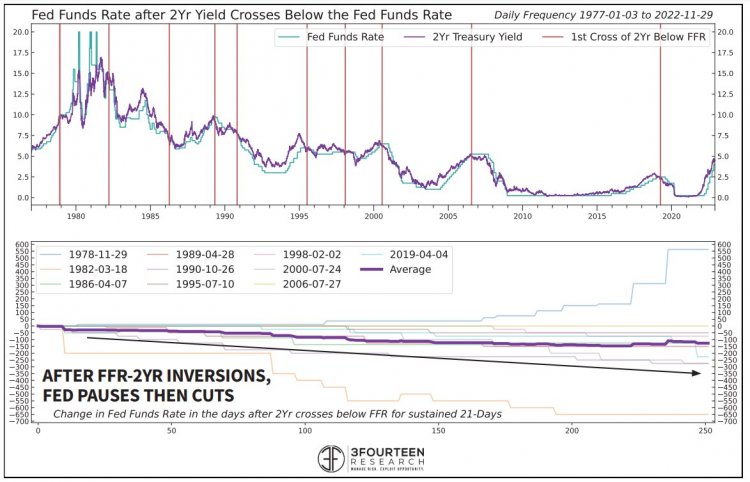 One little caveat is that the inversion needs to last 21 days to trigger their rule, but with the mid-point of the Fed Funds band about to match the two-year yield, it's a key spread to watch.
Then what happens?
Many Fed officials have commented that they see a continuation of rate hikes next year to 5% or even higher if necessary.
In "If there's no recession, what happens to inflation?", St Louis Fed President Jim Bullard talked up the need for the Fed to get rates into the zone.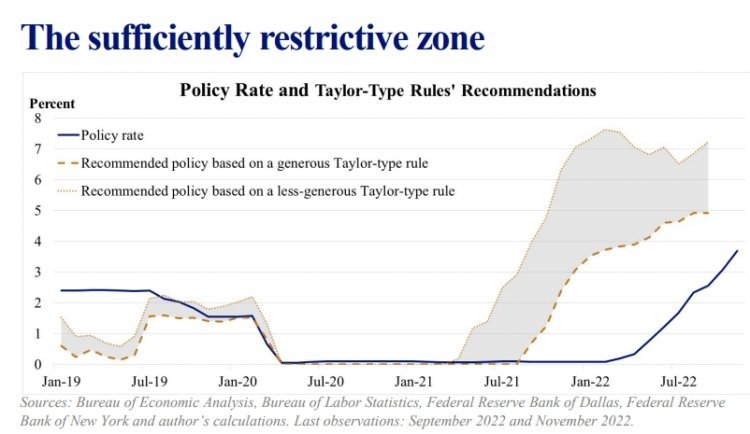 The minimum bar for policy to be considered restrictive is 5%, according to the Taylor rules-based model he references. Based on current rates pricing, that wouldn't happen until March.
Which is where the Fed's projections come in. The (in)famous dot plot. The best guesses of future interest rates by current Fed members.
The Dot Plot
Goldman Sachs analysts believe that resilient growth is likely to mean a slightly higher peak rate of 5.25% to 5.5%, and for the dot plot to match their expectations.
"The median dot is likely to show a higher projected peak of 5-5.25% in 2023 (vs. 4.5-4.75% previously). Beyond 2023 we expect that some but not all participants will pencil in slightly larger cuts than they did in September from the new higher peak.
"We expect this to net out to a median dot of 4-4.25% in 2024, implying 100bp of cuts (vs. 75bp previously), and 3-3.25% in 2025, implying an additional 100bp of cuts (vs. 100bp previously)."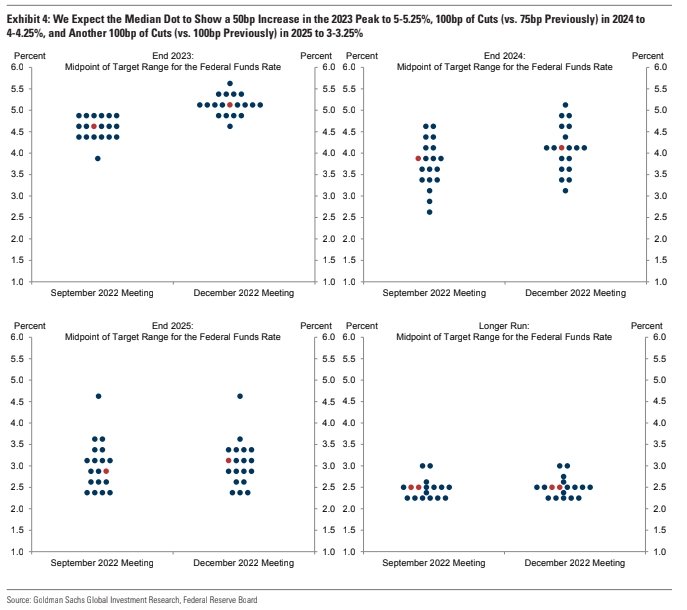 In layman's terms, rates will be predicted to stay higher for longer. The main question is how credible the market believes these projections to be.
The dots are merely a best guess after all, and the Fed got it horrifically wrong a year ago by projecting lower rates well into the future then delivering a surprisingly steep sequence of rate hikes in response to inflation that it expected to be transitory.
As a thought experiment, if the inflation swaps mentioned above are representative of the market's belief about the path for inflation, then it's likely that rate pricing bets will start to diverge further from the Fed's projections, challenging the higher for longer mantra.
Indeed, this is the key point of tension now. When the Fed stops hiking, how long will the pause be?
The answer as always… It depends. Mainly on inflation.
Tuesday's inflation data print becomes crucial, at least in the short-term.
CPI could beat expectations, but still print below the prior figure
Let's add some context.
Core CPI M/M: Previous 0.3%

CPI M/M: Previous 0.4%

Core CPI Y/Y: Previous 6.3%

CPI Y/Y: Previous 7.7%
Then take a look at the projections from the Cleveland Fed nowcast for November: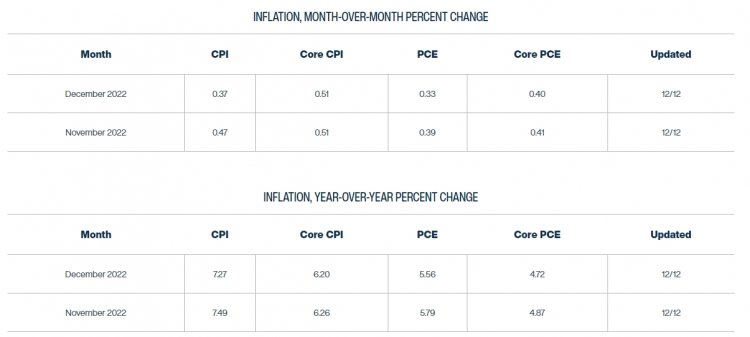 If these projections prove accurate, the month over month figure for core CPI could come in hotter than the previous print, and above expectations of 0.3%, potentially upsetting the apple cart even if headline CPI fails to surprise.
The last release hinted at a much weaker inflation trend. If markets don't see a continuation of the fast-weakening inflationary pressures, it may caution against further chasing the rally in stocks and USD weakness, potentially leading to a deeper pullback against recent market moves.
Likewise, if the Cleveland Fed projections prove inaccurate, markets could be emboldened to push their luck on those trends into the end of the year.
It's unlikely to be one-way inflation traffic in 2023, however.
All about those wages
Just like inflation, wage growth is decelerating. The Indeed Wage Growth Tracker shows wages posted in Indeed job ads are still growing quickly, but have decelerated markedly since spring.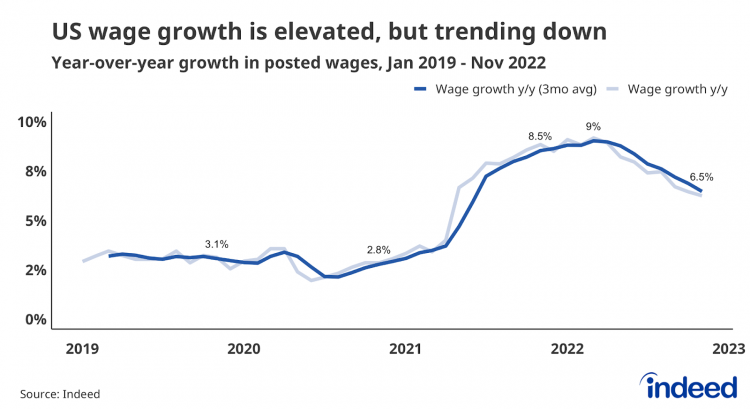 It's hard to see this being one way traffic in a world where workers finally have bargaining power. December has seen reports of two eye-catching pilot wage-hike deals.
Delta has offered pilots a huge pay deal. Per CNBC:
"The agreement includes an 18% increase on the day the contract is signed, then a 5% increase one year later and two 4% raises in each of the following years. It also includes a one-time payment of 4% of 2020 and 2021 pay each, plus 14% of 2022 pay."
Spirit Airlines has offered a similar deal to their crew. Per Reuters:
"Spirit's pilot union said the deal will result in a 43% cumulative weighted average pay raise for first officers and a 25% wage increase for captains over two years. Overall, it would lead to a 34% cumulative weighted average increase in pay rates for Spirit pilots."
These kinds of deals are likely to set the benchmark for pay across the airline industry. The exact kind of dynamics that could perpetuate inflation if replicated across industries.
This week is 'big', but next year is where the true uncertainty lies.
Related reading