IAG share price forecast: flying high or waiting in the wings?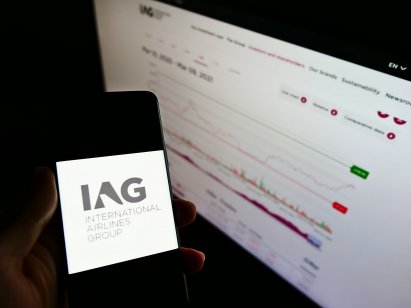 Shares in International Airlines Group (IAG) the owner of British Airways, lifted themselves out of a depression after it announced its positive full-year results and they have kept on rising to reach £1.42 today (23 March) some 30% up.
According to management the results demonstrated a "strong recovery" from the covid pandemic that has torn through the airline industry. Despite the fact that covid is still endemic and on the rise, the war in Ukraine is intensifying (with its associated sanctions and air space bans) and fuel costs are going through the roof the market apparently feels confident about IAG.
IAG, which also includes Spanish flag carrier Iberia and Ireland's Aer Lingus, reported a €2.765bn (£2.3bn, $3.2bn) loss in 2021, a recovery from the €7.451bn loss of the previous year. IAG said it flew at just 36% of its 2019 capacity, although this increased to 58% in the fourth quarter. It predicted this would rise to 85% for the full-year 2022.
CEO Luis Gallego said the company expected to return to a net profit in 2022, and that premium leisure was performing strongly at both British Airways and Iberia while business travel was starting to recover on its usually highly profitable transatlantic routes.
The IAG group operates five airline brands, divided into three airline segments: full carriers, value carriers and low-cost carriers. In addition, it has three affiliated companies catering to its common services of technology, business and more.
The conglomerate was formed in January 2011, when flag air carriers of the UK and Spain joined forces. IAG has grown by purchasing other airline companies such as Vueling and Aer Lingus.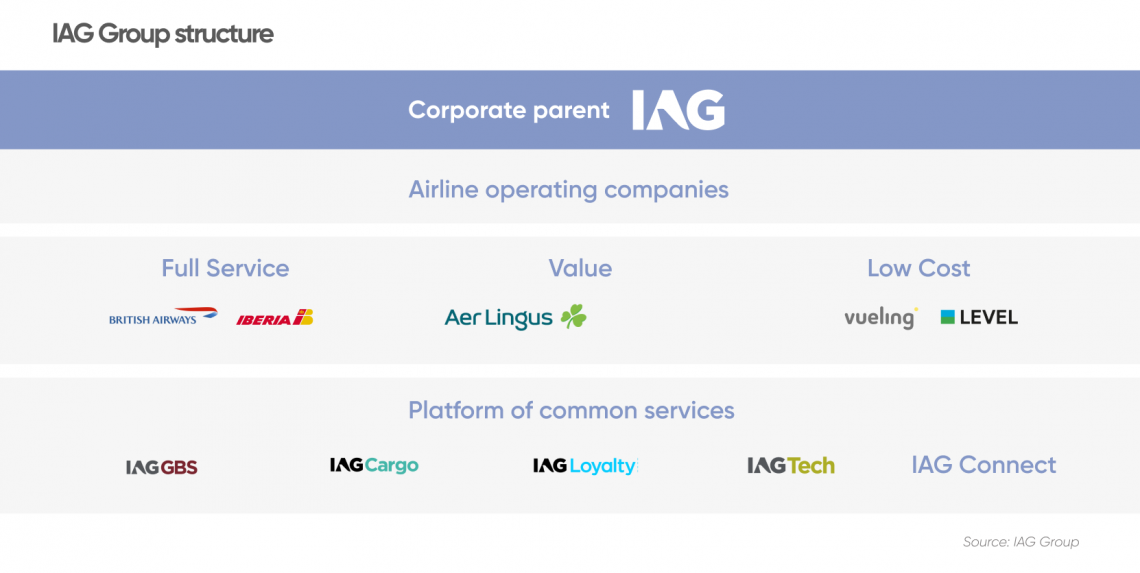 In this article, we look into the company's financials and check out analysts' views on the International Airlines Group stock forecast.
IAG stock fundamental analysis
Javier Ferrán, chairman of the IAG board, said in the company's annual report for 2020 that the aviation industry is going through structural change. To keep up with it, IAG is transforming its business to adjust to the 'new normal'. However, more than a year since Covid-19 struck, Q3 financial results fell short of expectations.
As reported on 5 November 2021, for the nine months ended 30 September 2021, the company disclosed an operating loss of €452m ($597.8m). The year-to-date operating loss was €2.48m. In comparison to the same periods last year there has been an improvement of 76.5% and 58.4% for the quarterly and year-to-date figures, respectively.
Another important metric in the aviation industry is available seat kilometres (ASK). It measures the airline's passenger carrying capacity to generate revenue. It's calculated by multiplying the number of seats available by the number of kilometers flown. This capacity continues to be daunted by travel restrictions put in place by governments in response to Covid-19.
Q3 results at 74 million ASK showed that capacity was down by 18.9% on the previous year's Q3 figure of 91 million ASK.
Total cost per ASK for the quarter and year-to-date stood at €7.97 and €10.23, respectively. Passenger revenue per ASK was reported at €4.99 and €4.23 for the same respective periods.
IAG share price news
Will this year's final quarter be disappointing for IAG? From trading at 188p on 1 October 2021, the share price was down 27% to its close price of 138p on 10 December. The comparison turns grimmer when we look further to the last 6 months. From a closing price of 207p on 1 June 2021, IAG stock has fallen by 69 points, making a fall of 33.32%.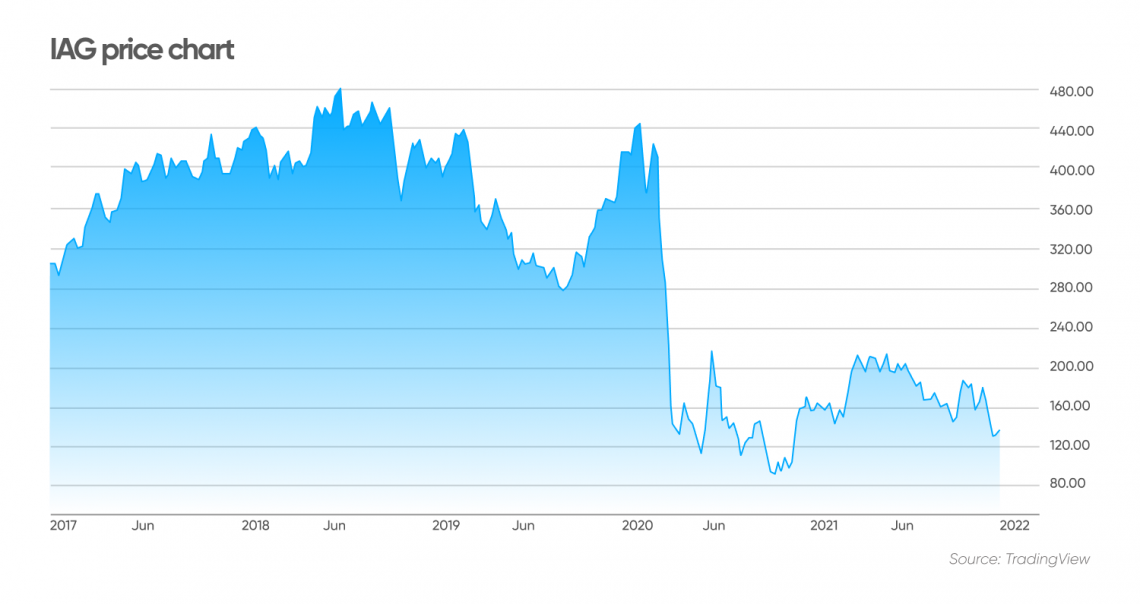 Ever since Omicron made its first appearance in the last full week of November, a bearish trend has held the IAG share outlook. From trending at an intraday high of 155.56p on 25 November, the stock fell 21.53% to the next day's intraday low of 122.06p.
A recent study on Omicron suggests that it has a very high growth rate and spreads rapidly. From 13 December 2021, UK Prime Minister Boris Johnson announced that England will move to 'Plan B' preventive measures, which legislate for the wearing of face masks and NHS Covid passes. The timing of this clashes with the holiday season, and could further dampen the aviation industry's future prospects.
On 6 November 2021, a day after its third quarter results were published, the IAG share price fell from 180.16p to 177.38p. It hasn't risen above that price since.
To its credit, IAG has been attempting to come out strong in a slowly-moving economy mired by uncertainties. IAG is looking to acquire Air Europa to increase its destination offerings. IAG is looking to negotiate the already reduced price of €500m for the European airline.
In more IAG share price news, the company continues to spearhead environmentally friendly business choices within the airlines' industry. To reach zero carbon emissions by 2050, it's recently signed a memorandum of understanding with Velocys, a sustainable fuels technology company. Being the first European airline group to commit to powering 10% of its flights with sustainable aviation fuel by 2030, the MoU would enable IAG to cut annual emissions by two million tonnes by 2030.
Analysts' IAG share price predictions
According to data compiled by MarketBeat, as of 23 March, eight of the 11 analysts surveyed recommended IAG stock a 'buy' and three rated it a 'hold'. Analysts' IAG share price targets range from 150p to 250p, averaging at 198.58p in the next year. This forecast is upwards of 43% from its current (23 March) price of 138p.
In its 2020 Annual Reports, the company mentioned that 2021 could continue to be as complex as 2020. It expects to reach pre-pandemic passenger demand levels by 2023.
Algorithm-based forecasting service Wallet Investor offered an IAG stock prediction of $0.12 (9p) for 12 months' time.
Note that analysts' forecasts can be wrong. Forecasts shouldn't be used as a substitute for your own research. Always conduct your own due diligence before investing. And never invest or trade money you cannot afford to lose.
FAQs
Is IAG a public company?

IAG is listed on the London Stock Exchange (LSE). It's been a FTSE 100 constituent since 2011. The company has multiple secondary listings on the Madrid, Barcelona, Bilbao and Valencia stock exchanges, and has been a constituent of the IBEX 35 index since 2011.
Will IAG stock go up?

Several factors dictate whether stock prices rise or fall, including the company's fundamentals and broader macro-economic factors. There are no guarantees and markets are volatile. You should always conduct your own IAG stock analysis, taking in such things as the environment in which it trades and your risk tolerance. And never invest money that you cannot afford to lose.