Crude oil is the number one top-traded commodity in the world. Why do so many traders choose to trade crude oil? At least, it may be more exciting than trading cocoa or soybeans. But generally speaking, crude oil is a powerful driver of global economies and a volatile commodity.
How to trade oil
There are many ways to trade crude oil, as well as many different types of oil. The so called oil benchmarks, WTI and Brent crude, are used as price references, reflecting the demand for oil around the globe.
Some major facts you should know about WTI and Brent Crude: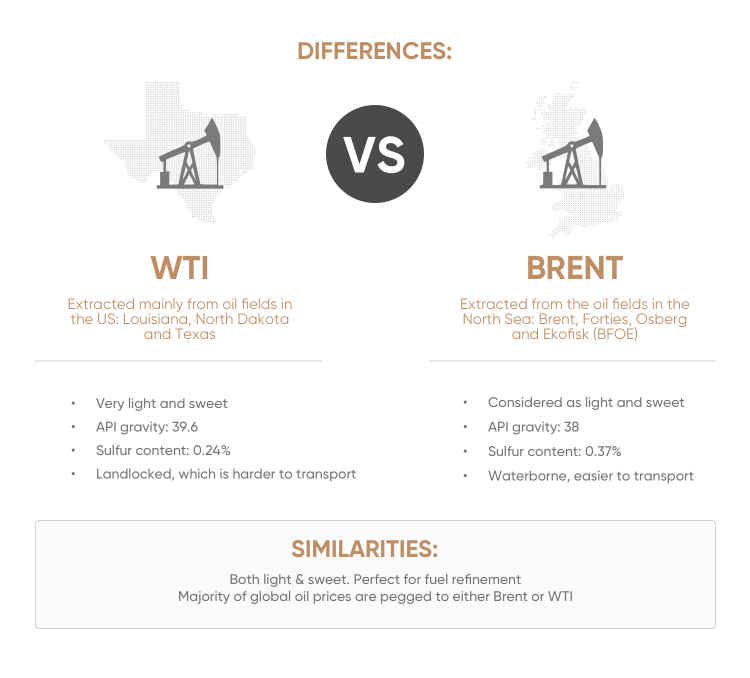 Crude oil trading: CFDs vs futures
One of the most common ways to trade crude oil is through futures contracts.
You can always trade crude oil futures on the special commodities exchanges. Brent futures are traded on the Intercontinental Exchange (ICE) in London. WTI futures are traded on the New York Mercantile Exchange (NYMEX).
Specifications of WTI and Brent crude futures:
| | | |
| --- | --- | --- |
| | WTI | Brent |
| Contract Size | 1,000 barrels | 1,000 barrels |
| Priced in | U.S. Dollars and Cents | U.S. Dollars and Cents |
| Deliverable | YES | YES |
| Ticker Symbol | CL | BZ |
Though futures remain one of the most popular ways to trade commodities, contracts for difference are equally attractive.
A good point in favour of CFDs is that most CFD brokers allow you to speculate on the price of oil futures with much smaller contract sizes. To make it clearer: a Brent crude oil CFD can be bought for 25 barrels only, while a standard futures contract is for 1,000 barrels.
Unlike futures, CFDs are leveraged products. It means that if your CFD trading provider offers a 10% margin, you only have to deposit 10% of the total value of the trade you want to open. The remaining part is covered by your CFD broker.
For example, you decided to place an order for $1,000 worth of Brent crude or WTI and your broker requires a 10% margin. In this case you need only $100 to open the trade.
Therefore, we can assume that CFDs are more suitable for traders with limited funds and those want to make short-term investments with a leveraged product.
What makes oil price rise and fall?
Oil prices are driven relentlessly by crude oil price forecasts, geopolitical events, regulation news and even weather forecasts. You should keep all these things in mind when thinking about crude oil trading.
Historically, West Texas Intermediate (WTI) traded higher than Brent crude. However, with the advent of the Shale Revolution and WTI price decline, Brent crude took the lead.
Brent crude used to trade slightly higher than WTI, though we can still see the synchronised price movement between the world's two major oil benchmarks.
As of mid-March 2019, the latest WTI oil price stood at around $59 per barrel, and Brent crude was valued at $67 per barrel. A year later, in April 2020, we saw an unprecedented collapse of the oil price, as the West Texas Intermediate plunged to less than zero amid the deepest fall in demand in 25 years.
The WTI price fell to minus $40 a barrel as a result of the sharp drop in demand because of the coronavirus pandemic and lack of storage, caused by oversupply. Given that oil price has already fall into negative territory, there should be a point where the price will reverse and eventually rebound. Seize the moment and catch your own investment opportunity with Capital.com.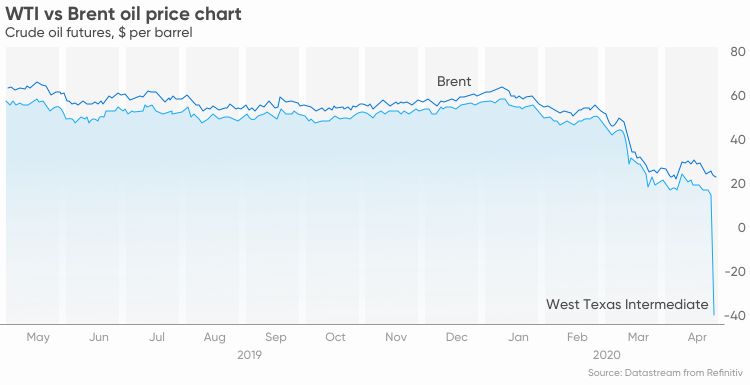 Read more about oil trading:
Crude oil trading: CFDs vs futures