Housing market recession: Everything you need to know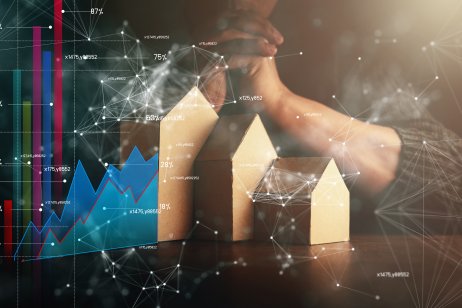 Content
What is a housing market recession?
In general, a recession refers to a situation when the economy is witnessing a decline in activity. In addition, a fall in employment, income, retail sales and production also come into play, affecting the country's gross domestic product (GDP).
Rising unemployment, low salaries and surging inflation mean people cannot afford to pay their mortgages, leading to fewer people committing to buying a home.
A housing recession occurs when the number of sold properties continues to decline for over a period of six months, something the US housing market, for example, has been witnessing since July 2022. Data published by the National Association of Realtors (NAR) for November 2022 showed that existing home sales were down by 7.7% since October 2022 and slipped by 35.4% year-over-year. Meanwhile the median sales price per house rose by 3.5% year-over-year to $370,700.
Historically, it has been proven that housing prices in a recession take a hit. It could be a good time to invest in real estate. However, it may be harder to qualify for a mortgage.
By the way, during the Great Depression, for instance, house prices during the recession dropped by 67%.
Lawrence Yun, chief economist at NAR, said in August 2022:
"We're witnessing a housing recession in terms of declining home sales and home building… However, it's not a recession in home prices. Inventory remains tight and prices continue to rise nationally, with nearly 40% of homes [on the market] still commanding the full list price."
Top causes for a housing recession
According to Forbes, the two main reasons driving the current housing market recession are surging interest rates and high construction costs. As of 4 January 2023, the most recent interest rate hike by the Federal Reserve (Fed) saw a half a point surge from 4.25% to 4.50% on 14 December 2022. Fed chair Jerome Powell hinted in December that more hikes could be on the way.
Stacy Elmore, co-founder of The Luxury Pergola, SEE Home Improvements, and LouveRoof Luxury Pergolas, told Capital.com that perhaps the main reason for a housing recession at this time are rising interest rates: "Most buyers purchase houses based on monthly payments. With interest rates rising, the monthly payments rise, so the list price has to go down to meet a buyer's expenses."
Interest rates and surging inflation are also affecting the cost of construction materials, which already took a hit following a delay in supply during the Covid-19 pandemic.
Russ Zalatimo, founder and managing partner at Hudsonpoint capital, said in a LinkedIn post:
"Supply chain issues caused by the pandemic have contributed to immense slowdowns in material acquisitions needed for home construction, while inflation has continued to push prices up beyond affordability. Similarly, between exorbitant home prices and rising interest rates, many would-be homeowners are reluctant or unable to invest in a home, pushing many out of the housing market."
Low employment and a decline in the number of people taking out mortgages could also lead to a housing market recession.
But are house prices/recession correlated?
The real estate market has always had a significant impact on economies. Higher house prices lead to consumer spending and boost the economy, while a drop in housing prices could signify that recession is on the way.
Can you spot an upcoming market recession?
Elmore noted that one to spot a possible real estate recession is to look at the previous sale prices and current listing prices in the "hot markets", like New York, Florida and California.
"As these numbers get further from one another and houses sit on the market longer, you know you are in recession," she said.
Joshua Massieh, a mortgage broker expert in residential mortgages, told Capital.com that hints of an oncoming housing market recession are "left all over the place, but consumers need to research their market and check to see how home prices are.
"Are they increasing? Flat? Lower? Also, research interest rates, what does the increase in rates mean to a home buyer in Indiana? Maybe a $50 increase a month as opposed to in San Diego, where the rate hikes lead to a $1000 difference!"
Massieh said that there are three signs a buyer should look out for that indicate a housing recession could be on the way:
Surging interest rates

The number of available properties for sale is high

Unemployment rates are on the surge
"If mortgage rates go up, it could make the recession happen sooner. This means that there would be even more houses for sale on the market, and if there is a wave of job losses, we could see this coming to a theatre near you sooner rather than later."
How long do housing market downturns last and how do they end?
According to data from the National Bureau of Economic Research (NBER) going back to 1854, an average recession lasts about 17 months. Data since the Second World War shows that recessions take an average 11 months to reach their lowest points.
However, past data should not be used to accurately indicate the length of a housing market recession. For instance, during the Covid-19 pandemic, the US saw one of its shortest recessions to date, which lasted about two months.
A housing market during recession is sensitive to interest rates. Signs indicating that the housing market is recovering include a jump in home sales, building permits and new building projects.
Housing market prediction for 2023
So, what is the recession and housing market forecast for 2023?
Massieh notes: "We will see more of what we saw in 2019. Supply and demand will even out, interest rates will stay below 7%, and larger companies will scale down as demand across the board slows down. Real estate is safe for 2023."
Elmore adds:
"I expect energy prices will skyrocket, causing greater prices in transported goods, and the trend of "on-shoring" will continue, driving more spending in infrastructure."
On the other hand, analysts at Morgan Stanley gave more bearish housing market predictions. The bank anticipates a 10% decline in house prices by 2024.
NAR's Yun also gave a more downbeat housing market prediction, expecting 4.78 million homes to be sold in 2023, 6.8% lower than the 5.13 million homes sold in 2022.
"Half of the country may experience small price gains, while the other half may see slight price declines. However, markets in California may be the exception, with San Francisco, for example, likely to register price drops of 10–15%," he noted.
Please note that predictions and outlooks can be wrong and should not be used as an indicator to future prices. Always conduct your own research.
FAQs
What happens to the housing market during a recession?

During a recession, people tend to stop buying real estate and the number of unsold properties rises. Eventually, there are too many unsold properties on the market that homeowners lower their asking prices.
Will the recession affect the housing market?

A faltering economy affects the housing market. Surging interest and unemployment rates are making it harder for people to take out mortgages. A rise in prices for construction materials post Covid-19 means building houses also comes at a greater cost.
Will the housing market crash in 2023?

At the time of writing (4 January), many analysts were bearish with their housing market predictions for 2023. Both the National Association of Realtors and Morgan Stanley said that it could be affected by recession in 2023. Mortgage broker Joshua Massieh told Capital.com that supply and demand could even out in 2023.

Analysts can and do get their predictions wrong. Always do your own research.