Chicagoland icon Portillo's is going public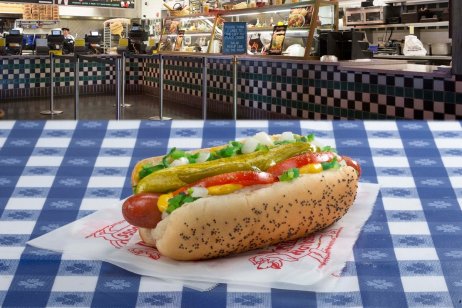 Chicago-style street food purveyor Portillo's provided further detail Wednesday about its planned initial public offering (IPO).
The suburban Chicago-based chain specialising in Chicago street food including hot dogs and sausages announced flotation plans Monday in a filing with the US Securities and Exchange Commission.
Wednesday's filing provided insight into the company's financials as well as its ambitions to expand from fewer than 70 locations to more than 600.
Portillo's joins Krispy Kreme, Dutch Bros. and Sweetgreen as restaurants plotting initial share sales this year.
All restaurants profitable
Berkshire Partners purchased Portillo's in 2014 from its namesake, founder Dick Portillo. Portillo erected a mountain from a grain of salt, beginning with an investment of around $1,000. Today, Berkshire Partners, which paid around $1bn for the brand, is seeking a valuation between $2bn and $3bn.
"All of our restaurants are profitable, and we are proud to have never closed a restaurant in our 58-year history," Portillo's prospectus stated, adding that the chain is well-positioned for global growth in addition to its ambition to reach 600 or more US locations over the next quarter century.
In and around Chicago, Portillo's locations averaged more than $9m between June 2020 and June 2021, and nationally they grossed nearly $8m overall across the nine states in which they have at least one location during that same period.
Revenue for the first half ended 27 June was $258m, up 18.8% year over year.
Net income was $13.9m compared to a loss of $733k in the prior period.
Adjusted EBITDA was $51.1m, up from $37.9m. Margin improved to 19.8% from 17.4%.
Regional flavours
Whether one pores over financial figures or takes a passing glance at a few waistlines at Walmart, it's evident that Americans love fast food. Though salad and grain bowl chain Sweetgreen may provide an example of more health-conscious quick eats, Portillo's is betting on a clamouring for its hefty Italian beef sandwich (its most popular item) as well as Chicago-style hot dogs, chopped salads, French fries, chicken and hamburgers. Eschewing the specialisation that has helped buoy Raisin' Cane's, In-N-Out and other narrower offerings, Portillo's has a relatively even revenue spread across its menu items.
Most Portillo's locations are equipped for two-lane drive-thru service and compete with the national hamburger chains in terms of price and convenience, but Portillo's offers a vibrant atmosphere and decor more reminiscent of a diner. The company also has plans to experiment with a take-out only format for some forthcoming locations.
Drive-thru sales for the twelve months ended 27 June were more than double the throughput of McDonald's 2019 average drive thru and more than triple their 2020 and twelve months ended second quarter of 2021 average drive, Portillo's said.
A cult following
Nathan's and Philly's Best have transported Coney Island hot dogs and Philadelphia cheesesteaks to broader audiences. Now Portillo's appears poised to grow the reach of Chicagoland fare.
With strong per-location numbers as well as a prospectus that contained gushing testimonials that mentioned baptisms in melted cheese and customers begging for expansion, Portillo's appears to have developed a strong niche within the fast-food market.
That's also due in part, the company says, to its reach on social media, as it touted the exponential strength of its tweets and a fervent fan base. Its national net promoter score of 56 was equivalent to that of Chick-Fil-A, and substantially higher than expanding brands like Chipotle and Shake Shack.
Net promoter is a measure of customer experience which more heavily weights so-called promoters and detractors over passives.
While Portillo's will not be immune to the common pitfalls of a restaurant trading publicly, such as expectations of rapid return on investment and hastened expansion, it also can draw on Shake Shack as an example of a recent success story. Since its 2015 IPO, Shake Shack has grown from just over 60 locations to more than 300, and its share price rose from $21 to $47 quickly and ultimately peaked at over $138 earlier this year.
Note: An earlier version of this story stated that Portillo's is owned by Berkshire Hathaway. In fact it is owned by Berkshire Partners.
Read more: Allvue postpones IPO citing 'adverse market conditions'