H&M and Primark: Fashion on a budget and why HM is downsizing and ABF is expanding
Subscribe to Weekly Highlights
The major market events for the week ahead right in your inbox.
Subscribe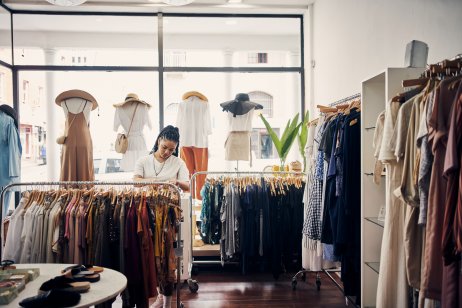 Content
Much like the trend seen with grocery stores, budget clothing shops have emerged as clear winners as shoppers become more price conscious during an economically challenging Christmas period.
High end retailer Mulberry has announced a half year loss, while H&M (HMb) is implementing cost cutting measures by letting go of 1,500 employees.
On the other end, budget retailer Primark, owned by Associated British Foods (ABF), has planned to spend €100m on eight new stores in Spain.
In the past month, ABF shares have increased by 18%, while the FTSE 100 (UK100) was up by 7%.
Associated British Foods (ABF) Price Chart
With inflation at multi-decade highs, the cost of living is testing household budgets and causing people to shop less. But at a period of necessary shopping, customers will seek out the cheapest options.
ABF has made the most of these customers during the third quarter of this year and is likely to do the same in the final, most crucial quarter too.
It earned just shy of £17m in revenue during the third quarter of 2022, an almost 23% jump from the summer.
AJ Bell investment director Russ Mould said: "Associated British Foods' sales and profit have jumped for joy like a shopper finding an absolute bargain. The company is fighting back from Covid with a vengeance, with its Primark chain seeing a big jump in sales as the world returns to a more normal state post-pandemic."
He added: "Primark's business model is based on shifting a large volume of goods at low prices. It relies on people browsing the aisles and popping items in a basket on impulse because they look cheap. There comes a level when a higher price will stop this shopping behaviour and Primark clearly doesn't want to reach this tipping point. It seems to be taking the view that it's better to have customers buy something at a lower margin than nothing at all.
What is your sentiment on ABF?
Vote to see Traders sentiment!
H&M (HMb) Price Chart
On the other end, Mulberry posted a pre-tax loss of £3.8 million during the most recent quarter.
Mould commented: "While you'd expect posh handbags seller Mulberry's wealthy clientele to be insulated from cost-of-living pressures, its first half results have more in common with your humble high street retailer than a high-end brand.
"Even though the company has raised prices, sales have fallen, and Mulberry is in the unenviable position of chalking up a material loss. That loss could have been even worse if the company hadn't hedged its energy costs for three years in October last year, so management deserves a pat on the back for that move."
Where the company failed was that it has most of its distribution outsourced, these costs ate into its profits as inflation rose. It also does not have a strong online presence.
This tough environment is likely to plague the industry during Christmas.
Helen Dickinson OBE, Chief Executive of the British Retail Consortium, commented "While there are signs that cost pressures, and price rises, might start to ease in 2023, Christmas cheer will be dampened this year as households cut back on seasonal spending in order to prioritise the essentials."
Russ Mould concluded: "The next months will see stores judged on how they treat their customers when it comes to sharing the pain of those price rises."
Related reading