Hong Kong stocks extended losses to hit 14-month low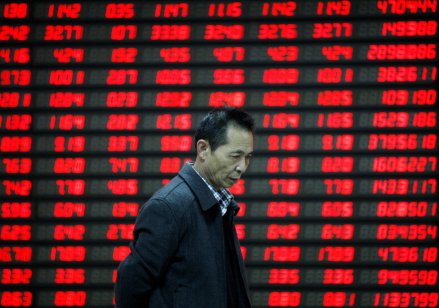 Hong Kong stocks extended losses to hit a 14-month low as tech and real estate stocks dragged the market lower on Tuesday.
Benchmark Hang Seng Index fell 2% to 23,365.90 after lunch and was on track to close lower for a third straight session on Tuesday. Hang Seng TECH Index and Hang Seng Mainland Properties Index fell over 2% each on Tuesday.
Stock market in Hong Kong has been weak throughout the year, down over 15% in 2021, following Beijing's pressing regulatory action on China's private sector, cash crunch among Chinese property developers and a nationwide power shortage. Investor sentiment has further soured due to the emergence of the latest Omicron Covid-19 variant amid China's zero-Covid tolerance policy.
Tech, property stocks fall in Hong Kong
Late on Monday, Hong Kong authorities said they plan to expand border restrictions banning entry to non-residents from additional 13 countries including Australia and six European countries.
Property developer China Resources Land was the top intraday percentage loser in Hong Kong on Tuesday, down over 5%. Food delivery firm Meituan fell over 4% to hit a near eight-week low. E-commerce giant Alibaba Group declined 3.4% to emerge among the top 10 losers by Tuesday afternoon.
Meanwhile, Australia's benchmark S&P/ASX 200 Index closed 0.7% higher at 7,297.40 on Tuesday. S&P/ASX 200 Financials Index rose 0.7% to 6,313.80, a day after banking regulator Australian Prudential Regulation Authority (APRA) released its new bank capital framework which requires banks to ensure existing high levels of capital adequacy are maintained.
What is your sentiment on J225?
Vote to see Traders sentiment!
APRA's new rules
Australian financial conglomerate Macquarie Group flagged an AUD2.2bn ($1.57bn) hit to its surplus capital due to APRA's latest reforms, while Commonwealth Bank of Australia said it will disclose the impacts related to the new reforms at its full-year results presentation.
Macquarie Group investors were unfazed by the news pushing the stock up by 1.7%. Commonwealth Bank of Australia, however, lost 0.6% on Tuesday.
Westpac Banking erased gains to fall over 1% on Tuesday. The "Big Four" bank said it agreed with the Australian Securities & Investment Commission to pay penalties of AUD113m ($80.72m) for charging fees to deceased customers, among others.
Japan recovers, South Korea slumps further
Elsewhere, Japan's Nikkei 225 Index bounced back from an over six-week low to inch 0.4% higher by Tuesday afternoon.
Topix-17 Transportation & Logistics and Topix-17 Energy Resources indices were the top performing sectoral indices on Tuesday, up 2.3% and 2%, respectively.
Meanwhile, South Korea's KOSPI index lost 1.2% on Tuesday to take its losing streak to six straight sessions as the emergence of the Omicron Covid-19 variant continues to unnerve investors.
Read more: Macquarie Group (MQG) flags Read more: Macquarie Group (MQG) flags $1.57bn hit on banking reforms.57bn hit on banking reforms