Hedera price prediction: Can HBAR bounce back?
Subscribe to Weekly Highlights
The major market events for the week ahead right in your inbox.
Subscribe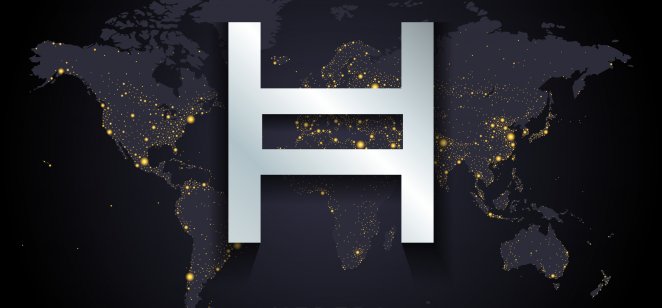 Content
What is hedera (HBAR)? In this article we look at the protocol, the latest hedera coin news and the outlook for the price of HBAR in 2022.
The Hedera network launched in 2018, aiming to provide a high-speed, enterprise-grade public blockchain network – so we'll be finding out how that ambitious move has gone.
We'll also be casting our eyes over some of the hedera price predictions that were being made as of 24 November 2022.
Hedera explained
The organisation that developed HBAR, Hedera Hashgraph, was co-founded by its former chief scientist Dr Leemon Baird and CEO Mance Harmon.
The system is based on a hashgraph, which sees nodes share information with each other via a so-called gossip protocol. While that concept is relatively complex, the upshot of it being used as the basis for a crypto is that, at least in theory, it is far quicker.
As its website says: "Hashgraph achieves high throughput with 10,000-plus transactions per second today, and low-latency finality in seconds from its innovative gossip about gossip protocol and virtual voting. Once consensus is reached, the transaction is immutable and available on the public ledger for everyone to transparently see."
According to the system's whitepaper: "The Hedera network will be governed by a council of leading global enterprises, across multiple industries and geographies.
"Its vision is a cyberspace that is trusted and secure, without the need for centralised parties with inordinate influence.
"Its licensing and governance model protects users by eliminating the risk of forking, protecting the integrity of the codebase and providing open access to review the underlying software code.
"Platform governance will be decentralised through the Hedera Governing Council, which will have a term-limited, rotating set of governing members that each have equal voting rights over key decisions relating to the platform."
Every crypto network needs to have its own native token, and Hedera has the conveniently-named hedera crypto, also known by its ticker handle HBAR. People who hold HBAR are able to carry out transactions on the network.
Hedera developments
Hedera began developing HashPack, a wallet that allows holders apparent control over their crypto, in March 2021 and launched it in October as a browser-based app and Chrome browser extension.
Features included support for multiple accounts, address books, and mainnet and testnet functionality, along with support for the Ledger hardware wallet and MoonPay purchases of HBAR.
Hedera is working with several partners to develop non-fungible token (NFT) and metaverse applications.
On 14 September 2021, The Creator's Galaxy Foundation, which is developing an ecosystem for creators, announced details of the Galaxy Protocol and its first application, the open social marketplace Calaxy. Every user of the Calaxy app has a Hedera account and pays transaction fees in HBAR, increasing the use of the coin.
On 29 November, South Korean bank Shinhan announced it had completed development with a large global bank outside Korea, on a proof-of-concept built on the Hedera network that focused on settling international payments using stablecoins.
"Utilising the Hedera Token Service (HTS) and Hedera Consensus Service (HCS), the project aims to test the issuance and distribution of stablecoins, applied to a financial use case that typically suffers from high fees, longer waits and the absence of tracking features," a statement said.
On 14 December, Hedera announced its partnership with online 3D platform creator MetaVRse, which issued a statement saying: "The creation of the metaverse will require tools that are easy to use and accessible to all, and MetaVRse is enabling creators to build the next generation of the internet quickly and simply with turnkey solutions.
"The HBAR Foundation is supporting these efforts via a grant and organisational support to fuel building the infrastructure of the enterprise metaverse on the Hedera network."
On 19 January 2022, the Hedera governing council voted to buy the intellectual property (IP) rights to the Hashgraph consensus algorithm. It also committed to making the code open source under an Apache 2.0 licence in 2022. The code was made open source in August.
Hedera price history
Let's now take a look at the HBAR price history. While past performance should never be taken as an indicator of future results, knowing what the coin has done in the past can help give us some very useful context when it comes to either making or interpreting a hedera price prediction.
| | |
| --- | --- |
| Long position overnight fee | -0.0500% |
| Short position overnight fee | -0.0500% |
| Overnight fee time | 22:00 (UTC) |
| Spread | 0.00000681 |
| | |
| --- | --- |
| Long position overnight fee | -0.0500% |
| Short position overnight fee | 0.0140% |
| Overnight fee time | 22:00 (UTC) |
| Spread | 0.00326 |
| | |
| --- | --- |
| Long position overnight fee | -0.0500% |
| Short position overnight fee | 0.0140% |
| Overnight fee time | 22:00 (UTC) |
| Spread | 0.0012310 |
| | |
| --- | --- |
| Long position overnight fee | -0.0500% |
| Short position overnight fee | 0.0140% |
| Overnight fee time | 22:00 (UTC) |
| Spread | 60.00 |
The hedera coin chart shows that the price ranged between $0.01 and $0.08 from the time the coin launched until the start of 2021, when it began to take off.
HBAR started the year at $0.03181 and rallied to a high of $0.4495 on 15 March as the cryptocurrency markets experienced a boom. The price began to fall in April and declined as the markets crashed, bottoming out at $0.1559 on 21 July 2021.
HBAR regained value as the market grew in August, spurred, at least in part, by a growing interest in NFTs, returning to the $0.30 level in early September, then rose to an all-time high of $0.5701 on 16 September 2021.
The jump in price came on the same day as the Hedera Governing Council announced the approval of a plan to allocate roughly 20% of the HBAR supply, or 10.7 billion coins valued at $5bn, towards the development of the Hedera ecosystem to accelerate adoption of the network.
The council initially allocated up to 5.35 billion HBAR coins, valued at around $2.5bn at the time, to the newly established independent HBAR Foundation.
"With the establishment of the HBAR Foundation we aim to drive exponential adoption, growth, and value," said Shayne Higdon, executive director and CEO of the HBAR Foundation. "Our mission is to fund a future where entrepreneurs form digitally native economies and ecosystems, controlling their own assets, identities, data, marketplaces, and more."
The HBAR price had dropped back to $0.2918 by 21 September but went back up again, rising to $0.4768 on 12 November 2021. The price fell again as cryptocurrency markets weakened in the second half of November, reaching a low of $0.2183 on 14 December, but HBAR then moved back up in response to the MetaVRse announcement, closing the year at $0.2905.
2022 has been a poor year for crypto, and HBAR has been no exception. It reached a high of $0.3396 on 5 January but closed the day at $0.2883 and has not been able to reach $0.30 since.
On 11 April, it declined to $0.1927, and one month later it fell below $0.10 as the market was shook by the depegging of the UST stablecoin and the collapse of the associated LUNA crypto, reaching a periodic low of $0.07503 on 12 May.
Although there was some recovery after that, news that the Celsius Network (CEL) crypto lending platform had cancelled withdrawals confirmed the bear market and, on 18 June, it reached a low of $0.05867.
After that, the price rose slowly to reach a periodic high of $0.08339 on 11 August, but it has slumped again and, on 31 August 2022, it was trading at about $0.06455. By 12 September, the anticipation of HBAR being available on the Coinbase (COIN) exchange saw the price shoot up to a high of $0.07393, but the following day's news that the exchange was to delay its HBAR launch saw the price fall and, on 3 October it was worth $0.05597. Once Coinbase finally listed HBAR on 13 October the coin hit $0.06677, which was actually down slightly from the previous day's high of $0.06687.
The coin then hovered around the $0.06 mark, until the collapse of the FTX (FTT) exchange caused a market crash that sent HBAR down to $0.0428 on 9 November. Following that there has been a small, stuttering, recovery and it was worth about $0.04815 on 24 November 2022.
At that time, there were 22.9 billion HBAR in circulation out of a total supply of 50 billion. This gave it a market cap of around $1.1bn, making it the 37th largest crypto by that metric.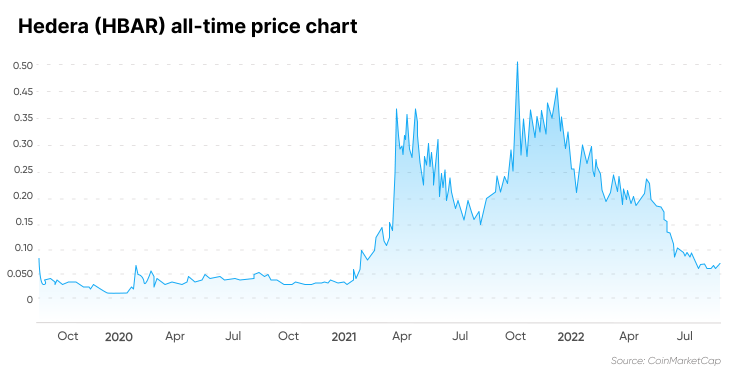 Hedera price prediction round-up
Let's now examine some of the hedera price predictions that were being made as of 24 November 2022. It is important to remember that price forecasts, especially for something as potentially volatile as cryptocurrency, are very often wrong. Also, long-term price predictions are also often made using an algorithm, which means that they can change at a moment's notice.
First, CoinCodex had a rather mixed short-term hedera crypto price prediction. The site said HBAR could hit $0.051639 on 29 November before falling to $0.039037 on 24 December. The site's technical analysis was bearish, with 20 indicators making downbeat signals against just eight making bullish ones.
Next, CoinsKid made an HBAR price prediction that said the coin could close this year at $0.0516 before suggesting it could reach $0.0890 in November 2023. The site suggested that the coin could be valued at $0.1078 in November 2024, before going on to make a hedera price prediction for 2025 that said the crypto could start the year at $0.1272, potentially reach $0.2261 in November. By November 2026, the site said it was possible that hedera could hit $0.3273 before closing the year at about $0.3419.
Meanwhile, DigitalCoinPrice had a hedera coin price prediction that said HBAR could have get to $0.0594 in 2022, $0.12 in 2023 and $0.17 in 2024. The site then went on to make a hedera price prediction for 2025 that said it could reach $0.22. There was, the site claimed, more good news ahead, suggesting that, by 2027, HBAR could reach $0.25 before reaching $0.35 in 2028 and closing the decade at $0.49. The site then made a hedera price prediction for 2030 that saw it trade at $0.68, potentially reaching $0.93 in 2031.
Finally, WalletInvestor was far more bearish in its hedera price prediction for 2023 saying the coin could be in for a rough time over the coming year and could have traded down to $0.004098 by late November 2023.
When considering an HBAR price prediction, it's important to keep in mind that cryptocurrency markets remain extremely volatile, making it difficult to accurately predict what a coin or token's price will be in a few hours, and even harder to give long-term estimates. As such, analysts and algorithm-based forecasters can and do get their predictions wrong.
If you are considering investing in cryptocurrency tokens, we recommend that you always do your own research. Look at the latest market trends, news, technical and fundamental analysis, and expert opinion before making any investment decision. Keep in mind that past performance is no guarantee of future returns. And never trade with money that you cannot afford to lose.
FAQs
Is hedera a good investment?

It is hard to say. A lot will depend on the performance of the market as a whole.

Remember, you should always carry out your own thorough research before making an investment. Even high market cap cryptocurrencies have proved vulnerable to the current bear markets. So investors should be prepared to make losses and never purchase more than they can afford to lose.
How many hedera coins are there?

On 24 November 2022, there were 22.9 billion HBAR coins in circulation, out of a total supply of 50 billion. That gives hedera a market capitalisation of roughly $1.1bn, ranking it the 37th largest cryptocurrency by that metric, according to CoinMarketCap.
Will hedera go up or down?

It is hard to say. While the likes of DigitalCoinPrice were upbeat in their forecasts, sites such as WalletInvestor were far more pessimistic. It is important to remember that price forecasts can very often be wrong, and that prices can go down as well as up.

In volatile cryptocurrency markets, it is important to do your own research on a coin or token to determine if it is a good fit for your investment portfolio. Whether HBAR is a suitable investment for you depends on your risk tolerance and how much you intend to invest, among other factors. Keep in mind that past performance is no guarantee of future returns. And never invest money that you cannot afford to lose.
Should I invest in hedera?

Before you decide whether or not to invest in hedera, you will have to do your own research, not only on HBAR but on other blockchain coins.

Whether you should invest in hedera is a question that you will have to answer for yourself. Before you do so, however, you will need to conduct your own research and never invest more money than you can afford to lose because prices can go down as well as up.
Related reading