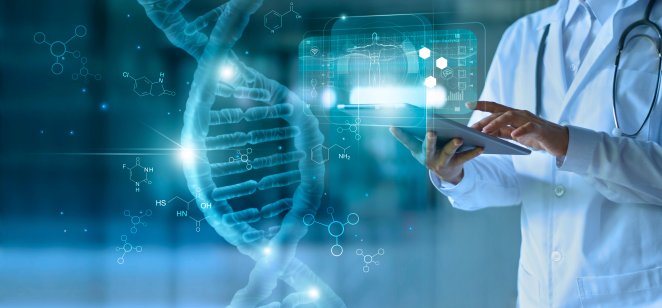 Content
On 6 July shareholders of GlaxoSmithKline (GSK), one of the UK's largest biotech stocks, voted to approve the company's plan to spin off its consumer healthcare business into a new company named Haleon.
The spin-off came amid a looming global economic slowdown, making investors look for defensive stocks such as healthcare companies that consistently pay dividends.
After the demerger, Haleon was listed on the London Stock Exchange (LSE) under the ticker symbol HLN. It was the biggest new listing on the exchange in over a decade.
Here we take a closer look at Haleon stock forecast, its latest financial performance and analysts' views on the company.
What is Haleon?
Haleon was established by GlaxoSmithKline's consumer healthcare business. It came from integrating the consumer health portfolio of Novartis AG (NVS) in 2015 and the Pfizer (PFE) portfolio in 2019.
GSK owns 68% of the consumer healthcare business and Pfizer 32%. It operates in: therapeutic oral health; vitamins, minerals and supplements; pain relief; respiratory health; and digestive health.
Some of its portfolio are leading global brands such as toothpaste Sensodyne, painkillers Panadol and Advil, the anti-inflammatory drug Voltaren, and Otrivin nasal spray. It has local strategic brands such as TUMS, ENO, Flonase, ChapStick and Emergen-C.
The company's products are sold in more than 100 markets around the world. In addition, it has one of the largest pharmacy networks and coverage in Europe and partnerships with retail and pharmacy in the US.
Over the past two years, e-commerce sales became a key growth channel with a two-fold increase in sales, with solid outperformance in China.
Potential suitors for Haleon
GSK demerged Haleon in order to focus on biopharmaceuticals, which will include vaccine development and specialty medicines. GSK sought shareholders' approval for the corporate action in a general meeting on 6 July.
The demerger took 80% of GSK's holdings and established a level 2 sponsored American depositary receipt (ADR) programme on the New York Stock Exchange (NYSE), allowing foreign companies to trade their shares on US exchanges.
The pharma giant will announce its second-quarter results on 27 July and will treat Haleon as a discontinued operation. GSK shareholders will receive one Haleon share for one GSK share they own.
Haleon's demerger plan has attracted a series of initial potential suitors to take over the company, including consumer goods giant Unilever (ULVR), food and beverage company Nestle (NESN) and UK consumer goods company Reckitt Benckiser (RB).
In January, GSK confirmed that it had received three unsolicited, conditional and non-binding proposals from Unilever to acquire the GSK consumer healthcare business. The latest proposal on 20 December 2021 was for a total acquisition value of £50bn.
The pharma benemouth rejected all three proposals because "they fundamentally undervalued the consumer healthcare business and its future prospects".
According to Bloomberg reports, Nestle backed off in its bid to acquire Haleon after months mulling to potentially partner with Reckitt Benckiser, a Slough-based company that is already a big player in consumer health with brands such as Strepsils and Nurofen.
Financial performance
Haleon, or GSK's consumer healthcare business, posted revenue of £2.62bn in the first quarter of 2022, up from £2.30bn in the same period a year ago, according to the company's prospectus issued in June. Haleon's revenue accounted for 26.5% of GSK's total revenue at £9.8bn.
The business booked total revenue of £9.54bn in 2021, down 3.5% from £9.89bn in 2020.
Despite the adverse impact of the Covid-19 pandemic, Haleon outperformed the industry with a 4.4% compound annual growth rate (CAGR) in sales from 2019 to 2021.
"The business is well-positioned to build on its track record of performance and grow sustainably ahead of the market in the medium term," GSK said in a statement introducing Haleon to investors in February.
"The fundamentals for the £150bn consumer healthcare market are strong, reflecting an increased focus on health and wellness, significant demand from an ageing population and emerging middle class, and sizable unmet consumer needs," the company added.
In 2021, Haleon posted adjusted margins of 22.8%, up from 19.5%. It also generated strong free cash flow of around £1.5bn in 2020 and 2021. For 2022, the business aims to achieve organic sales growth in the range of 4-6%.
"The adjusted operating margin is expected to benefit from continued strong operating leverage and the realised benefit of price increases during 2021," it said.
The company said the 2022 margin will reflect the contribution from upgraded annual cost synergies resulting from the completed integration of the Pfizer portfolio of approximately £600m.
Haleon also aims to have a net debt/adjusted Earnings Before Interest, Taxes, Depreciation, and Amortisation (EBITDA) ratio of up to 4.0 following the demerger. But by the end of 2024, the business plans to reduce the net debt to an adjusted EBITDA ratio of 3.0 and maintain a strong investment-grade balance sheet.
Haleon stock forecast: Analyst views
Following Haleon's strong debut on the LSE, how do analysts view Haleon share price forecast and the outlook for its business?
According to Hargreaves Lansdown's research, a significant portion of GSK's sizeable debt load will be passed on to the new consumer business, increasing the need to reduce debt, which could shape Haleon stock predictions.
New GSK will house the pharmaceutical and vaccines businesses. It will retain a stake in the newly listed consumer company, but this will eventually be sold off to help shore up the balance sheet.
"That makes sense – the consumer business is capital light and revenues should be relatively stable over the long term, unlike pharmaceuticals, allowing it to service a larger debt pile.
Nonetheless the balance sheet set up means the consumer business will probably start life with a pressing need to cut debt," the firm said.
In their Haleon stock forecast for 2022 and beyond, Jefferies wrote that the company was likely to achieve mid-term sales growth at the lower end +4% to 6%. Investors sentiment has improved with bulls leaning toward the new GSK trajectory, Jefferies added.
"We sense a significant swing in tone towards a more positive stance on GSK versus discussions last year, with nearly half of investors favourably inclined, skewed to hedge funds versus long-only, in both US and UK, with limited risk/event fund participation. Bulls tend to focus on the growth trajectory of New GSK."
As Haleon's stock only started trading on 18 July there is limited coverage for Haleon stock forecast for 2025.
Note that analyst views on the Haleon stock price can be wrong. Forecasts shouldn't be used as a substitute for your own research. Always conduct your own due diligence before trading, and never invest or trade money you cannot afford to lose.
FAQs
Is Haleon a good stock to buy?

Whether Haleon stock is a good investment should depend on your investment goals, risk tolerance and the size of your portfolio. It is important to do your own research before any investment or trading decision. Never invest or trade money that you cannot afford to lose.
Will Haleon stock go up or down?

Haleon's stock started trading on18 July, and analyst coverage on the stock's outlook is limited. There are a number of factors at play that could shape Haleon's stock price.
Should I invest in Haleon stock?

Whether you should invest in Haleon should depend on your risk tolerance, investing goals and portfolio composition. Always conduct your own due diligence. And never trade more money than you can afford to lose.
Further reading