Content
Haleon (HLN) has become the world's latest consumer health brands business following its demerger from pharmaceutical giant GlaxoSmithKline (GSK).
Shares in the FTSE 100-listed company, whose brands include Aquafresh toothpaste, have hovered around £3 since it started trading earlier this month.
But who owns the most shares of Haleon, and what should their enthusiasm for buying into the stock tell retail investors?
In this examination of Haleon shareholders, we investigate the biggest shareholders in the company and reveal why it's important to know who owns the stock.
What is Haleon?
Haleon was formed from the demerger in mid-July 2022 of GSK's consumer healthcare business. It had been a joint venture between GSK and Pfizer (PFE).
On 15 July 2022, each GSK shareholder received one ordinary share of Haleon plc with respect to each ordinary share of GSK held before the demerger.
The standalone company started trading on the FTSE 100 (UK100) Index of the London Stock Exchange (LSE) on Monday 18 July 2022. Shares were priced at 330p.
However, the HLN stock price has been relatively lacklustre over the last couple of weeks and stood at 305.6p in early trading on 3 August 2022 – down 7% since the first day of trading.
The GSK price, meanwhile, has hovered around the £17 price since the demerger.
What is your sentiment on GSK?
Vote to see Traders sentiment!
Who owns Haleon shares?
There are a number of significant shareholders of Haleon, according to Keith Bowman, senior equity analyst at interactive investor.
"US drugs company Pfizer remains Haleon's biggest shareholder at around 32%, having held an interest in GSK before Haleon's recent demerger," he said. "GSK itself comes next with a holding of around 13%, while the remaining 50% plus will be largely former holders of the previous combined GSK including fund managers such as Dodge & Cox and State Street Global Advisors."
Data from Refinitiv put the list of top shareholders as: Pfizer Inc, GSK plc, Black Rock, State Street Global Advisors, Van Eck Associates corp, and Vindi Banga, a non-executive director.
A broader list of smaller shareholders includes many prominent fund management companies.
Laura Hoy, equity analyst at Hargreaves Lansdown, pointed out that GSK and Pfizer have retained just over a third of shares.
"Those shares are likely to come to market at the end of 2022 once the lockup period has expired," she said. "While both have signalled they'll take a measured approach to selling shares, keep in mind that it could put downward pressure on the valuation."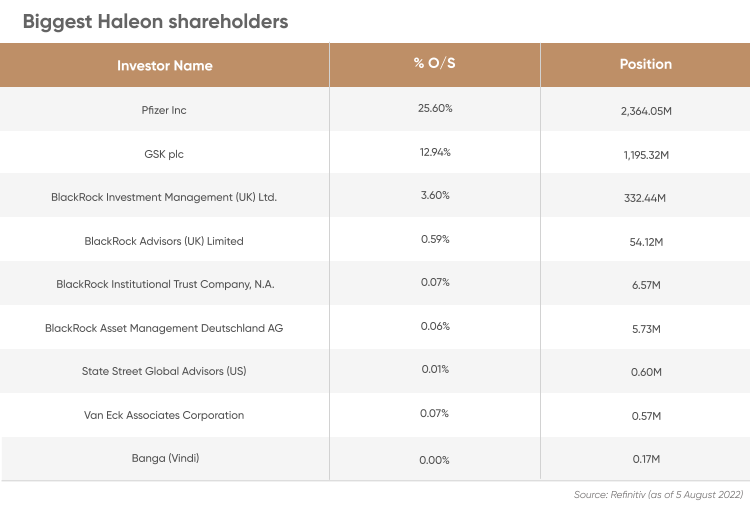 Haleon shareholders: Why does it matter who they are?
Who are the stakeholders of Haleon and why is it important to know? What difference does it make to retail investors who else owns the stock?
According to Ryan Lightfoot-Aminoff, senior research analyst at Chelsea Financial Services, one of the most important factors is finding out if one group has a large holding.
"This could be a founding family, which will affect how they run the company," he told Capital.com. "It could also be senior management, which shows they have skin in the game."
However, it could be another company that does significant business with them.
"This means there are potential questions about inter group transactions," he pointed out. "It could also indicate a potential takeover."
There could be voting implications. "If one party owns a large percentage, their votes at AGMs will have a big impact on company policy," he explained. "Large shareholders will often use their scale to demand a seat on the board and can steer business behaviour."
Haleon major shareholders: Who holds the largest slice?
Keith Bowman believes it's a good sign that both Pfizer (PFE) and GSK (GSK) are still involved as owners of HLN stock. He added that it was generally considered good news when directors buy shares in their own company.
"Continued holdings by both (Pfizer and GSK) point towards confidence in longer-term prospects for Haleon and provides reassurance to retail investors," he told Capital.com.
Bowman pointed out that the demerger enabled each of the businesses – pharma and consumer goods – to be valued by investors on their own merits.
"Active investors in the company before the demerger are likely to be happier with the move, given the freedom for a more independent valuation and increased management accountability," he said.
In addition, the two smaller companies also potentially provide a "smaller more swallowable acquisition target" going forward.
Haleon biggest shareholder profiles
Pfizer
The US-based drugs maker is the world's third largest pharmaceutical company by market capitalisation.
The multinational, whose history dates back to Brooklyn, New York, in the 1800s, develops medicines and vaccines for a wide variety of areas.
| | |
| --- | --- |
| Long position overnight fee | -0.0308% |
| Short position overnight fee | -0.0137% |
| Overnight fee time | 21:00 (UTC) |
| Spread | 0.33 |
| | |
| --- | --- |
| Long position overnight fee | -0.0064% |
| Short position overnight fee | -0.0059% |
| Overnight fee time | 21:00 (UTC) |
| Spread | 0.05 |
| | |
| --- | --- |
| Long position overnight fee | -0.0064% |
| Short position overnight fee | -0.0059% |
| Overnight fee time | 21:00 (UTC) |
| Spread | 0.15 |
| | |
| --- | --- |
| Long position overnight fee | -0.0064% |
| Short position overnight fee | -0.0059% |
| Overnight fee time | 21:00 (UTC) |
| Spread | 0.31 |
The company's chairman and chief executive is Albert Bourla.
Pfizer PFE live chart
GSK
GSK is a global biopharma company aiming to "unite science, technology and talent" to get ahead of disease.
It has 60+ medicines in its pipeline, 13 major approvals since 2017, and 23 potential new vaccines and medicines in Phase 3 trials and registration over the past five years.
The business is focusing on four therapeutic areas: infectious diseases, HIV, oncology and immunology.
GlaxoSmithKline (GSK) live chart
BlackRock
It's one of the world's leading asset management firms, and provides services to institutional, intermediary and retail clients. As of 31 December 2020, BlackRock's assets under management totalled $8.68trn.
It offers a range of solutions, from rigorous fundamental and quantitative active management approaches aimed at maximising outperformance, to highly efficient indexing strategies designed to gain broad exposure to the world's capital markets.
State Street Global Advisors
The asset management arm of State Street Corporation, the US financial services company, has built a universe of index and active strategies across asset classes.
The company has a 500-strong team of investment professionals led by Cyrus Taraporevala, the president and chief executive.
According to the company's website, it has $3.48tn under management, more than 2,000 institutional clients, and clients in 57 countries.
Van Eck Associates
The company provides active and exchange traded fund solutions, and prides itself on offering value-added exposures to emerging industries, asset classes and markets.
John van Eck launched the firm in 1955 to bring post-World War II investment opportunities to US investors.
It has $85.5bn in assets under management and offices around the world, including in the US, Australia, China, Germany, The Netherlands and Switzerland.
Vindi Banga
The businessman is a non-executive director of Haleon and recently picked up 98,000 shares in a purchase valued at £285m.
Banga is also chair of UK Government Investments (UKGI), a position he has held since September 2021, according to a profile on Gov.UK.
As well as being chair at Marie Curie, a senior non-executive director at GlaxoSmithKline, had 33 years of experience at Unilever (ULVR).
Is Haleon a new takeover target?
Danni Hewson, financial analyst at AJ Bell, believes it's worth pointing out that Haleon's listing was pretty unique, given that the new business was quickly in the crosshairs.
"It's an unusual listing in that Haleon has already been subject to a £50bn takeover bid before the demerger happened, which came from Unilever," she said.
Hewson pointed out that bid action normally happens after the listing.
"That's because there is often a period of share price weakness in the demerged entity as investors offload stock which they've been given for free," she explained.
With a current market value of approximately £31bn, Hewson suggested investors might be wondering why GSK didn't accept the much higher bid from Unilever.
She also pointed out that shoppers were increasingly going for "supermarket own-label products" as the cost of living crisis hits.
"That raises the risk of Haleon struggling to deliver meaningful earnings growth in the near-term, which is hardly the best start to life as a standalone business," she added.
If you are interested in trading Haleon stock, you should note that any analysts' predictions can be wrong. Past performance is no guarantee of future results. Conduct your own research before making any investment decision. And never trade more than you can afford to lose.
FAQs
How many Haleon shares are there?

According to Refinitiv data, the number of free float traded shares for Haleon was 5,674,897,994. However, the overall number of shares is 9,234,573,831. With the stock price standing at £3.05 (as of 9 August), this results in a market capitalisation of around £28bn.
How many shareholders does Haleon have?

There is currently a long list of shareholders in the business, although the majority have relatively modest stakes. The largest are Pfizer and GSK, along with fund management groups such as Black Rock.
Who owns Haleon?

It's owned by a mix of institutional and retail investors. Pfizer has a 32% stake in Haleon, while GSK holds around 13%. The remaining stock was owned by GSK shareholders at the point of the demerger. HLN stock has been trading since mid-July on the stock market.
Further reading: