Gunmaker Smith & Wesson (SWBI) misses Q2 financial targets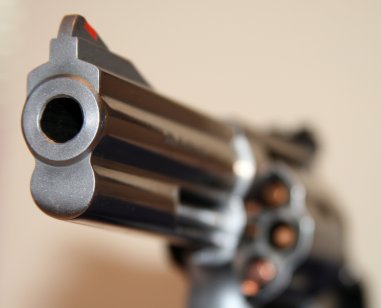 Wall Street pulled the trigger on Smith & Wesson Brands after the firearms manufacturer reported second quarter financial results that widely missed analysts' targets.
Shares of the maker of guns including the .38 Special and .357 Magnum sank as much as 30% on Friday to as low as $16.00 per share, the largest decrease since March 2020 when the coronavirus pandemic began its global spread.
Analysts at Cowen also lowered their rating on the stock to "Market Perform" from "Outperform", media reports said, and slashed its price target to $22 from $38.
Smith & Wesson missed revenue and profit estimates. The company reported net sales of $230.5m (£173.3m) for the three months ended 31 October, down 7.3% year over year and earnings per share of $1.13 versus $0.93 for the prior year quarter.
Wall Street was looking for sales of $265m and EPS of $1.29.
Net income was $50.9m, down from $49.1m.
Lower sales ahead
Smith & Wesson also said sales in the current quarter are unlikely to match the same period last year that was marked by turmoil over the 2020 presidential election, civil unrest and the height of the Covid-19 pandemic.
Investors were told during the analyst call Thursday that earnings for the third quarter ending 31 January 2022 are likely to be "quite a bit lower" than last year.
Last year, the gun maker saw net sales more than double to $257.6m in the quarter ended 31 January, fuelled "by the height of the pandemic, a recent change in the presidency, civil unrest, and virtually no inventory in the channel," Deana McPherson, chief financial officer, said during the company's conference call.
"None of these factors exist in our current third quarter," she said. "In response, we have reduced production rates by nearly 27%."
McPherson said distributors had 15 weeks of supply in the channel, representing a broad range of products.
"This growth in inventory in the channel and within our company is a good thing as there are often periods of increased consumer demand for which we cannot produce enough product."
by
Smith & Wesson CFO Deana McPherson on inventory levels
Gun demand has been 'unprecedented'
Smith & Wesson has been restocking following last year's complete depletion of finished goods inventory and has increased balances by $41.9m between 30 April and 31 October.
"We expect finished goods inventory will continue to increase in the next quarter as we bring our stock to a more desired level in anticipation of future consumer demand," the company said in a regulatory filing.
Smith & Wesson said while it is possible that excess demand could "negatively impact future operating results, it is difficult to forecast the potential impact of distributor inventories on future revenue and income as demand is impacted by many factors, including seasonality, new product introductions, news events, political events, and consumer tastes."
Company president Mark Smith said a news release he's confident about his industry's future despite "the past 18 months of unprecedented demand levels for our industry."
New Tennessee HQ to open next year
The firearms maker, which last month broke ground on a state-of-the-art new facility in Maryville, Tennessee, said it hopes the move will help address supply chain issues and rebuild its depleted inventory. The new facility is slated to open next year.
Read more: Smith & Wesson Read more: Smith & Wesson $1.57 EPS beats estimates on fifth-straight record Qtr.57 EPS beats estimates on fifth-straight record Qtr