GS Wealth aims to block Luckin Coffee share repurchase plan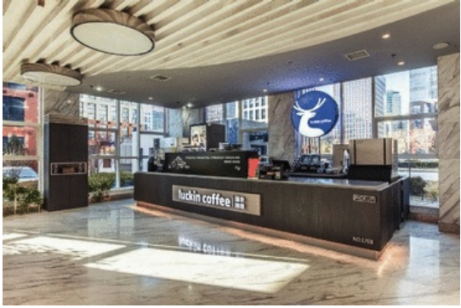 GS Wealth, the wealth management arm of Goldman Sachs, wrote a letter to Luckin Coffee shareholders and convertible debt holders warning of the share repurchase plan bankrupt coffee chain Luckin Coffee announced this week which would allow majority investor Centurium Capital to control at near 60% – and potentially up to 66% – of a restructured company.
The agreement, on top of the $240m (£181.3m) private placement of 295.4 million senior convertible shares which closed Wednesday, gives Centurium 48.1% of Luckin Coffee's voting power. Proceeds from the private placement will go toward a shareholder lawsuit.
The second share repurchase agreement revolves around three special-purpose vehicles (SPVs) currently in liquidation, for which GS Wealth and Golden Planet have provided debtor-in-possession financing in exchange for greater than 95% of the SPV's equity, which would repay the SPV's debts in full.
Bankruptcy following fraud discovery
Beijing, China-based Luckin Coffee filed for Chapter 15 bankruptcy protection on 5 February, following the discovery that former CEO Jenny Zhiya Qian and CFO Jian Liu fabricated transactions through third parties totalling ¥2.12bn, or over 25% of the company's revenue from April 2019 through April 2020.
Luckin Coffee stock sank over 18% Friday, to an $11.18 session from Thursday's $13.64 closing share price. Luckin currently trades over the counter under the ticker LKNCY. Before being delisted due to its bankruptcy filing, Luckin Coffee traded over the Nasdaq exchange under the ticker LK.
Centurium consolidates control
Under Centurium's plan, it would acquire the SPV's equity, totalling 16.5% of Luckin Coffee (10.5% voting power), giving it a 58.6% voting stake in the overall company and the ability to appoint directors to the company's board regardless of minority shareholders' wishes. Eventually, writes GS Wealth Director Wu Naijia, Centurium could then acquire an additional 6% equity interest and unilaterally approve shareholder resolutions, specifically taking Luckin private.
The measure, announced in October, is up for a shareholder vote at Luckin Coffee's Extraordinary General Meeting scheduled for Saturday 11 December in Bejing, China. The meeting is scheduled five days in advance of a hearing before the High Court of the British Virgin Islands regarding the joint GS Wealth and Golden Planet debt restructuring plan.
"Ahead of the court hearing, we are not aware that Luckin has disclosed the existence of the Share Purchase Agreement to shareholders or convertible bondholders or any fact about Centurium Capital's attempt to acquire those shares," GS Wealth Director Wu Naijia writes. "Let alone our proposed debt restructuring alternative."
Under the GS Wealth and Golden Planet debt restructuring plan, they would each hold roughly 10% in a restructured Luckin Coffee, dispersing shareholder voting power.
Luckin board recommends 'Yes' vote
Luckin Coffee's board of directors has recommended a vote for a set of measures to its articles of association allowing the board to block share sales or transfers at its discretion.
"Article 46 be deleted and replaced with the following text…The directors may, in their absolute discretion and without giving any reason therefore, refuse to register the transfer of any shares, including where a purported transfer has been attempted," the Notice of Extraordinary General Meeting states.
The notice includes 12 total such proposals for Class A and Class B shareholders on which to vote. "The board of directors of the company recommends a vote 'For' each of the following the resolutions," the notice reads.
"The board's proposed amendments would give it ultimate authority to veto all future transfers of Luckin shares that it does not support," GS Wealth's Naijia adds. "This is a highly unusual step for a widely held public company, such as Luckin, to take."
GS Wealth wants meeting cancelled
Naijia recommends shareholders demand the Extraordinary General Meeting be cancelled and the board of directors further explain the proposals, while taking into consideration GS Wealth and Golden Planets' debt restructuring plan.
"We strongly urge shareholders to immediately contact Luckin's board of directors to demand that they cancel the (meeting), make a full disclosure of Centurium Capital's attempt to become a controlling shareholder, and explain the true impact of the proposed amendments," Naijia writes.
"We also urge shareholders to demand that the board give fair consideration to the proposed debt restructuring as an alternative to handing total control of the company over to Centurium Capital."
Read more: Luckin Coffee settles shareholder lawsuit