Government debt: all you need to know
Subscribe to Weekly Highlights
The major market events for the week ahead right in your inbox.
Subscribe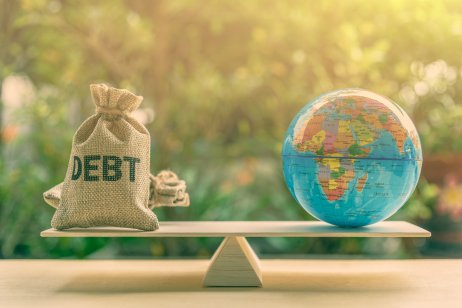 Content
Few governments currently heed the oft-repeated advice from Shakespeare's Hamlet – "neither a borrower nor a lender be".
Even if tax revenues arrived at precisely the time they are needed to meet the State's outgoings, there would still be unforeseen circumstances, such as a war or natural disaster, requiring recourse to the capital markets.
And that's without mentioning all the borrowings of years gone by, which are still sitting on the books. Or future liabilities, such as pension commitments, that will have to be paid for.
A major market impact
This in-the-round view of public borrowing is covered by the measure known as general government gross debt. The International Monetary Fund (IMF) defines this as covering all liabilities that require the government to pay interest or principal or both at some point in the future, and includes also future pensions and any State schemes that guarantee, for example, a loan to a private company.
The British Government publishes figures for general government gross debt four times a year. The most recent report, in July, put this debt at £1,821.3 billion at the end of the financial year that ended in March 2019.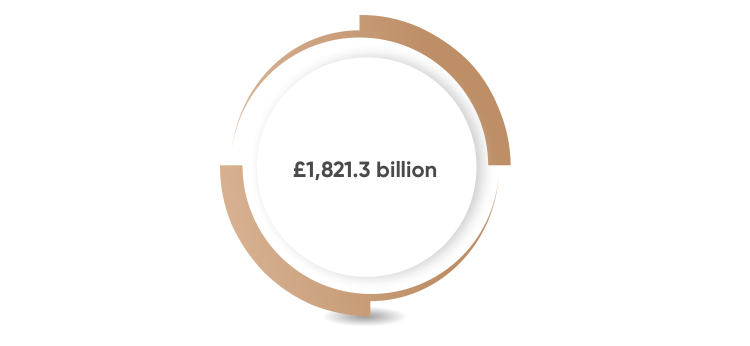 That's certainly a big figure. But should traders take an interest in it?
In short, yes. Government borrowing can have a major impact across a number of financial asset classes.
For example, currency markets can be deeply affected by levels of public debt. Sharp increases in borrowing may well weigh down on the national currency, for a number of reasons. One is that market players will see the borrowing as inflationary, thus weakening the value of the currency. Another is that such a rise may dent trader confidence in the overall management of the economy.
A reduction in borrowing could have the opposite effect.
In terms of stock prices, the effects of gross debt would vary from sector to sector. A rise in borrowing to build infrastructure could be expected to lift shares in construction and civil engineering companies, while increased debt to pay for bigger pensions and other benefits may be a boon for shares in consumer-products firms.
Declining borrowing need not be bad news for stocks in these and other sectors assuming it is in response to a buoyant economy in which private expenditure will be able to take up the slack. But falling debt resulting from a tough squeeze on public spending may well cast a cloud over shares.
So, yes traders ought to pay attention to general government gross debt. But before they put too much emphasis on these numbers in terms of guiding their trading strategies, one or two points should be borne in mind.
What is your sentiment on EA?
Vote to see Traders sentiment!
Cancelling its own debts
Firstly, GDP, as the name states, gives a gross figure. It measure liabilities only and take no account of any assets that the government may possess. True, in the UK, for example, separate figures are published for net debt, once liquid assets such as cash are accounted for, but the stress placed on the gross figure may sometimes be misleading.
Secondly,not every country accounts for gross debt in the same way. In the United States, for example, borrowings from one part of the government to another are not included.
Thirdly, traders need to bear in mind the difference between the debt and the deficit. Debt is the total of all the annual deficits up until now, whereas deficit simply measures the extent to which the debt is increasing.
Before long, a trader looking into general government gross debt will come across what is called the debt to GDP ratio, which expresses the debt as a percentage of gross domestic product. At the end of the last financial year, the UK's debt was equivalent to 85.2% of GDP.
Is that high? Well, when the European single currency was established in the late Nineties, member-countries pledged themselves to limit total debt to no higher than 60% of GDP. Britain itself observed this limit despite not joining the euro.
However, the financial crisis and subsequent need for increased public spending wrecked this ceiling and the average gross debt across all 28 EU member states was 80.8% at the end of last year. Is the government debt to GDP ratio still of any use to market players? Probably yes, but remember the effects of recent events.
Another post-crisis phenomenon complicating the task of watching movements in government debt has been the use of quantitative easing – central bank money creation – to stabilise economies. Most of this new money has been used to buy government bonds, creating artificial demand.
What is more, if these bonds mature before being returned to private hands, the government concerned will effectively have cancelled its own debts.
Why is debt going up?
The IMF publishes figures for public debt by country. In terms of gross government debt by country, the US figure for 2018 was of 105.8% of GDP, that for the euro area was 85% of GDP and that for the UK was 86.9% of GDP.
In Japan, after decades of stagnation, the figure was 237.1% of GDP.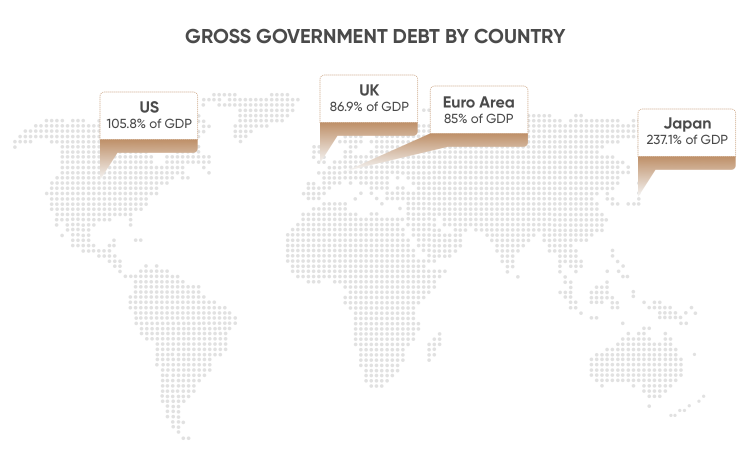 Two final pieces of conventional wisdom in this area probably ought to be re-examined. One is that "countries cannot go bust". This belief is based on the idea that a country can always print the money it needs to pay its debts.
Not if it's a euro member, obviously. Decades ago Newfoundland in North America, became insolvent and returned to British rule before eventually joining Canada.
Some think that the normal rules on borrowing do not apply to the US, because with two-thirds of world trade denominated in dollars, there will always be a huge demand for dollar assets. Thus, governments can cheerfully run up enormous debts.
This pleasant state of affairs is unlikely to last forever, and already, in 2011, America saw its credit rating impaired.
The motivation behind a rise in debt is the most important factor in determining whether it is good or bad news. A confident administration that is borrowing to invest for growth, improve education and infrastructure may cheer rather than spook markets. A government whose spending is clearly out of control will probably have the opposite effect.
Public debt and borrowing is very hard to forecast. Some years ago, a British Chancellor told MPs he had reduced public borrowing to one per cent of GDP and would hold it there. Opposition politicians said this would prove to be untruthful.
It did, because the following year there was no borrowing at all.