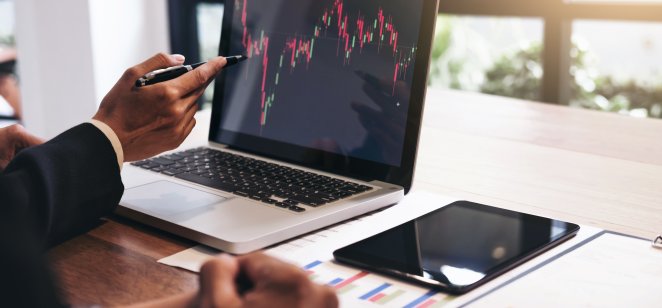 Overall global stock market overview
Global stocks had an upbeat start of 2020 as investors looked ahead to another year of stellar growth. In the first five weeks, most indices across the world were on an upward trend, with the S&P Global 1200 soaring by almost three per cent during that period.
However, things started to turn sour in late February when investors started to price-in the risks posed by the coronavirus outbreak that was rapidly spreading across China. As a result, volatility started to surge, with global stocks turning red. In March, the Dow Jones Industrial Average (US30) had its best single-day gains and its worst single-day drop on record.
Most global indices have declined by double-digits this year with Europe seeing the biggest losses. The Italian FTSE MIB (IT40) has lost almost 30 per cent while the French CAC has declined by 25 per cent. In the United States, the Dow Jones (US30) and S&P 500 (US500) have declined by 19 per cent and 15 per cent respectively.
Optimism started to return to markets a few weeks ago as investors started to price-in the flattening of the Covid-19 pandemic curve, government stimulus, and the actions of central banks. Just last week, the Dow Jones had its best week since 1987. In the past 30 days, the Dow, S&P and Nasdaq - 100 (US100) have gained more than 8 per cent, as shown below.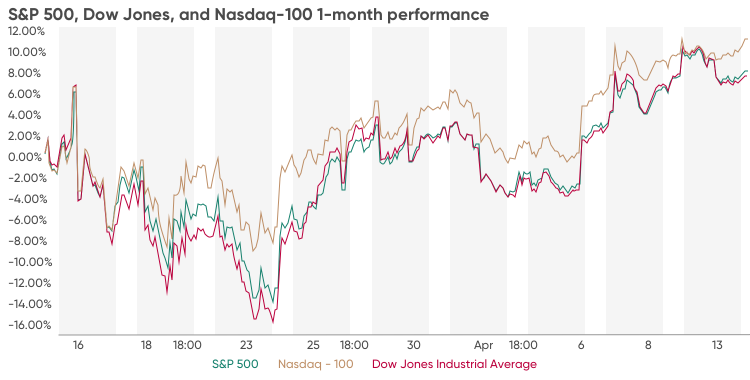 Analysts' views on companies and economy: what are some good stocks to invest in right now?
Before we look at some good stocks to invest in right now, let us recap what some analysts are saying about the current market conditions.
Morgan Stanley (MS) expects the unemployment rate to rise to 12.8 per cent and the US economy to contract by about 30 per cent in the second quarter. In a statement after releasing its Q1 financial results, JP Morgan (JPM) warned that the US would sink into a severe recession. Shortly afterwards, the IMF released its global economic outlook and forecasted the world economy to shrink by 3.3 per cent this year.
Analysts at Goldman Sachs (GS) expect the US GDP to decline by 1 per cent this year and 24 per cent in the current quarter. Another dire warning came from James Bullard, the President of St. Louis Federal Reserve, who predicted that the unemployment rate would rise to 30 per cent and GDP to contract by 50 per cent.
The same picture has been forecasted in Europe. A week ago, a report by German economists predicted that the economy would drop by 4 per cent this year and 9.8 per cent in the second quarter. In France, the country's economy slumped by 6 per cent in the first quarter, and economists expect the second quarter to be even worse. In a statement, the finance minister has warned that the nation could be headed into the worst recession since the Second World War.
Analysts have been divided about the current rally in stocks. On the one hand, some believe that stocks have bottomed. In a recent note, analysts at Goldman Sachs said that stocks have bottomed because the government was doing "whatever it takes" to support the market.
On the other hand, some experts argue that the market is having a bear market bounce. They expect the earnings season and the continued shutdown to help push the stocks lower.
Good stocks to invest in right now: 5 options to consider
According to Warren Buffett, wise investors should always buy when others are fearful. The recent volatility has caused, what some analysts describe, as a once in a lifetime opportunity to invest in stocks. In an interview with CNBC, Carl Icahn said that some stocks were being given away because of their low valuation.
Let us now take a look at some good shares to invest in now.
Facebook (FB)
The Facebook stock price has dropped by more than 14 per cent this year. This is partly because investors expect the company's revenue to fall as advertisers keep-off the platform.
We think this weakness has created a good entry point for several reasons. First, Facebook has a wide impenetrable moat in the social media and advertising industry. Second, while the company's revenue will be hit in the first and second quarter, we expect its revenue to bounce back later this year. This is partly because many existing and new companies will leverage Facebook platform to reach more customers.
Third, Facebook has a strong balance sheet, with more than $54 billion in cash and minimal debt. We expect the company to leverage this balance sheet to achieve post-crisis growth.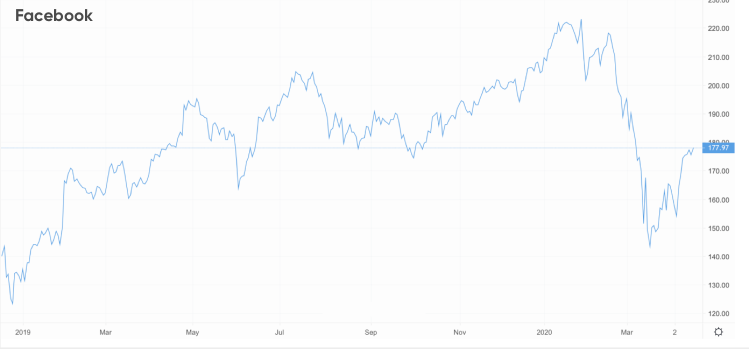 According to data aggregated by MarketBeat, most analysts have a buy rating with a price target of $235. This implies a 35 per cent upside from the current price.
Microsoft (MSFT)
Microsoft stock price has declined by about 2 per cent this year, which is a better performance than the overall US stock market.
There are several reasons for this. First, most of Microsoft's products target companies and are difficult to replace. These include products like Office 365, Windows, and Azure services.
Second, Microsoft has a stellar balance sheet. It has more than $138 billion in cash and short-term investments. This will enable it to thrive even after the current financial crisis ends. It will also help it acquire high-quality companies at a relatively low valuation.
Third, the current financial crisis could lead to more demand for the company's cloud services. In a recent article, the Wall Street Journal noted that many companies had started thinking of investing more money into cloud computing. As one of the biggest companies in the sector, Microsoft will continue benefiting in this transition.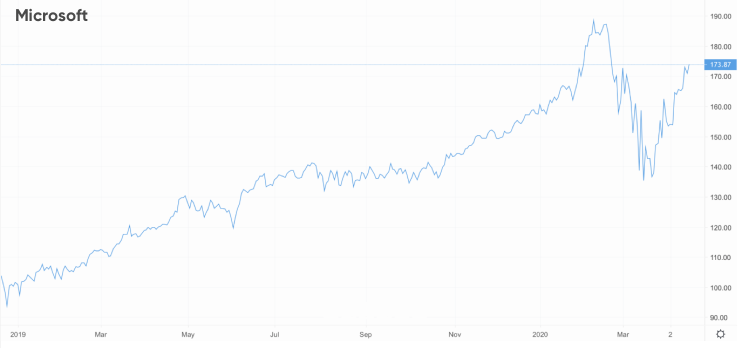 For that, Microsoft makes for an excellent company to buy ahead of its quarterly earnings results in April. Indeed, data compiled by MarketBeat shows that most analysts have a buy rating of Microsoft stock with an average price of $184. This implies an 8 per cent gain from the current level.
Salesforce (CRM)
Salesforce is a big company that provides several products to companies. It is the biggest customer relations management (CRM) business in the world with a market value of more than $141 billion. The company's stock has dropped by more than 3 per cent, which is an equally relatively good performance.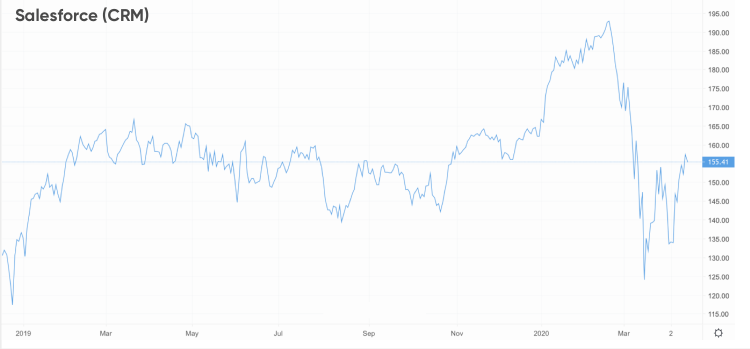 As with Microsoft, Salesforce provides services to thousands of companies globally. Over the years, it has cultivated relationships with many big companies that are unlikely to cancel their subscriptions. The company has also created a diverse suite of products that are irreplaceable to most companies. For example, it has become a leading player in business intelligence through its acquisition of Tableau.
Salesforce has a good balance sheet with more than $7 billion in cash and very minimal debt. The company's moat and good balance sheet mean that its earnings will not be affected significantly by the current coronavirus pandemic.
According to MarketBeat, most analysts have a buy rating of the stock. Their consensus estimates are $200, which is a 25 per cent upside from the current level.
Shopify (SHOP)
Shopify is a SAAS company that helps people and businesses build e-commerce platforms. It helps serve more than a million firms from around the world. Shopify's stock has soared by more than 22 per cent this year.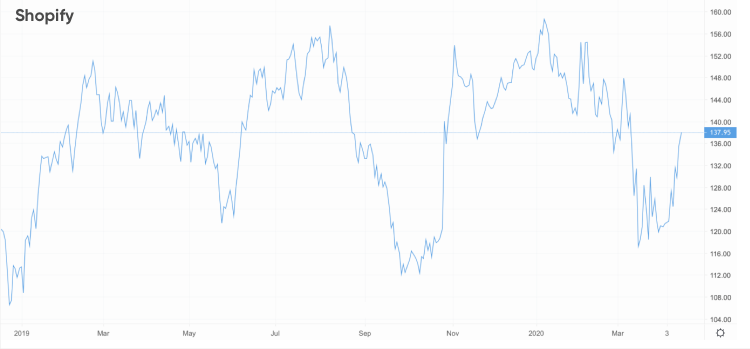 Shopify makes money by charging its members a monthly fee and charges a transaction fee for every product that is sold.
The main catalyst for Shopify is that we expect a boom of entrepreneurship when the economy opens. With millions of people out of work, a good number of them will try to start their businesses. As they do this, SHOP will benefit from the new members.
Another catalyst is that with many businesses being closed, many people in the US, Canada, and Europe are now shopping online. This is increasing the company's transaction revenue, which could provide a boost in the first quarter's revenue.
However, Shopify has always been a volatile company to invest in. This makes it the most contrarian option on this list. Indeed, according to MarketBeat, most analysts expect the stock to drop by about 11 per cent.
Advanced Micro Devices (AMD)
AMD has emerged from relative obscurity to a main contender in the semiconductor industry under the leadership of Lisa Su. AMD stock price has risen by 19 per cent this year, and we expect it to gain more in April.
AMD has two main catalysts. First, computer gaming has increased as more people stay indoors and is expected to grow in future as people avoid attending live matches. As they do this, the demand for fast gaming devices is rising. Therefore, we expect AMD to be a leading beneficiary of this trend because of its strong lineup of products.
Second, we expect AMD's data centre products to receive a boost as more companies embrace the cloud. Finally, AMD's management has done a lot to reduce debt and increase cash on hand, which is a good thing to do during the current recession.
Summary: but are there really some good shares to invest in now and play it safe?
When answering the question "which stocks to invest in right now?," we believe that the answer lies in the technology sector, as other industries are now set to go through some major challenges in April and beyond. For example, the real estate sector will experience a period of low growth, while the finance sector will suffer from low-interest rates. Consumer discretionary sector will slow down as more people focus on the essentials.
However, as the financial markets have experienced multiple ups and downs during the past few weeks, we recommend you to arm yourself with as much knowledge as possible. When choosing what stock to invest in, consider the latest news, market trends, expert opinion and technical analysis.