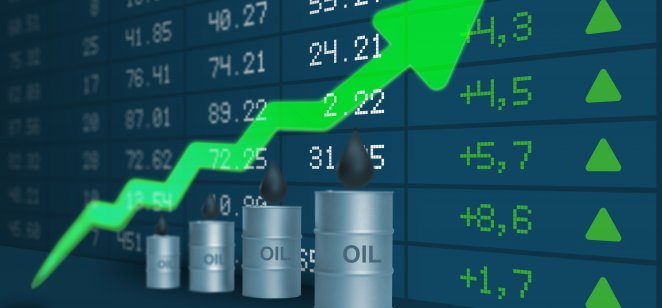 Russia's invasion of Ukraine and the subsequent ban on the country's fossil fuels exports sent crude oil futures to record highs.
Brent crude futures for May delivery were trading above $121 per barrel. Goldman Sachs highlighted three scenarios that could propel Brent crude to $175.
As the world's third largest oil producer and exporter, Russia's war against Ukraine disrupted global supply, causing the quick global condemnation via economic sanctions reducing the country's energy exports.
"Given Russia's key role in global energy supply, the global economy could soon be faced with one of the largest energy supply shocks ever," a note obtained by Capital.com warned.
The US ban of all Russian oil imports sent Brent crude, the international benchmark, up more than 7% to a session high to $133.15 a barrel after President Joe Biden's announcement Tuesday.
The investment bank believes some relief can possibly come from OPEC, Iran and Venezuela. But Goldman's note states demand destruction due to high prices is needed for the global oil market to return to normal.
"The uncertainty on how this conflict and oil shortages will be resolved is unprecedented," the note said.
To estimate where Brent prices are headed, Goldman highlighted three scenarios on how the invasion could impact energy supply.
Scenario 1: Historical base (45%)
Under the investment bank's prior base-cases, it expected increased demand to limit the impact of declining Russian exports. For example, an Iranian nuclear deal would offset the disruption by about 500,000 barrels a day.
Scenario 1 would reduce Brent's spot price at $115 per barrel during the second quarter and $95 a barrel in 2023.
Goldman gave this scenario a 45% probability.
Scenario 2: Quotas and waivers (40%)
If global sanctions caused a moderate export disruption of about 2 million barrels per day, Goldman's scenarios have Brent spot prices at $145 per barrel in Q2 and $125 a barrel in 2023.
Russian exports could be reduced by 2 million barrels per day.
Goldman gave this scenario a 40% probability.
Scenario 3: All out blockade (15%)
The final scenario Goldman examined was severe supply push, perhaps from self-imposed export restrictions from Russia. This could reduce Russian exports by about 4 million barrels per day, sending Brent spot prices upwards of $175 per barrel in Q2 and $155 a barrel in 2023.
Goldman gave this scenario a 15% probability.
Further reading: