Gold (XAU/USD) and Silver (XAG/USD) retreat pullback continues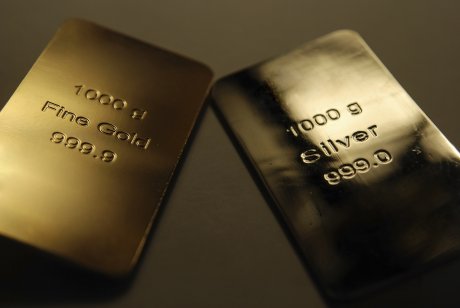 As mentioned last week in my video analysis, Silver (XAG/USD) has staged a pullback from the recent highs as the bullish rally had overheated and become unsustainable. This pullback doesn't necessarily indicate a change in trading momentum, but rather a period of correction that will likely attract new buyers for the next leg higher.
Silver (XAG/USD) daily chart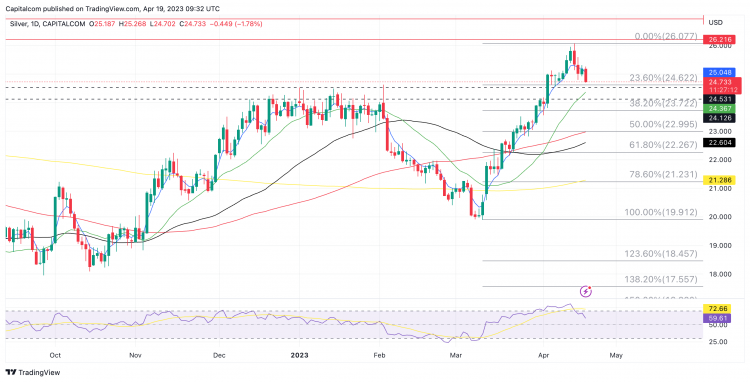 Photo: capital.com. Source: tradingview
The selloff so far has undone about 20% of the March-April rally (19.91 - 26.07) but there is likely further room to go before bullish appetite takes over once again. A key area to focus on will be between 24.53 and 24.12, which acted as a key area of resistance on the way up and has a fair amount of confluence in trading momentum. Beyond there, a move towards 23.60 would likely attract new buyers enough to form a reversal and continue the longer-term bullish trend. This level is also in close proximity to the 38.2% Fibonacci reversal at 23.72.
Traders should keep a close eye on the US dollar as the greenback has been picking up some momentum after continued hawkish comments from Fed members increase the odds of another rate hike in May. Fears of a recession so far have been helping gold and silver find some safe haven support but the dollar is also likely to influence the sustainability of the bullish rally in precious metals.
With regards to gold (XAU/USD), the pullback has broken below the ascending trendline that was keeping the precious metal supported over the past month. Unlike with silver, gold has seen more fluctuations in its rally, meaning that there was not a greater need to see a sustained pullback to consider the continuation of the bullish momentum viable. Nonetheless, given the likelihood of continued fundamental support, this retracement will serve to increase appetite for buyers who seek a more profitable entry point.
I think there is no real risk of a reversal in momentum from here until 1,935, at which point the selloff could drag on further and gather more strength, risking a drop below 1,900.
Gold (XAU/USD) daily chart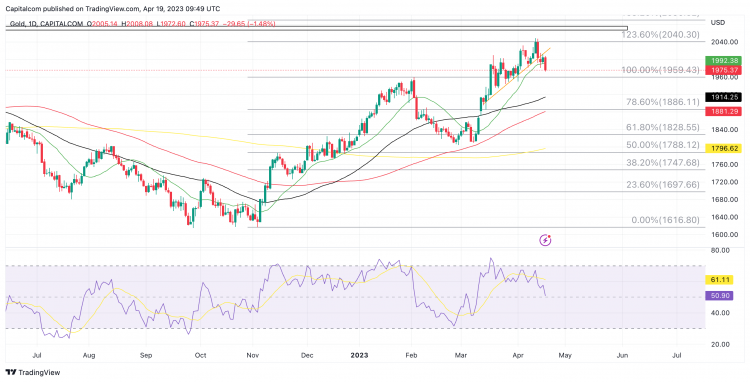 Photo: capital.com. Source: tradingview