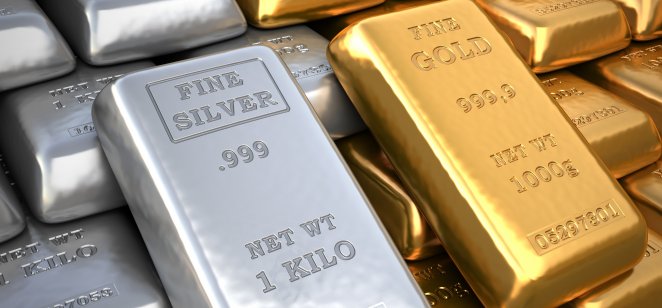 Gold prices rose beyond $1,840 in early afternoon trading in London on Wednesday, drawing the interest of investors concerned about the onset of stagflation, a condition defined by high inflation and poor growth. The yellow metal outperformed all other metals today, with the growth-sensitive copper showing the largest decline (-3%).
Silver, platinum and palladium were all in the red, as investors speculated that more monetary tightening and hence weaker growth would be required to tackle a persistent inflation.
According to Piero Cingari, analyst at Capital.com, "today's movements in the metals market testify that investors continue to incorporate stagflationary scenarios for the world economy, characterized by high and persistent inflation combined with stagnant or even recessionary economic growth.
The latest jump in inflation in the United Kingdom, to 9.1 percent year-over-year in May, after the rise in inflation in the United States, confirms the need for more aggressive monetary tightening by central banks, even at the expense of economic growth. Metals most sensitive to cyclical growth, such as copper and aluminium, suffer the most, whilst gold stays relatively steady, outperforming in relative terms.
It is no surprise that oil, which, along with copper, is a crucial barometer of global growth, is currently having one of its worst sessions since the beginning of the year, losing almost 5% on the day. The relative strength of gold versus copper, or the so-called gold-to-copper ratio – which is defined as the pounds of copper required to buy an ounce of gold – shows signs of a new uptrend, which cyclically occurred in times of economic uncertainty and growth slowdown."
Chart of the day: Gold-to-copper ratio spikes amid stagflation fears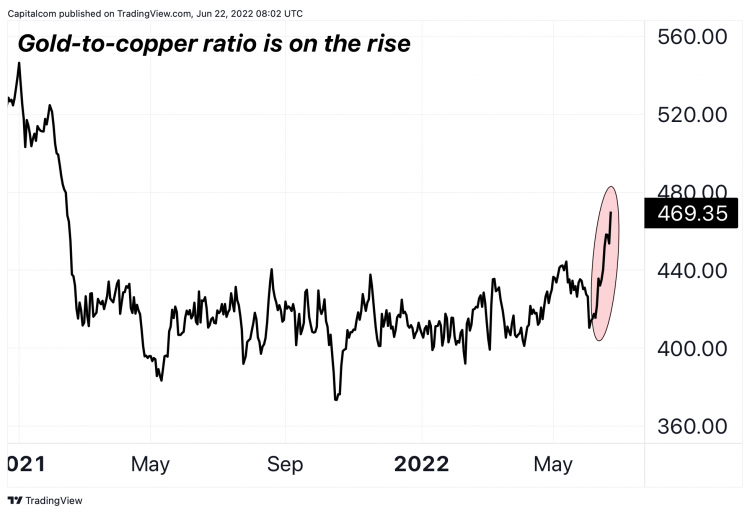 Gold-to-copper ratio spikes amid stagflation fears – Credit: TradingView
In London early afternoon trading, spot gold rose 0.6% to $1,843 per troy ounce, as the US dollar (DXY) retraced to 104.1 levels. US Treasury yields collapsed, with the 10-year note yield dropping more than 10 basis points to 3.14%, as investors sought safety in high-quality bonds amid growth concerns.
Silver dropped 1% to $21.4 per troy ounce, fueled by investor worry that the US Federal Reserve may hike interest rates by a further 75 basis points in July, and possibly another 50 basis points in September.
Platinum dropped 0.5% to $930 per troy ounce following European new car sales dropping for the 11th month in a row, further depressing demand outlook for auto catalysts. Palladium fell 0.4% to $1862 per troy ounce, also suffering from the weaker automotive outlook.
Copper plunged 3% to $3.9 per pound, falling below the crucial $4 per pound mark for the first time in over a year, on escalating worries of global economic slowdown.
Aluminum dipped 2% to $2,477 per tonne, following rapidly climbing production from China with demand continuing to lag behind.
Iron ore inched up 1.7% to $117 per tonne, almost down to six-month lows.
Top things to know about metals today
Gold: Switzerland has just imported gold from Russia for the first time since the beginning of Russia-Ukraine conflict.
What is your sentiment on Palladium?
Vote to see Traders sentiment!
Iron ore: Iron ore prices are further subdued by excessive optimism from Chinese steel makers.
Copper: State-owned copper mines in Chile are currently hovering on the edge of strikes, fueled by the closing of a key smelter.
Platinum: New research suggests that platinum may potentially be able to purify wastewater and help convert it into potable water.
Top things to know about mining stocks today
Glencore (GLEN) has recently pled guilty to UK bribery charges.
Rio Tinto (RIOgb) has just opened its new Gudai-Darri mine, which will be its most technologically advanced one yet.
BHP (BHP) has recently reported that methane from its open-cut coal mines cannot be captured.
Anglo American (AALI) has just reported very good diamond sales for its De Beers subsidiary.