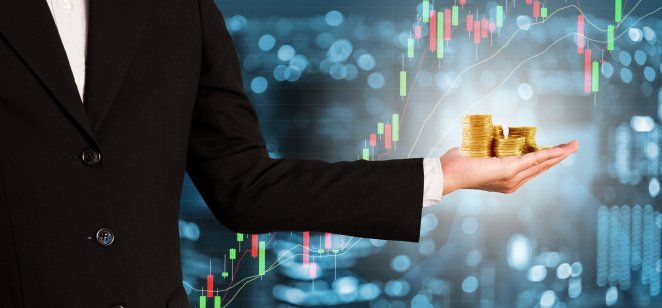 Content
Precious metals have been serving mankind in various shapes and forms for centuries. Gold, in particular, has long been considered to be a safe haven for investors during times of political and economic uncertainty, market volatility and high inflation.
So, if you are thinking about adding some metallic sparkle to your portfolio, but are still hesitant — we've got you covered. In this article, we will discuss what the gold price forecast for 2020 and beyond looks like.
Gold performance in 2019
For the past few years, gold has been an unloved asset class. However, now the charts are showing that that is finally about to change.
Since the financial crisis of 2008, many have chosen to stick with this precious metal, making it one of the most popular and sound markets of the past decade.
However, in the last year, gold had lost much of its shine. In August 2018, its price fell below the $1,200 per ounce mark for the first time in over two and a half years, representing its worst losing streak since 2013.
Nonetheless, since then gold has shown a splendid recovery to hit $1,548.70 per ounce on September 3, 2019, representing a surge of almost 20% this year alone. Those gains have put the metal on pace for its best performances in the past six years.
To better navigate in the gold price expected trend, it is important to know how this commodity has performed in the past. Here is what the gold price chart from 1960 to 2019 looks like:
This precious metal has witnessed many ups and downs, accompanied by various political and economic events. It saw its record low price in December 1970 when it was valued at an unimaginable $235.70 an ounce. A decade later, gold hit its all-time high of $2,165.30 in February 1980.
It took another 30 years for gold to jump to the level of $2,067.73 in August 2011, right before falling into the downtrend that lasted until November 2015.
According to the chart, the gold price has been in a continuous uptrend for almost a year now. If history is any example, does it mean we are about to see an improvement in the gold price outlook 2020?
Factors that presently influence the value of gold
Before diving into the gold forecast for 2020, it is important to understand what actually drives the price of gold. Today, there are many factors that are pushing gold towards an upward dynamic.
Looming geopolitical and economic issues, including rising tensions in the Middle East, the U.S.-China trade war, Brexit and fears of a slowing global economy have seen many investors turn to this reliable safe-haven asset, driving gold prices up.
Analysts from Commerzbank, one of the majors of the banking industry, have stated earlier: "We see the ongoing steep rise in the gold price as an expression of the high-risk aversion among market participants. Gold is quite clearly still in demand as a safe haven in the current market environment."
Gold prices have also benefited from the Fed's decision to cut interest rates in July, as well as from fears of a full-blown currency war between the dollar and the yuan.
Gerald Celente, a publisher of The Trends Journal, has said: "Attributing to the recent rally is loose monetary policies around the world." He also told Kitco News that there are chances gold "is going to spike for the $2,000 mark."
Generally, many factors can cause fluctuations in the gold price. These, among others, include the usual law of supply and demand, inflation, interest rates, political instability and currency market movements.
Therefore, if you are eager to invest in this metal and are wondering "how much will gold be worth in 2020?", it is important to always monitor the global news and trends to stay on top of the current situation.
Gold price prediction 2020 and beyond: what the future holds
The trajectory of the recent gold's rally has divided experts' opinions in two.
For example, a senior market strategist at RJO Futures, Phil Streible, told Kitco News that gold prices may still see much higher levels from here. He said: "We should continue to see that break through $1,400 and I anticipate that a lot of the short sellers will end up giving up at that level. So, no telling how high we can go from here, it's kind of got that perfect storm going on with increasing geopolitical risks and then also a dovish Fed."
On the other hand, Live Mint has warned investors, saying that "despite a number of positives for gold prices, some analysts remain cautious."
Eun-Young Lee, an analyst at DBS Bank, also has a sceptical outlook. "We think that recent gold price surge seems overdone, and high volatility for gold prices should not be welcomed by investors,'' she said.
Cameron Alexander, director of precious metals research at GFMS, Refinitiv, stated: "The sudden spike in gold prices is the result of speculative buying given the rise in global uncertainty."
Paul Tudor Jones from Tudor Investment has made a more optimistic bet, predicting that once a mark of $1,400 an ounce is reached, the next level will be $1,700.
The chief analyst at Markets.com, Neil Wilson, said: "Gold has now cleared a tonne of important multi-year resistance, paving the way for a return to $1,400 and beyond."
According to Walletinvestor.com, a long-term increase is anticipated for gold, with a price prediction of $1,717.47 for August 31, 2024. Therefore, if you invest in this commodity today, the revenue is expected to be around +10.49% in 5 years.
This is what their gold price forecast 2020 looks like:
Based on the opinion of another popular forecasting agency, Longforecast.com, gold is expected to hit the $2,020 mark by October 2023.
Here are their gold price predictions for the next few years:
Analysts at Gov Capital have a much more positive outlook, saying that in 5 years, the gold price will hit $8,083.559.
This is what their one-year forecast looks like: