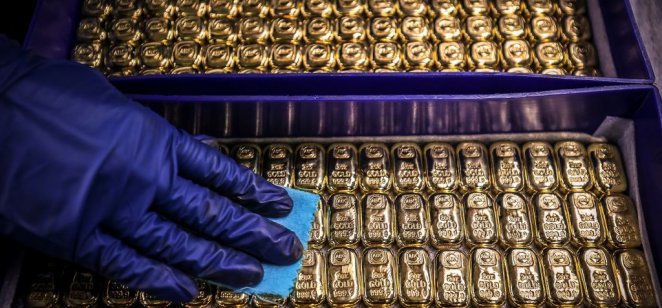 Content
Gold prices have recently rebounded nicely, crossing above the 50-day moving average (dma), one of the most important and widely used technical indicators to gauge an asset's uptrend. Simultaneously, gold also broke through the trendline of the short-term descending channel, indicating another short-term bullish signal.
Gold has traded below the 50-day moving average since mid-April this year, in a bearish trend that saw a 19% drawdown from March 8's peak to July 21's lows.
The last time gold rose above its 50-day moving average was in early February, when prices then experienced a 15% surge to $2,070/oz.
This recent uptick in gold prices comes at a time when the macro picture in major advanced economies is increasingly pointing to stagflation, defined as slow growth or even recession and persistently high inflation. Gold has historically performed well in this type of economic environment.
After the 50-dma's technical breakout and renewed concerns about an impending global stagflation, what lies ahead for the gold price's uptrend?
What is your sentiment on Gold?
Vote to see Traders sentiment!
Gold daily chart: 50-dma and channel breakout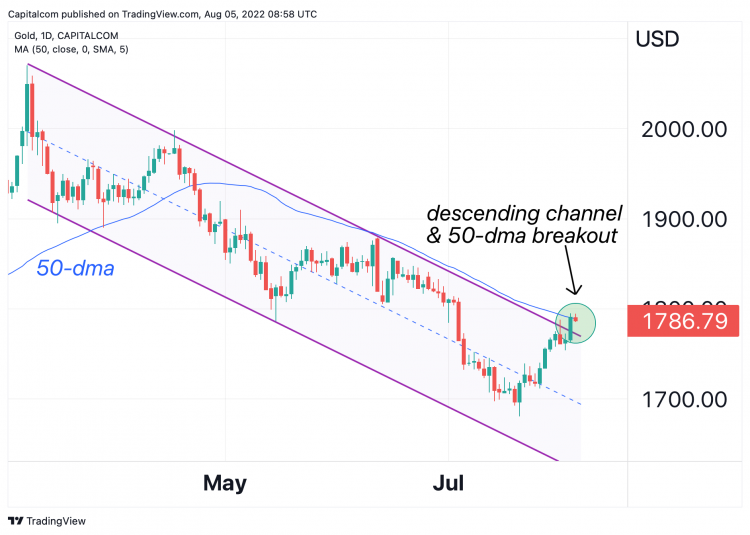 Gold price daily chart: breakout of the 50-dma and the descending channel as of August 5th, 2022 – Photo: Capital.com / Source: Tradingview
Gold fundamental analysis: stagflation is here to stay
Lower US Treasury yields and a softer dollar (DXY) fueled the recent gold's rally, as the market believed the Fed's aggressive front-loaded rate hikes would result in a sharp economic slowdown at a later stage, forcing the Fed to pause or cut rates down the road.
The US yield curve (10 vs 2 years) is inverted to the greatest extent since October 2000, indicating widespread market pessimism about economic growth prospects. Conversely, the University of Michigan's measurement of short-term inflation expectations reveals the highest level ever.
Gold benefits from lower US real yields and a weaker USD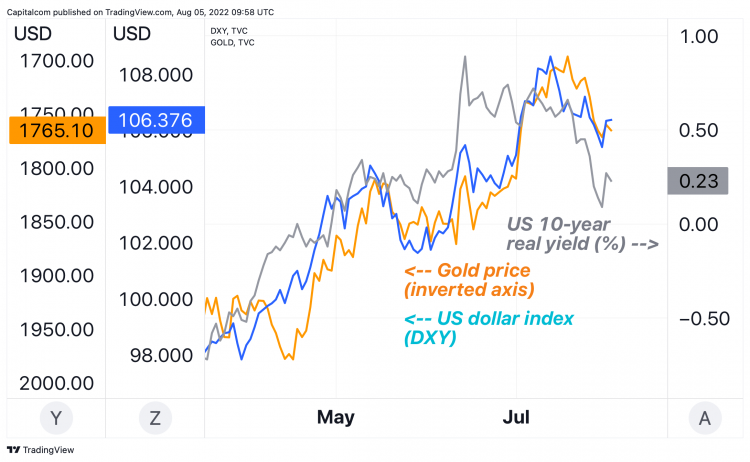 Gold vs US real yields and US dollar index (DXY) – Photo: Capital.com / Source: Tradingview
US yield curve and inflation expectations paint a stagflationary picture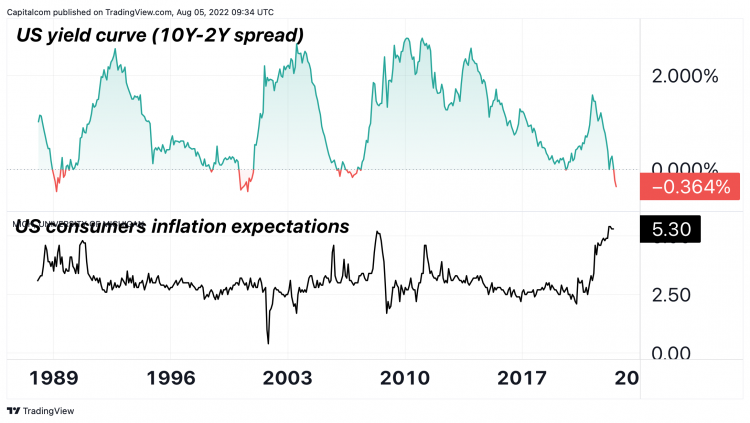 US yield curve (10-year vs 2-year spread) and US University of Michigan consumer inflation expectations depict a pessimism around growth and inflation – Photo: Capital.com, Source: Tradingview
The Bank of England raised interest rates by half a percentage point for the first time in 27 years, but warned that the UK economy would likely enter a long-lasting recession in the fourth quarter. Few, however, observed the BoE's explicit statement that "there is a risk that a longer period of price inflation will result in more persistent domestic price and wage pressures."
Essentially, a recession accompanied by sticky-high inflation, also known as stagflation, is expected to be the predominant global macroeconomic trend in the coming months. In this sort of economic environment, gold has historically performed very well.
Furthermore, geopolitical tensions between the United States and China over Taiwan boosted safe-haven demand for the metal. China reportedly fired a barrage of missiles into Taiwanese waters in response to US House Speaker Nancy Pelosi's visit to the island, and the Chinese foreign ministry has announced that Pelosi will be sanctioned as a result. This may keep mood on riskier assets quite depressed, favouring safe havens like gold.
Gold price seasonality: Investors flee risky assets and flock to gold in late summer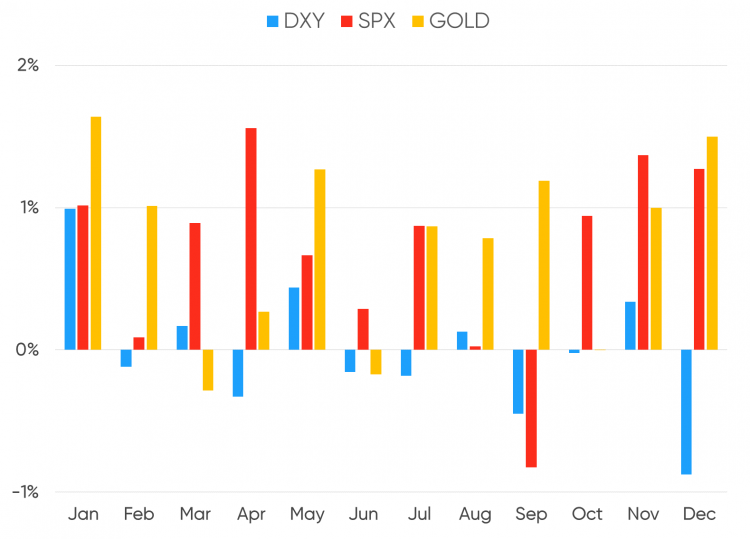 Average monthly returns of gold, S&P 500 and US dollar index between January 1972 and August 2022 – Photo: Capital.com
Price seasonality is now starting to shift in favour of the yellow metal. Historically, September is the month in which gold has largely outperformed the stock market (S&P 500 - US 500) and the dollar, both of which posted losses for the month.
Going forward, markets will continue to monitor US economic data (today's NFPs and next week's US CPI prints) for hints on the next Fed's policy, as well as geopolitical tensions in Asia.
Stronger-than-expected growth and inflation readings will increase the likelihood that the Fed will implement additional rate hikes, which will limit gold's upside gains.
On the other hand, if there are signs of economic slowing, combined with a faster-than-expected drop in inflation, this will reinforce market expectations of a more dovish Fed in the future, thereby supporting gold prices even further.
Gold technical analysis: 200-dma is the next key hurdle
Gold daily chart technical analysis as of August 05, 2022 – Photo: Capital.com, Source: Tradingview
Gold prices have risen significantly in recent weeks, hitting four-week highs and breaking the 50-day moving average for the first time since late April. Gold prices simultaneously breached the trendline of the short-term descending channel, which had been in place since early March.
The last time gold prices broke above their 50-day moving average was at the beginning of February, when they then posted a 15% rally up to $2,070/oz.
14-day RSI is currently travelling at 57 and has been above the value of 50 for the past week. The MACD is aiming to break through the zero line, with the MACD line remaining above the signal line following the bullish crossover on July 22.
The next resistance is at $1,800-1,811 area (61.8% Fibonacci retracement from June highs/July lows and July 5's high). Overcoming this area may pave the way for a 200-dma test, at $1,835-1,840 region (78.6% Fibo level). A breakout of this key hurdle would be provide a strong trend reversal signal reviving institutional investors' interest in the yellow metal.
Alternatively, in the event of a pullback, $1,727 (23.6% Fibonacci) is an intriguing support level where some dip buyers may re-emerge, while a break lower would open up new scenarios towards the year-to-date lows at $1,681.
Read more...