GME investor chatter tops most popular posts on Reddit
Stock-focussed postings were among the most popular on social media website Reddit.com this past year with "GME" and "AMC" mentioned the most, according to a blog post.
Reddit is a social media website subdivided into "subreddits" where registered and subscribed users can "upvote" posts that they like or approve of. The site was co-founded in 2005 by the late Aaron Swartz, Alexis Ohanian and Steve Huffman, who is the current CEO and a Reddit user himself, known as u/spez.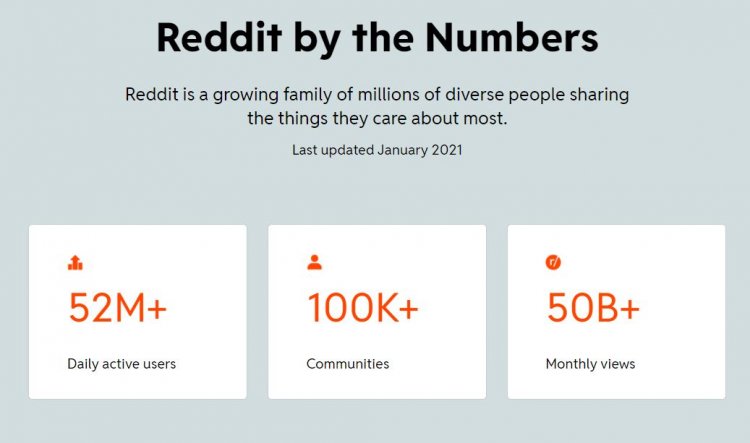 Reddit by the numbers – Photo: Reddit
Intense retail investment interest has been seen in companies such as Gamestop and cinema chain AMC from subreddits such as r/wallstreetbets and r/superstonk. Equities that attract Reddit investor attention are known as "meme stocks," taking information "from URL to IRL."
$2.2bn of retail money
According to data compiled by independent research company Vanda Research obtained by Capital.com, retail purchases of US equities hit an all-time high on 1 Dec of $2.2bn (£1.67bn).
"This year, we've seen firsthand the power of online communities to drive real-world action and impact," Reddit chief marketing officer Roxy Young told Capital.com by e-mail.
"From the highly-publicised activity within r/wallstreetbets to the everyday interactions that continue to inspire, it's clear the conversations, advice, and recommendations that take place within online communities have the power to proliferate to the real world."
What is your sentiment on GME?
Vote to see Traders sentiment!
Investor communities
All three of this year's most popular postings were from retail investor-focussed subreddit r/wallstreetbets, "a community for making money and being amused while doing it".
The three top posts of the year mentioned stocks such as videogames retailer Gamestop (GME), cinema chain AMC (AMC), Finnish tech company Nokia (NOK) and Naked Brand Group (NAKD).
R/wallstreetbets was the original source of investor interest in Gamestop stock after a post from a user known as "DFV" identified massive short interest in Gamestop as far back as 2019. DFV even made a video going over his investment reasoning.
'DFV' revealed
DFV was eventually revealed to be former MassMutual employee Keith Gill who was freely making investment theme social media posts while working as a "financial wellness director" at the financial services company.
Gill later testified to Congress during an inquiry into Gamestop-related market turmoil in February and has been strongly defended online by other social media users.
"If GameStop's buyers invested for personal reasons as well as pecuniary, that is their right. The stock market does not test investor intentions," Morningstar vice president of research John Rekenthaler wrote in March.
Retail investor interest in AMC over the past 12 months even pushed the stock to a four-year high. Cybersecurity firm IronNet – founded by a former director of the NSA – is another stock that has seen interest from Reddit users.
Commodities spillover
The "Reddit effect" has even spilled over to the commodities space: uranium is the focus for the subreddit r/uraniumsqueeze.
Reddit also said that the most-viewed topic in 2021 was cryptocurrency.
"For more than 10 years, Reddit has been home to over 500 cryptocurrency communities. As more redditors participate in conversation, whether it be for information, help, or to share major successes, Reddit continues to be the hub for cryptocurrency enthusiasts," Reddit said in its blog post.
The site has subreddits devoted to coins such as Bitcoin, Ethereum and Dogecoin alongside subreddits covering crypto mining and cryptocurrency in general.
Read more: Biotech stocks analysis amid Reddit's biowar