Global supply chain crisis easing, but action still needed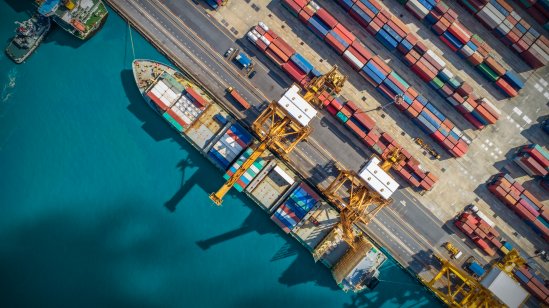 The global supply chain crisis seems to be easing, but key sectors of the US economy are unsure when more normal operations will resume, hoping it will be sometime in 2022.
However, one professional warned if changes are not made in the world's supply chain, a crisis similar or worse than the one experienced this year could cause chaos.
Omicron
The unknown variable in the system is Omicron, the latest Covid-19 variant that is spreading as factories reopen in Asia and energy shortages and port capacity are easing in recent weeks.
US retailers are still struggling to stockpile some items this holiday season, from cream cheese to eggnog, however; major retailers are reporting they mostly have what's needed for the Christmas holiday.
This week, the White House claimed US President Joe Biden "saved Christmas" though his administration's action to ease the supply-chain crisis. In June, the administration created a task force to address the issues, caused largely by pandemic-related labour and demand issues.
Key parts of the task force's solution were 24-hour, seven-days-a-week port operations, along with new transportation rules and help from giant retailers.
"The much-predicted crisis didn't occur," Biden said. "Packages are moving, gifts are being delivered, shelves are not empty."
Shelves at grocery and drug stores are stocked at 90% of their full capacity, the president said.
Goods are now moving quicker through Southern California ports with shipping container unloading wait times being cut by 50%, the White House said.
FedEx CEO Fred Smith said supply-chain issues are "not all solved" but that "most of Santa Claus' products will be delivered to the consumers."
Executives of other major retailers agree but predicted the chain-supply issues are not going away anytime soon.
"I don't know when it will end," Lora Cecere, founder of Supply Chain Insight, an industry research firm, told Capital.com. "My belief? The disruption will last a long time. While many are focused on last-mile delivery reliability, the focus needs to start upstream with a focus on the first mile."
"Christmas gifts are arriving on time this year. Good news. We've saved Christmas."
by
White House press secretary Jen Psaki
First mile issues
When the coronavirus pandemic began in March 2020, no company was prepared, because within the last seventy years, the global supply chain has run on three assumptions – the availability of logistics, low and controllable variability and rational government policies. Those assumptions proved wrong when the world's ships, trains, trucks came to a near standstill.
"There is no planning model in traditional solutions that recognises a logistics bottleneck and drives bi-directional orchestration across source, make and deliver," Cecere said.
Cecere explained prolonging cycle times in the supply chain is actually less impactful to performance than increasing variability. "Increasing variability is a killer," she said.
During Covid-19, the variability of the essential cycles of the supply chain – lead times, conversion rates, and cycle times – grew and were not manageable in the US during the pandemic, she said.
"As a result, the supply chain leader is moving through uncharted territory. The news reports symptoms, not root causes. The traditional technology company puts new lingo on their marketing and the salespeople jet around the world, but we are not asking ourselves: How do we improve outcomes with the changing winds of the supply chain," Cecere asked.
Solutions
There are a few solutions to avoid another supply chain crisis in the future, she said.
One is to pass the Port Modernization and Supply Chain Protection Act, which would temporarily waive some requirements governing transportation workers and expedite applications for certain-supply chain jobs.
Another solution, Cecere said, is for the US government to take action on improving the supply-chain system. Since the supply chain crisis there have been numerous bills introduced in Congress, however; as of 23 December, none have made it out of committee, according to Congress.com. The Port Modernization and Supply Chain Protection Act was introduced nearly six weeks ago and is stalled in the Senate Committee on Commerce, Science and Technology.
"Stop issuing hollowed press releases," Cecere said, who argued current laws are ineffective: "They're hollowed laws passed without thinking of the implications."
The government could also require a universal tracking system for cargo vessels, known as an AS system, it works network to network. The technology is already available from large technology companies to monitor ocean freight, rail and trucking movement.
"As a result, the supply chain leader is moving through uncharted territory."
by
Lora Cecere, founder of Supply Chain Insight
Taxes, tariffs and China
Cecere also said government policies towards the supply chain need more common sense.
Two examples of government policies complicating the response to supply chain issues tariff shifts and reaction to policies by China. China remains upset with Washington over the high tariffs the former Donald Trump administration slapped on thousands of Chinese-made goods. China also shuttered some ports after massive reports of Covid-19 outbreaks. All the while, demand for products increased as the world turned to online shopping while under stay-at-home recommendations.
The second policy that alludes common sense, she said, is port management, explaining US terminals have very little governmental oversight. "I am shocked in my interviews to find the current political thrust to be guided by lawyers, lobbyists, and labour unions," she said, adding the US government does not own ports, unlike China or Denmark, which own 90% of global ports.
Infrastructure bill
Cecere joins others in worrying that the recently enacted infrastructure law will hinder improving the supply chain by unintentionally creating a truck driver shortage.
She and trucking industry groups worry the law will draw long haul truckers to more "friendly" be-at-home-every-night work building bridges, roads, airports. In an industry already scrapping for qualified truck drivers, the law will only create more of a supply-chain bottleneck.
"We're going to see a depletion of truck drivers," she predicted, adding in construction there's less federal paperwork to complete daily.
Read more: Cargo container crunch creates supply chain crisis
Read more: Supply-chain crisis probed by US Federal Trade Commission