GE Healthcare to purchase BK Medical for $1.45bn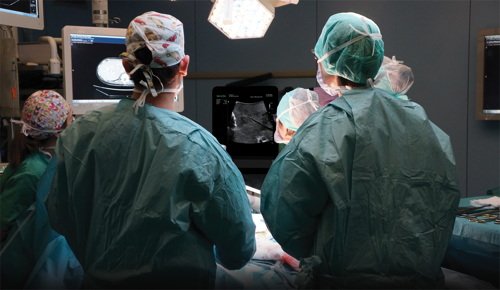 General Healthcare announced Thursday plans to purchase BK Medical for $1.45bn (£1.06bn) in cash to add the firm's advanced surgical visualisation technology.
The announcement sent GE's shares up nearly 5% to $103.52 in mid-day trading, but still well below the 52-week high of $115.32 set on 9 March.
BK Medical's purchase from health care investment firm Altaris Capital Partners is the largest under GE CEO Larry Culp. Since joining as chief executive in October 2018, Culp has focussed on paying down the Boston-based conglomerate's billions of US dollars of debt.
GE, once the icon of American manufacturing, said the BK Medical deal will increase its presence in precision health care, a sector worth tens of billions of dollars.
BK Medical manufactures ultrasounds systems to allow real-time visuals during surgeries. The Boston and Copenhagen-based company employs 650 people and has double-digit revenue growth, the press release said.
In the release, GE stated the purchase will allow its $3bn ultrasound business to expand into surgical and therapeutic interventions.
Mutually beneficial
Both companies praised the proposed purchase as financially sound.
"Ultrasound today forms an integral part of many care pathways, and BK Medical is a strategic and highly complementary addition to our growth and profitable Ultrasound business," said GE Healthcare president and CEO Kieran Murphy.
BK Medical said the acquisition is a win for surgical patients.
"Combining our expertise in intraoperative imaging and surgical navigation with GE Healthcare's many strengths and global presence will accelerate our mission to change the standard of care in surgical intervention," said BK Medical president and CEO Brooks West.
The purchase is expected to produce high-single-digit returns by around 2026. The transaction is expected to be completed sometime in 2022.
Frugal company
Since 2017, Culp and his predecessor John Flannery have tightened GE's belt, which had a reputation of overpaying for acquisitions. In recent years, GE was known more as a seller than a buyer.
In March GE closed a $30bn merger with Ireland's AerCap creating GECAS, the globe's largest commercial airline financing/leasing company.
GE in July announced financial results for the second quarter. Total revenues rose 9% to $18.3bn.
Net earnings per share was negative $0.14, an improvement from negative $0.26 in the prior year quarter.
Read more: EDF in talks to buy GE's nuclear turbines unit in France