Gasoline price forecast: Where to after 7-year highs?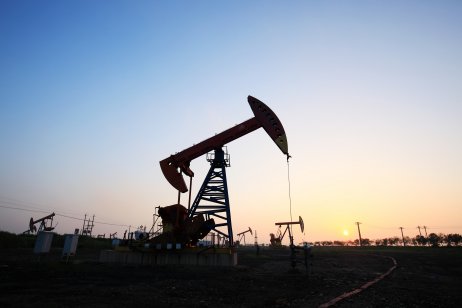 US gasoline prices hit a fresh seven-year high on 12 October. The unleaded gasoline blendstock (RBOB) contract for November delivery traded on the Chicago Mercantile Exchange (CME) for a settlement at $2.3829 a gallon, the highest since September 2014.
Prices have been rising for much of this year, driven by crude-oil supply constraint, lower refinery capacity and stronger demand.
Market drivers: What causes gasoline prices to rise and fall?
Gasoline is a fuel produced in petroleum refineries from crude oil and other petroleum liquids. It is mainly used as an engine fuel in vehicles. Most of the gasoline produced from petroleum refineries is an unblended product, and would require mixing with other liquids and additives to make finished motor gasoline. Most of the finished motor gasoline contains about 10% ethanol (a colourless volatile flammable liquid, which is produced by the natural fermentation of sugars; alcohol).
According to the US Energy Information Administration (EIA), crude oil accounts for 52% of regular gasoline's price, while 19% of the fuel's value is from refining charges. Taxes, distribution and marketing costs make up the remaining 29% of gasoline's retail price.
As a result, the rising crude oil prices have been driving gasoline prices higher over the past year. The US crude benchmark, West Texas Intermediate (WTI), hit a fresh seven-year high at above $80 a barrel on 11 October.
In addition, record-high US motor gasoline exports from May–July this year further supported the market. According to EIA data, finished motor gasoline exports from the US over these three months were the highest for the same period since records began in 1945. The US exported 26,126 barrels of motor gasoline in July, 26,049 barrels in June and 26,055 barrels in May.
In a report published on 8 October, the EIA wrote:
"Summer exports in May, June and July reflect a departure from the historical seasonality of gasoline exports because gasoline export levels are usually low during the summer."
Mexico is the main export destination for US motor gasoline; the country accounts for 50%–70% of all US gasoline exports over the past five years, according to EIA data.
Mexico imported more gasoline than average between May and July this year because of supply disruptions in the country. The country's state-owned Pemex shut its 285,000 barrels/day (bbl/d) refinery in Minatitlán, Veracruz, in April after a fire. The state-owned company said the refinery repair would likely take 90 days.
In addition, the temporary shutdown in May of the Colonial Pipeline – the largest pipeline for refined-oil products in the US, which starts in Houston, Texas, and supplies gasoline and jet fuel mainly to the Southeastern United States – after a cyberattack has prompted more exports.
Considering the Colonial Pipeline is a major delivery system spanning from the US Gulf Coast to the East Coast for transportation fuels and other refined-petroleum products, the shutdown caused major problems with fuel supply to this region, which is even now being considered a cautionary tale of things to come. The infrastructure halted operations for five days on 7 May to contain the effects of a ransomware attack by a group called DarkSide, as reported by Foreign Policy.
The EIA said:
"A cyberattack in the United States temporarily disrupted the ability to move gasoline and other products along the critical Colonial Pipeline system in May, which might have encouraged Gulf Coast refiners to export volumes to Mexico that would otherwise have been distributed within the US."
Throughout 2021 in detail: historical gasoline prices
According to the EIA, the US's operable atmospheric crude-oil distillation capacity fell 4.5% year-on-year to 18.1 million barrels per day (bbl/d) at the start of 2021 – the lowest annual capacity figure to start the year since 2015. The EIA said US refining capacity is not expected to expand significantly during 2021.
The operating rate was further reduced in February 2021 when a severe winter storm, referred to as Winter Storm Uri, hit Texas – the US state with most of the refinery capacity. The storm resulted in 170 million Americans being placed under severe weather alerts and caused power blackouts for 9.9 million.
The US gasoline front-month prices started the year at $1.4085 a gallon on 4 January and surged past $2 in early March as the winter storm squeezed supply. The prices fell to a low of $1.8964 in mid-March as supply normalised after the storm but climbed again in Q2 amid higher demand.
US gasoline prices have been hovering well above $2 a gallon since 27 April. Although the market corrected downward briefly on economic growth concerns in August, falling to a low of $2.0236 on 20 August, it rebounded to $2.3127 on 28 August when supply was again disrupted by an active hurricane season in the US. With gasoline prices going up, the commodity reached an intra-day high of $2.4010 a gallon to later settle at $2.3829 on 12 October.
For context, according to the American Automobile Association (AAA), the highest-ever recorded prices for gasoline in the US were $4.114 for unleaded and $4.845 for diesel on 17 July 2008.
A series of destructive hurricanes and storms hit the Gulf of Mexico (GoM) in August and September, shutting oil refineries and production. The GoM is one the key production hubs for oil in the US and accounted for 15% of the country's crude-oil production in 2020, according to EIA.
Hurricane Nicholas made landfall in Texas on 14 September, further disrupting oil production in the Gulf Coast. This was mostly halted entirely by the destructive force of Hurricane Ida, which hit the region at the end of August. According to several news reports, Hurricane Ida was the fifth-strongest hurricane ever to hit the US mainland.
So, will gasoline prices go up or down in 2022 and beyond?
Gasoline price predictions for the next few years
The strong demand over the summer is expected to continue for the rest of 2021 and into 2022. According to the EIA, the average global consumption of petroleum and liquid fuels (including biofuel) is estimated at 97.4 million bbl/d this year, up from 5 million bbl/d from 2020. The average consumption will continue to rise to an average of 101 million bbl/d in 2022.
Liquid fuel is expected to remain the largest source of primary energy in the world, according to the International Energy Outlook 2021 (IEO 2021) report. It forecasts the global petroleum and liquid fuel (includes biofuel) consumption to reach 250 quadrillion British thermal units (BTU) by 2050.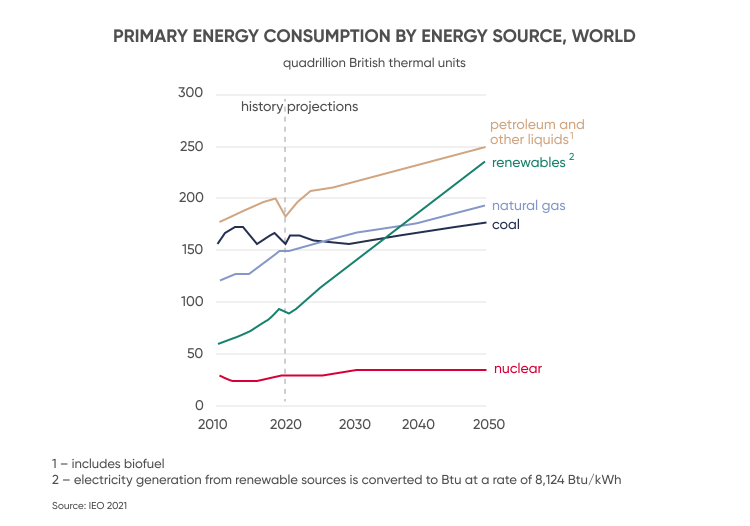 Most analysts expect gasoline prices to soften towards the end of this year, but the fuel will remain relatively expensive because of the high crude-oil prices.
Kiplinger, a Washington, DC-based publisher of business forecasts and personal finance advice, wrote in a report published at the end of September: "A rally in crude oil in recent weeks has prevented prices at the pump from falling the way that they typically do when summer turns to autumn.
"In most years, the end of the summer vacation season and the switch from summer-blend gasoline to cheaper winter formulations usually leads to lower retail gas prices. Not this year. We think prices at the pump should eventually ease because of lower demand."
"But, unless oil prices suddenly plummet, gas is going to stay relatively expensive."
The demand for fuel amid supply constraint is expected to continue to support gasoline prices in 2021. The EIA expects the average gasoline regular pump in 2021 to rise 33.5% from $2.18 in 2020.
Here is what the EIA's projected gasoline prices for 2021–2022 look like: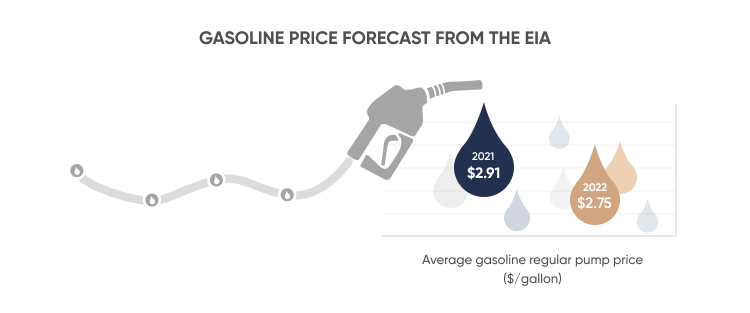 In August, the US regular gasoline retail price averaged $3.16 a gallon, the highest monthly average price since October 2014. The retail gasoline prices are expected to fall in September as the supply constraint eased with the rising operation rate at refineries.
In the meantime, Trading Economics predicts gasoline market prices to trade at $2.46 a gallon by the end of fourth quarter and $2.66 in 12 months' time.
When considering analysts' commentaries or gasoline price predictions from algorithm-based forecasting services, it's important to keep in mind that they can and do get their estimates wrong. You should always do your own research, taking care to consider all relevant market conditions.
Join Capital.com and stay on top of the latest market news, analysis and forecasts, to spot potential trading opportunities.
FAQs
Are gasoline prices expected to rise?

Gasoline prices are expected to continue tracking crude-oil market movements. With WTI crude oil prices rising to $80 a barrel, this will have an impact on gasoline prices.
What affects gasoline prices?

Gasoline prices are driven by crude-oil market movements as the fuel is a petroleum product. In addition, any disruption to refinery capacity will also affect gasoline supply and its prices.
Which country in the world has the cheapest gasoline prices?

According to Kiplinger, a Washington, DC-based publisher of business forecasts and personal finance advice, Venezuela has the cheapest gasoline in the world as the oil-producing country provides generous subsidies for its citizens. Venezuelans pay pennies for a gallon of gasoline.
Read more: Oil prices continue upward as power concerns persist