Gas crisis: How soaring natural gas prices affect mining companies
Subscribe to Weekly Highlights
The major market events for the week ahead right in your inbox.
Subscribe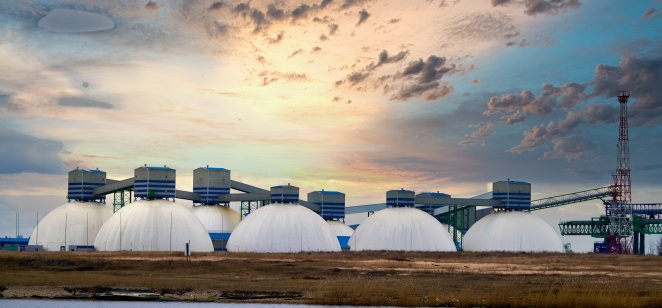 Content
In August 2021, European gas prices were trading at about EUR 42/megawatt-hour. One year later, EU gas prices have surged 400% to its current price of about EUR 227/megawatt-hour, hovering close to the all-time high of EUR 300/megawatt-hour, seen earlier in March, at the peak of the Russia-Ukraine conflict. On the other hand, US natural gas prices have risen only about 140% over the last year and is trading at a steep discount compared to European gas, at about $9.3/MMBtu.
The rise in EU gas has been spurred by much hotter and dryer weather, including heatwaves, across Europe, leading to difficulties in energy transport, as well as the ongoing Russia-Ukraine war. This sustained rise in natural gas prices is currently threating to propel a number of European economies into recession, not to mention also causing severe problems for several mining giants.
As such, a number of investors are wondering whether European mining companies are more impacted by rising gas prices than North American miners?
EU natural gas prices have seen a 400% rally over the last year
How do higher natural gas prices impact mining companies?
Gas prices have been soaring recently, mainly due to extremely hot and dry weather in Europe at the moment, with a few heatwaves thrown in as well. This has led to quite a few rivers having lower than normal water levels, causing disruptions in the transport of energy commodities and tighter supply chains.
Mining companies typically have very energy intensive processes, especially steel and aluminium manufacturers. Miners based in both Europe and China have been struggling with higher energy prices for more than a year now, both due to higher inflation as well as the Russia-Ukraine conflict. Russia has also been heavily cutting its gas supplies to Europe as retaliation for EU sanctions, which has been another blow to mining companies.
Adding to that is energy and gas rationing, as well as intermittent blackouts in several parts of China and Europe, which heavily impacts both smelters and mining operations. This has considerably disrupted production output in the last few months, with a number of miners having to slash production, or shut down entirely in winter.
Steelmakers are especially affected due to having to use either a blast furnace or electricity from an electric grid to produce steel. Since along with gas prices, both coal and electric prices are also reaching for the sky, steel manufacturers are currently being dealt with a double blow.
However, a few miners, such as BHP (BHP) have benefited somewhat, due to them having operations in both the mining industry as well as the energy sector. This has allowed them to both take advantage of rising energy costs, as well as offset the losses faced by the mining branches.
What is your sentiment on Natural Gas?
Vote to see Traders sentiment!
Are North American miners benefiting more from high gas prices than European miners?
According to Piero Cingari, analyst at Capital.com, "Since the start of the Russia-Ukraine war, the basic materials sector has suffered from rising production costs. A comparison of the performance of two indices tracking basic materials in Europe and the United States reveals that the European index has fared slightly worse (-8.%) than its American counterpart (-2.8%) since the Russian invasion on February 24, 2022.
However, the better relative performance of US basic materials equities does not yet reflect the wide natural gas price differences between the two areas. This suggests that investors are not yet differentiating between EU and US basic resource companies based on their different gas input costs, but this factor may become important if the European gas crisis worsens."
| | |
| --- | --- |
| Long position overnight fee | -0.0216% |
| Short position overnight fee | 0.0061% |
| Overnight fee time | 22:00 (UTC) |
| Spread | 0.04 |
| | |
| --- | --- |
| Long position overnight fee | -0.0061% |
| Short position overnight fee | 0.0025% |
| Overnight fee time | 22:00 (UTC) |
| Spread | 0.18 |
| | |
| --- | --- |
| Long position overnight fee | -0.0157% |
| Short position overnight fee | 0.0013% |
| Overnight fee time | 22:00 (UTC) |
| Spread | 0.03 |
| | |
| --- | --- |
| Long position overnight fee | -0.0062% |
| Short position overnight fee | 0.0023% |
| Overnight fee time | 22:00 (UTC) |
| Spread | 0.020 |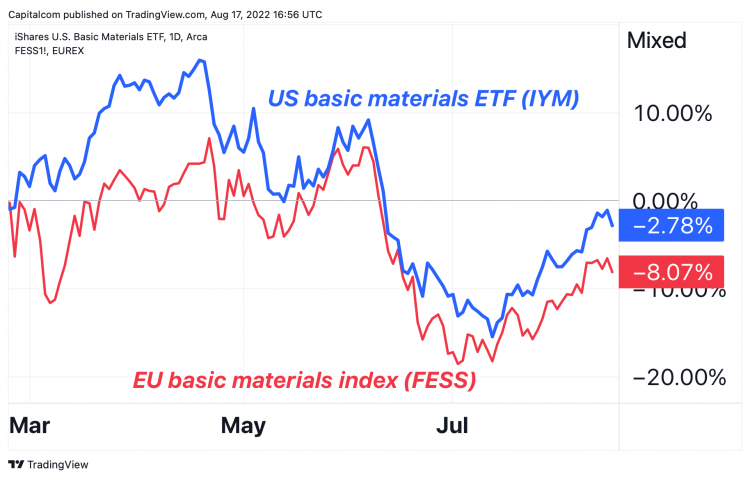 The European index has fared a little worse than the American one – Credit: TradingView
Amongst top North American miners, Freeport McMoRan (FCX) has fallen about 10.5% since the middle of June last year. Newmont Corporation (NEM), however, has fallen about 28% since mid-June 2021 and Linde (LIN) has risen about 9% in the same time period.
Amongst EU mining giants, Rio Tinto (RIOgb) had plunged almost 27% since mid-June last year, with Antofagasta (ANTO) also dropping almost 19%. Anglo American (AALI) rose over 9% in the same time and Glencore (GLEN) soared 63%, on account of it having both oil and coal operations, as well as mining, whereas Swedish miner Boliden (BOLs) rose about 17%.
The reason North American miner have fared slightly better than their European counterparts has largely been due to the aluminium, zinc and nickel markets. As these metals require highly energy intensive processes, more and more European manufacturers, both big and small, are struggling to keep output at the same level with soaring energy costs. This has created something of a gap in the global market, with the focus shifting to North American manufacturers now, where energy costs are still relatively lower than Europe.
However, although North American miners are stepping up to fill in this gap, a number of them are still hesitant to make the large investments required to ramp up their processes so fast, in order to fully capture the gap left by Europe, due to inflation and other costs. This has led investors to wonder whether US and Canadian miners are likely to make full use of this opportunity currently or not.
Are European miners likely to suffer more in the long term due to higher gas prices?
In the long run, it is very likely that European miners may keep suffering the consequences of higher gas prices more than their North American counterparts. This is because a number of smelters and miners have already suffered heavy blows from rising energy prices and blackouts, especially in Eastern European countries.
This has already caused significant losses in production and delayed production output timelines. Due to still soaring inflation, which is likely to be kept stickier in the next few months by higher gas prices, as well as higher labour costs, a number of miners simply don't have the funds available to either reopen their shut smelters, or ramp up production to pre-COVID levels.
Not all is doom and gloom however, as for miners such as Antofagasta (ANTO) which has recently announced in its half-yearly financial report that all of its mining operations now use 100% renewable energy, the outlook is more positive. By using this time to reduce its dependence on natural gas and other fossil fuels, Antofagasta (ANTO) is likely to avoid the consequences of gas prices climbing even higher, as they are expected to do.
Companies such as Glencore (GLEN), with more diversified business interests in both mining and energy and oil, are also likely to fare better in the coming months. In Glencore's half-year financial report for 2022, the CEO Gary Nagle says, "Looking ahead, tightening financial conditions and a deteriorating macroeconomic environment present some uncertainty for commodity markets through the second half of the year. However, with few short-term solutions to rebalance global energy markets, coal and LNG prices look set to remain elevated during this period, particularly given the current challenge of securing sufficient and reliable energy supply for the Northern hemisphere winter ahead."
Related reading