Gaming stocks packed plenty of pandemic punch, but are they recession proof?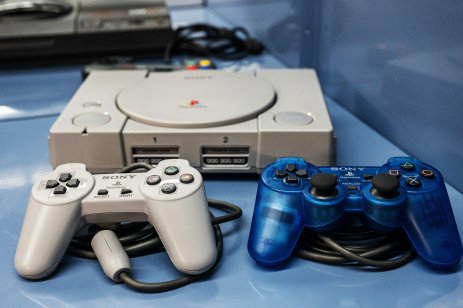 The gaming industry is undergoing a reality check as consumers become less engaged in a post-lock down era. Company valuations have declined and with an economic downturn looming, there are concerns the sector may be further affected.
Gaming companies such as Activision Blizzard (ATVI), Electronic Arts (EA), Sony (SNE), Take Two (TTWO), Roblox (RBLX) and Nintendo (7974) saw their revenues almost double during 2020 compared to previous years.
Since the start of 2022, these results have normalised, with many gaming companies reporting a decline in sales and engagement figures.
Activision Blizzard (ATVI) Price Chart
However industry watchers expect strong growth in the sector despite the recent blip. The gaming industry is expected to grow from a $198bn valuation in 2021, to $339bn by 2027.
Based on this strong industry outlook paired with a history of outperformance during the recession of 2008, investors do not need to worry about holding stocks in the sectors through a potential economic recession.
What is your sentiment on ATVI?
Vote to see Traders sentiment!
Post-lockdown bust
The gaming industry saw strong growth during the pandemic, a reflection on consumers making the most of being stuck at home. In 2020 the games market grew by almost 20% according to research by Newzoo.
However in recent months these firms appear to be undergoing a reality check, as revenue growth numbers have begun to dwindle.
In its most recent quarterly report Sony (SNE), said it has seen a much lower rate of engagement on its PlayStation console, it says "We believe the primary reason for this is that the growth of the overall game market has recently decelerated as opportunities have increased for users to go outside due to a reduction in COVID-19 infections in key markets."
Activision Blizzard (ATVI) has also reported a 28% decline in revenue year on year. Nintendo (7974) also reported a decline in revenues.
This has resulted in these companies seeing a drop in their valuation in recent months.
Sony (SNE) Price Chart
Growth potential
Despite recent slowdown in earnings, long term growth potential for the industry remains. The higher revenue generated during the pandemic has aided the industry to make a number of deals which are likely to play out in the future.
For example Microsoft (MSFT) has announced a takeover of Activision Blizzard, which will allow Activision to expand its current market, and Sony announced it will acquire Haven Entertainment Studios a reputed game developing company based in Canada.
According to a report by Mordor Intelligence, long term gaming market growth is likely, although the growth will be more normalised than what was seen in 2020. The research states that the industry is expected to grow 8.94% each year until 2027 growing from a $198 billion valuation currently to $339 billion. Sony (SNE), Microsoft (MSFT), Apple (AAPL) and Alphabet (GOOGL) are expected to be top players.
They cite a number of reasons for this including improvement's in user experience, rising global internet connectivity which will aid to improve cloud and social media connectivity. The report states :
"The gaming market is growing with the increasing per capita income, growing interest, and the rising number of dual-income households, augmenting the transformation of the global market. With the increasing usage of smartphones and consoles and cloud penetration, the market shows high potential growth in the future"
Does that make game stocks recession proof?
Due to it being a relatively cheap mode of entertainment, gaming companies are likely to regain attention if a global recession occurs. Based on the great recession of 2008, gaming companies did outperform the broader market.
Activision Blizzard (ATVI), Sony (SNE), and Take Two (TTWO) were some of the companies that outperformed the S&P 500 (US 500) at the time.
Game Stocks outperforming S&P 500 (US 500) in year 2008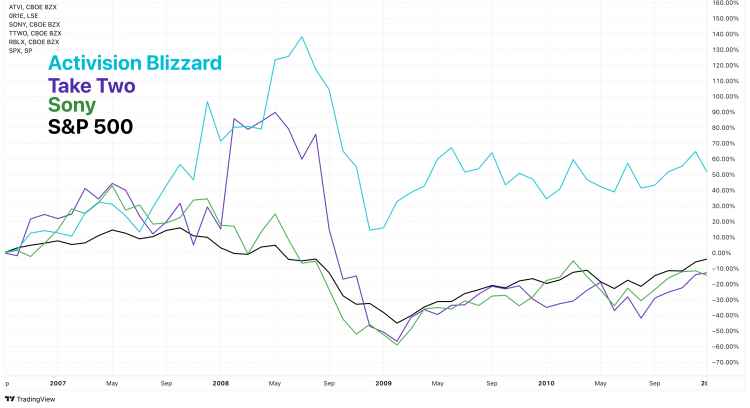 Carth of gameing stock outperforming S&P 50 - Credit: TradingView