What is the G7?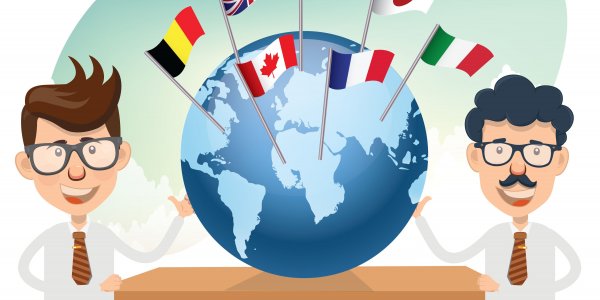 G7 is the shorthand name for the Group of 7 leading industrialised countries and is an elite group of powerful nations, that meet at least once a year to discuss solutions to issues that are in their mutual best interest. It tends to focus on economic rather than political topics.
The members are Canada, France, Germany, Italy, Japan, the United Kingdom and the United States. Leaders and finance ministers meet regularly together to discuss and coordinate international economic and monetary policy. Preparatory meetings are usually held before the main event to help smooth agreement.
Where have you heard about the G7?
When the G7 leaders have a summit it is always reported widely in the press, with agreements and position statements pored over to see potential longer-term impacts. There are also usually photos of the leaders posing together for photographs. You might also see stories of protesters at summits raising issues about inequality between nations and the richest and poorest.
What you need to know about the G7.
French President Valéry Giscard d'Estaing and German Chancellor Helmut Schmidt came up with the idea of getting heads of state and government together in 1975. An informal summit was held at the Chateau de Rambouillet, near Paris. The meeting was arranged to try and find a collective approach to the financial crisis caused by a significant rise in oil prices. It began as G6 as the invitees were France, West Germany, the USA, Japan, the United Kingdom and Italy. Canada was invited in the following year and the group became known as the G7.
Russia joined the group in 1998 but, following the Russian annexation of the Crimea, the G7 decided in March 2014 to suspend Russia and to meet without them. Russia announced in 2017 that it has no intention to rejoin.
Direct talks between the G7 and the European Community were first held in London in 1977 when the President of the European Commission was invited to attend the G7 summit. Now the President of the European Council also attends the summit meetings.
The organisation has a rotating presidency between member states. 2017 presidency is held by Italy, with Canada taking over in 2018.
Find out more about the G7.
See latest news and research about G7 meetings and issues: http://www.g7g20.com/. See the IMF's guide to the different groups http://www.imf.org/external/np/exr/facts/groups.htm. See also G8, G10 and G20.
Related Terms
Learn first. Trade CFDs with virtual money.
Try demo
Latest video