France inflation rate: Slowing price rises renew optimism for 2023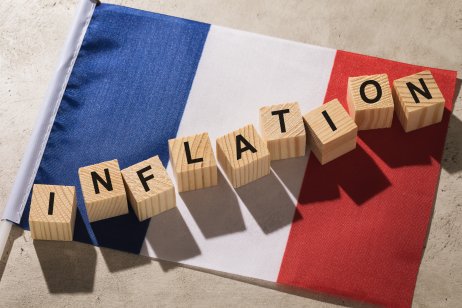 France's inflation rate surprised investors this week in a rare piece of good news for markets as price rises fell following record highs a month earlier.
As equities rose and Germany posted similar good news, do the latest figures spell the beginning of a decline in the France inflation rate in 2023?
What's inflation and how is it measured in France?
Inflation measures the increase in the price of a basket of goods and services over a given period, usually a month or a year. It is a weighted average and standardised measure based on the things most often purchased by households.
The nflation rate is a major economic indicator tracked by policymakers thanks to its timeliness and the ramifications it has on households and businesses.
Policymakers tend to stick to a 2% target for inflation, a figure high enough to encourage consumption, and reflect growing demand and economic activity. A higher figure tends to suggest that household incomes won't be able to keep pace with rising prices, while a lower figure signals recessionary effects and an economy operating below capacity.
Most central banks use inflation as a key metric in deciding monetary policy. When inflation is too high, central banks can hike interest rates to slow demand. Central banks cut interest rates when inflation is too low in an effort to fuel demand. Accordingly, inflation affects all asset classes.
France's inflation rate helps the Banque de France, France's central bank, and the European Central Bank (ECB), the body that sets monetary policy in the eurozone, make interest rate decisions. ECB policy is influenced by inflation in all member states.
Inflation in France is measured by the National Institute of Statistics and Economic Studies, which uses both the consumer price index (CPI) and the harmonised index of consumer prices (HICP) to track the rate of price increases in the country.
France prioritises the HICP in inflation publications, given that it is standardised across EU member states and allows policy to be better implemented by the ECB.
What is your sentiment on EUR/USD?
Vote to see Traders sentiment!
France's inflation over the years
France's inflation rate history has, at least for the last two decades, mostly been one of stability, largely sticking around its 2% target since the creation of the common currency area in the late 1990s.
Like fellow eurozone members, France struggled with deflation in the years following the global financial crisis of 2008 and the ensuing Great Recession. While prices rose in the lead-up to 2020, the Covid-19 pandemic and lockdowns forced inflation down to zero by the end of 2020 as demand was sapped from the economy.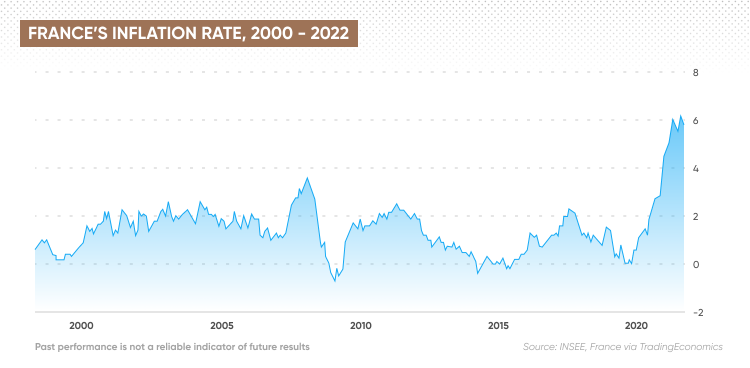 The France inflation rate has kicked aggressively into gear in the last 12 months. Emergency rate cuts by the ECB to cope with lockdowns, alongside government stimulus to protect jobs and businesses, and a logjam in global supply chains as restrictions eased, have conspired to help prices shoot up this year.
The inflation rate in France began 2022 at 3.3%. But an intensification of inflationary effects, as well as Russia's invasion of Ukraine and ensuing energy insecurity, saw the France inflation rate jump to 6.8% by June. A drop during the summer months was short-lived as inflation peaked at 7.1% in November 2022.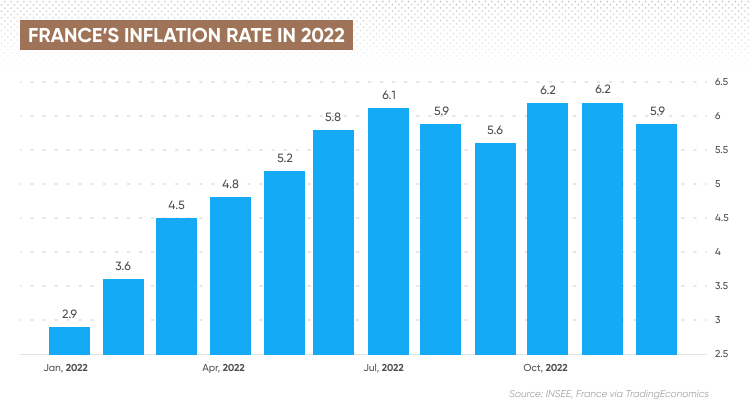 The latest data for December brought a ray of light to France's inflation story. The harmonised index of consumer prices (HICP) rose by 6.7% in the final month of 2022. The drop was driven by energy prices, which fell from 18.4% in November to 15.1% in December.
This added to encouraging data released for Germany, which showed a sharp deceleration in prices, tempered by the fact that some of the decrease was driven by government subsidies.
The figures for both France and Germany improved investor confidence, with the Euro Stoxx 600 index of major European equities closing up 1.2% on the news, suggesting optimism that the most negative energy effects could have passed, bringing down France's expected inflation.
What's driving inflation in France right now?
France hasn't been immune to the inflationary effects realised across the rest of the world over the past year, but it has come out better than many of its allies.
Russian President Vladimir Putin's decision to order troops into Ukraine has thrown the global energy sector into upheaval. Russia, a major export of oil and natural gas, has been hit by a range of sanctions following the invasion. It has moved to choke off supply to its European adversaries. That has put pressure on prices across Europe.
But France is unique given its use of nuclear energy, which makes up 70% of the country's electricity use, according to the World Nuclear Association (WNA). Indeed, France's peak inflation of 7.1% in 2022 looks relatively mild compared to the wider eurozone peak of 10.6%.
Still, the economy's reliance on nuclear hasn't been a panacea to geopolitical issues. France has had to deal with power outages this year, with 19 reactors being shut down in early December, according to the WNA. The body estimates production on 5 December was down 22.5% on the five-year average.
Muted nuclear output in France has forced the country to ramp up imports of liquified nuclear gas (LNG). According to the European Council, the country was the largest importer of LNG in the first half of 2022. Spot prices for the energy source have spiked since Russia's invasion, adding to price pressures in France.
Core inflation figures – which strip out volatile food and energy price movement – in France suggested it might take a while for prices to truly relax in the country, regardless of Putin's next move.
France's core inflation rate has steadily risen this year, hitting 5.3% in November as supply chains and labour market pressures continue to put a gloomy edge to economic data in the country.
Higher core inflation reflects logjams in global supply chains, which look increasingly insecure on the back of rising geopolitical tensions, and China's slow emergence out of Covid-19 restrictions.
Euro resurgence helping ease pressures
While France's status as a eurozone member helps to shield it from a fair amount of negative currency effects, particularly when its main trading partners are fellow Eurozone members, the movement of other major currencies can still affect prices in the country, none more so than the US dollar.
The euro has largely struggled against the greenback (EUR/USD) this year, in part because of the US Federal Reserve (Fed) being quicker to hike interest rates in the US, as well as the dollar's status as a safe haven currency in times of economic upheaval. The eurozone's relative exposure to the fallout from the Ukraine crisis didn't help its currency either.
EUR/USD live exchange rate
The currency contracted by 14% against the dollar at its worst point in September. It has however gained some ground as inflation begins to cool in the eurozone, and the ECB's president Christine Lagarde sounded out a more aggressive path for future interest rate decisions at the latest ECB press conference. The euro has risen more than 10% since its lows hit in late September.
Recovery for the euro against the dollar is vital for eurozone member states like France, not just because imports become more expensive, but because dollars are often used to purchase oil and liquified gas on international markets.
France inflation predictions for 2023 and beyond
Analysts appeared aligned in the feeling that France's inflation story this year will be one of a slow climbdown from heights reached in late 2022, but myriad risks mean this is far from certain.
In her latest report in mid-December, ING analyst Charlotte de Montpellier's France inflation forecast suggested prices could rise by 5.3% in 2023. The analyst believed that the "recovery will be sluggish", noting:
"​​Indeed, household purchasing power is still deteriorating. Energy prices are likely to remain high throughout 2023 and the winter of 2023/2024 holds a major supply risk. Public finances, which have largely mitigated the impact of the economic shock, are likely to be less generous, which will slow the recovery. Finally, rising interest rates will have an increasing impact on the most interest-sensitive sectors."
Trading Economics' France inflation rate forecast as of 5 January indicated prices could rise by just 2.4% in 2024, a steep drop from current rates.
The European Commission meanwhile expected the France inflation rate to rise by 4.4% in 2023 and 2.2% in 2024.
A France inflation prediction by the IMF suggested prices could rise by 5.8% in the country in 2023.
Final thoughts
Note that analysts' France inflation predictions can be wrong and shouldn't be used as a substitute for your own research. Always conduct your own due diligence before trading, looking at the latest news, technical and fundamental analysis, and a wide range of commentary.
Past performance does not guarantee future returns. And never trade money you cannot afford to lose.
FAQs
What is the inflation rate in France?

The Harmonised Index of Consumer Prices in France rose at 6.7% in December 2022, a fall on November levels.
Has inflation been going up or down in France?

Inflation in France fell in December after reaching highs of 7.1% in November.
Why is inflation so high right now?

Inflation in France is being driven by rising energy prices linked to Russia's invasion of Ukraine, alongside supply chain issues as well as pent up demand both linked to the Covid-19 pandemic.