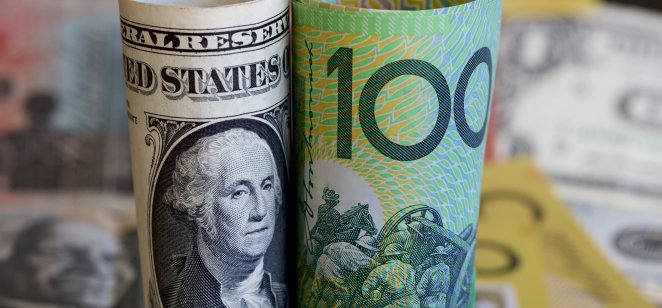 Content
The US dollar has consolidated gains from past sessions ahead of key events this week, such as Wednesday's meeting of the Federal Open Market Committee (FOMC) and Friday's non-farm payrolls data.
EUR/USD is little changed on the day and GBP/USD is in the red by 0.27%, while the Japanese yen recovered its previous day's losses.
Elsewhere, the Australian dollar slipped 0.8% against the dollar after the Reserve Bank of Australia (RBA) maintained a dovish tone, while its neighbor the Kiwi is down 0.6%.
What is your sentiment on AUD/USD?
Vote to see Traders sentiment!
Forex heatmap: 2 November 2021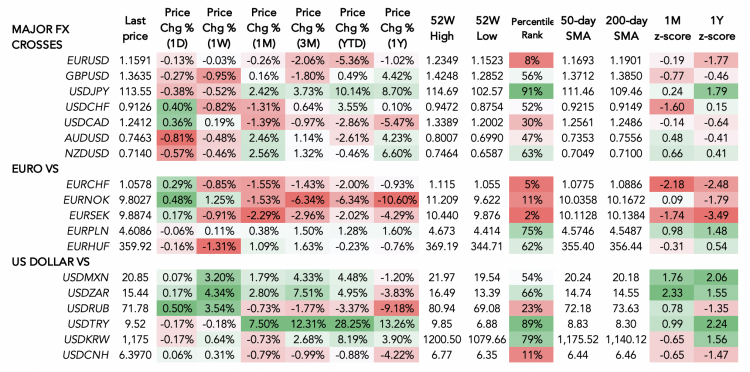 FX Performance as of November 2, 2021 – Data: Refinitiv
US dollar
The US Dollar Index (DXY) is trading close to 94 on Tuesday, close to the 52-week high reached in October, after last week's inflation data fuelled market expectations of a faster-than-expected monetary policy normalisation by the Fed.
The ISM manufacturing index declined 0.3p in October to 60.8, slightly above the market forecast of 60.5. The subindex for new orders declined 6.9p to 59.8, while the production index remained stable, and the employment index climbed.
Today's US macro calendar is very light, and the market awaits tomorrow's FOMC meeting.
Euro
The EUR/USD pair is trading at 1.1595, 0.6% above from the 52-week lows and 2.6% below from the 200-day moving average.
Yesterday, September retail sales in Germany fell 2.5% month-on-month, far short of the expected 0.4% decline, indicating that rising Covid-19 cases and pricing pressures may have pulled down spending at the end of 2Q21.
Today, the final reading of the October Euro Area manufacturing PMI was revised lower by 0.2p to 58.3, from an initial estimate of 58.5. Market focus may, however, move to upcoming European Central Bank (ECB) talks, with Andrea Enria (chair of the Bank's supervisory board), Frank Elderson (vice-chair) and Hernández de Cos (governor of the Bank of Spain) all scheduled to speak today.
British pound
GBP/USD fell 0.24% to 1.3639, its lowest in more than two weeks, weighed down by uncertainty about the Bank of England's policy stance.
Market participants predict the Bank of England to increase interest rates by 15 basis points to 0.25 percent on Thursday, while a split vote cannot be ruled out.
On the data front, the final reading of the Markit/CIPS UK Manufacturing PMI was revised up by 0.1p to 57.8 in October, although supply chain delays, as well as shortages of raw materials, employees, and specific skills, were noted.
Chart of the day: US, UK and EU core inflation at decade highs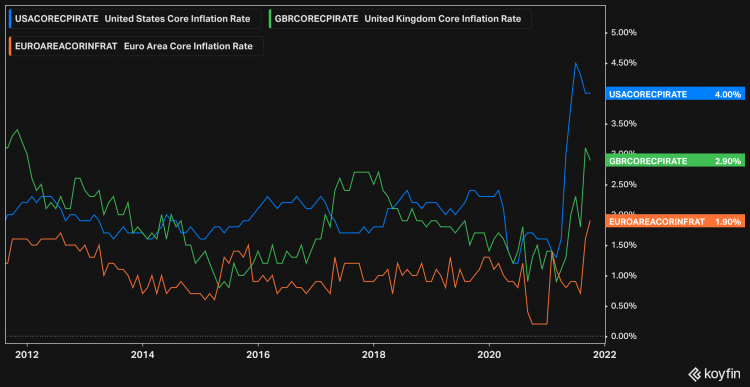 Core inflation in US, UK and Euro Area – Credit: Koyfin
Japanese yen
Risk-off sentiment in Asian markets helped the yen overnight, which gained 0.4% against the greenback on Tuesday after falling in the previous session.
| | |
| --- | --- |
| Long position overnight fee | -0.0039% |
| Short position overnight fee | -0.0005% |
| Overnight fee time | 21:00 (UTC) |
| Spread | 0.00006 |
| | |
| --- | --- |
| Long position overnight fee | -0.0035% |
| Short position overnight fee | -0.0003% |
| Overnight fee time | 21:00 (UTC) |
| Spread | 0.00013 |
| | |
| --- | --- |
| Long position overnight fee | -0.0020% |
| Short position overnight fee | -0.0015% |
| Overnight fee time | 21:00 (UTC) |
| Spread | 0.00020 |
| | |
| --- | --- |
| Long position overnight fee | -0.0083% |
| Short position overnight fee | 0.0023% |
| Overnight fee time | 21:00 (UTC) |
| Spread | 0.00006 |
The USD/JPY pair is trading at 113.50 above both 50-day and 200-day moving averages, which sit at 111.46 and 109.46 respectively.
Minutes from a recent Bank of Japan meeting revealed that overall economic activity is picking up, "although it remained in a severe situation due to the impact of Covid-19 at home and abroad". The outlook for inflation is likely to turn positive on the back of the jump in energy prices and improving economic activity.
Australian dollar
The Aussie is the worst performer today among G-10 currencies, slipping by 0.74% against the dollar after the Reverse Bank of Australia (RBA) expressed a cautious tone on the outlook for rate hikes in 2022.
The RBA chose to abandon its 24 April yield target, which was already priced in by the market, citing the possibility of a rate increase sooner than 2024.
However, the forward guidance included a strong dovish tone, emphasising that inflation would only reach the middle of the 2%-3% target range by the end of 2023, when wage growth will have barely hit 3%, and so the RBA is "willing to be patient".
Read more: Aussie dollar edges higher on record trade data
The difference between stocks and CFDs
The main difference between CFD trading and stock trading is that you don't own the underlying stock when you trade on an individual stock CFD.
With CFDs, you never actually buy or sell the underlying asset that you've chosen to trade. You can still benefit if the market moves in your favour, or make a loss if it moves against you. However, with traditional stock trading you enter a contract to exchange the legal ownership of the individual shares for money, and you own this equity.
CFDs are leveraged products, which means that you only need to deposit a percentage of the full value of the CFD trade in order to open a position. But with traditional stock trading, you buy the shares for the full amount. In the UK, there is no stamp duty on CFD trading, but there is when you buy stocks.
CFDs attract overnight costs to hold the trades, (unless you use 1-1 leverage) which makes them more suited to short-term trading opportunities. Stocks are more normally bought and held for longer. You might also pay a stockbroker commission or fees when buying and selling stocks.