Forex: dollar eases amid US rates rally; JPY rebounds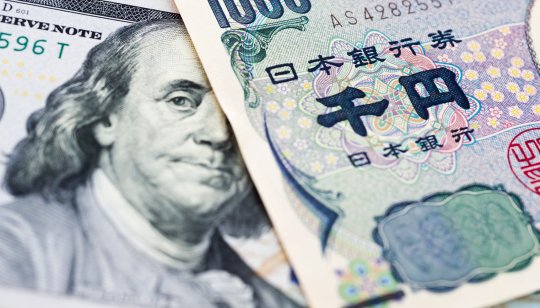 The US dollar (DXY) eased alongside a fall in US Treasury yields, with the 10-year benchmark now yielding below 1.5%.
EUR/USD stands at 1.1587, flat on the day, while the Japanese yen is outperforming all its major counterparts, with USD/JPY breaking to the downside of the 113 level.
The cable (GBP/USD) gains 0.25%, while the Swiss franc (CHF) continues to edge lower. The Kiwi (NZD) and Aussie (AUD) both weakened amid softer commodity prices.
Elsewhere, emerging market currencies are quiet this morning, except for the Turkish lira (TRY), down 0.5% against the greenback, not far from its record low of 9.85.
What is your sentiment on EUR/USD?
Vote to see Traders sentiment!
Forex Daily Matrix – 9 November 2021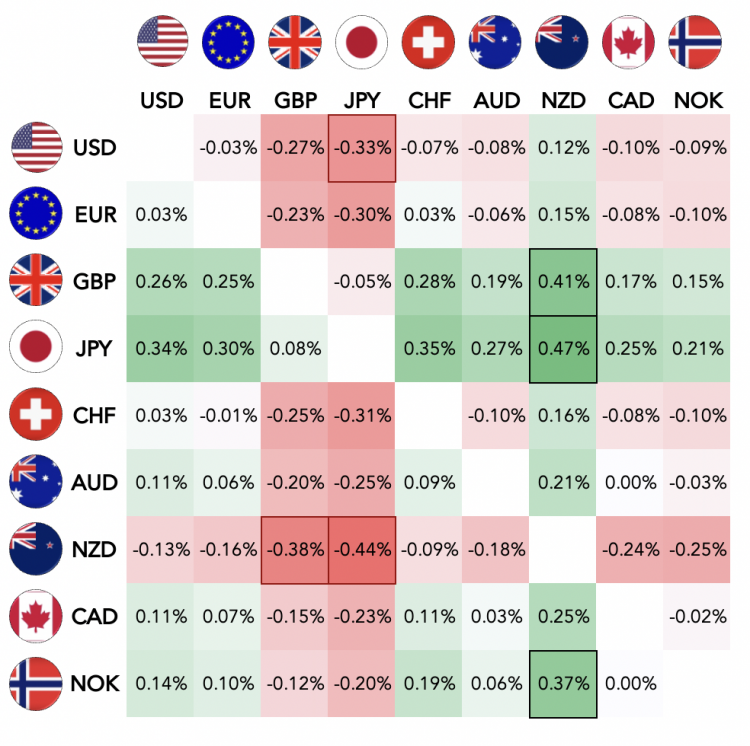 Forex Daily Matrix as of 9 November 2021, 10:00 UTC – Source: Capital.com
US dollar
As of the time of writing (9 November 2021, 10:00 UTC), the US Dollar index (DXY) was at the 93.84 level, down 0.1% for the day.
The Fed's vice chair Richard Clarida spoke yesterday at a Brookings Institution seminar, emphasising that inflation this year is much above his overshoot threshold and reiterating a rate hike in 2022 and six or seven hikes throughout 2024.
Markets are now pricing a 56% chance, down from 60% last week, that the Fed starts hiking the interest rate in June next year.
Today, the US economic calendar is very light. We will have the October release of the National Federation of Independent Business (NFIB) small business optimism as well as October's Producer Price Index, which are expected to stay high, at 8.6% on the year, due to supply-chain bottlenecks and rising energy prices.
Tomorrow, the key market event is October's Consumer Price Index (CPI). Consensus expects US Headline CPI to rise 0.6% in October from a month earlier, and core CPI – which excludes energy and food items – by 0.3%.
DXY technical levels:
52-week high: 94.58

52-week low: 89.212

50-day moving average: 93.497

200-day moving average: 92.047

14-day Relative Strength Index (RSI): 51.93
Chart of the day:

EUR/USD closely correlated with Germany/US two-year yield spread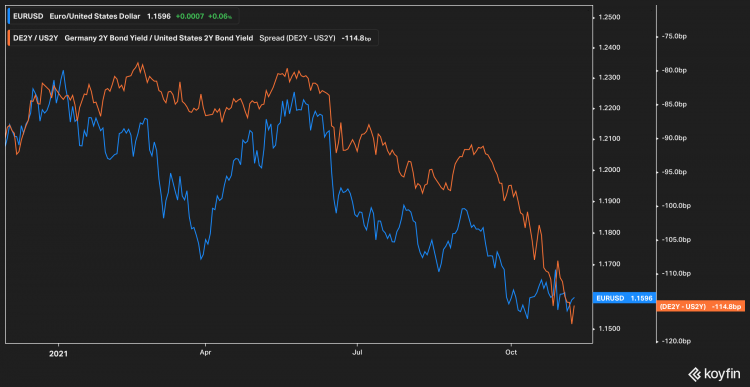 EUR/USD and Germany/US two-year yield spread – Credit: Koyfin
Euro
As of the time of writing, the euro is almost unchanged on the day versus the US dollar (EUR/USD), while it loses 0.23% against the British pound (EUR/GBP).
The European Central Banks's chief economist Philip Lane was dovish again yesterday, at an interview with El País, reiterating that inflation is expected to fall next year and the ongoing price pressures are "not a sign of a chronic situation".
On the data front, the Sentix index, which measures sentiment among eurozone investors and investment analysts, rose by 1.4 points to 18.3 in October, above consensus estimates (15.0).
Today, November's ZEW Indicator of Economic Sentiment for Germany is expected to fall to 20 from 22.3 in October.
EUR/USD technical levels:
52-week high: 1.2349

52-week low: 1.1511

50-day moving average: 1.1668

200-day moving average: 1.1884

14-day Relative Strength Index (RSI): 47.14
British pound
GBP/USD appreciated 0.2% to 1.3585 as of the time of writing.
Bank of England (BoE) governor Andrew Bailey, speaking during an online Q&A session yesterday, said that the BoE "would and will have to act" when inflation becomes generalised in the economy.
Bailey, who in previous weeks had leaked his propensity to raise interest rates on several occasions, voted in favour of keeping rates unchanged in the BoE's decision last week.
GBP/USD technical levels:
52-week high: 1.4248

52-week low: 1.2901

50-day moving average: 1.3689

200-day moving average: 1.3844

14-day Relative Strength Index (RSI): 45.21
Forex Performance Heatmap – 9 November 2021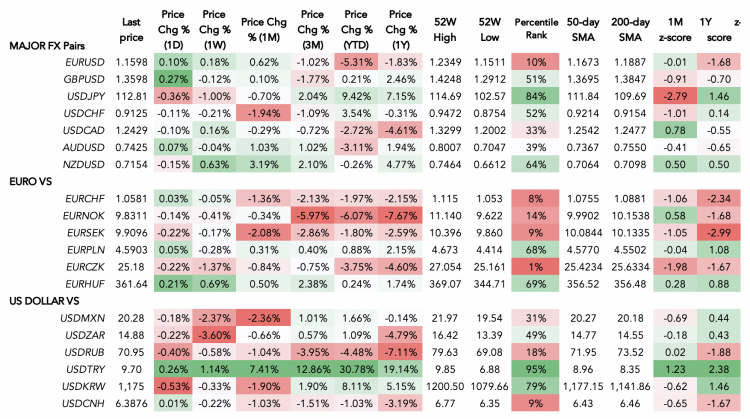 Forex Performance Heatmap as of 9 November 2021 10:00 UTC – Source: Capital.com
Other currency pairs (daily % change):
The day ahead:
10:00 UTC Germany ZEW Economic Sentiment Index – November: 20 (consensus); 22.3 (previous)

11:00 UTC US NFIB Business Optimism Index – October: 99.1 (previous)

13:00 UTC ECB's president Lagarde speech

13:30 UTC US PPI – October: +0.6% m/m (consensus), +0.5% m/m (prior)

16:00 UTC BoE's governor Andrew Bailey speech

16:35 UTC Fed's Mary Daly speech
Read more: Yen, emerging Asian FX gain amid US dollar's slip