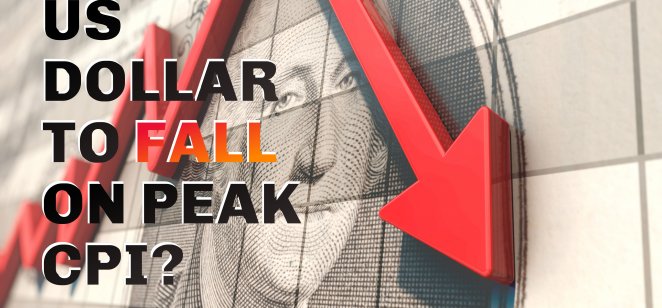 Content
On August 10, the US dollar index (DXY) had its second-worst session of 2022, falling by more than 1% on the day, after the US CPI inflation rate slowed to 8.5% year-over-year in July from 9.1%, missing market expectations of an 8.7% increase. Core inflation, which excludes energy and food, also came in lower than expected at 5.9% vs. 6.1%, bolstering market hopes that inflation has peaked and will begin to fall from here.
The US dollar bull run that began in the second half of 2021 is now showing signs of weakness as falling inflation could prompt the Fed to slow the rate of interest rate hikes, reducing the rate advantage of the USD against peers.
According to our most recent technical analysis of the US dollar index (DXY), the 50-day moving average has been decisively breached for the first time this year. If this bearish momentum is confirmed by a drop below 103.40 (38.2% Fibonacci retracement of 2022 low/high), the DXY could fall quickly to the key support at 101.8 (50% Fibonacci). In the alternative short-term scenario, the DXY is forecast to bounce off the 103.4 support level before running into selling pressure at the 105.6 resistance level (23.6% Fibonacci).
US dollar fundamental analysis: fireworks over for now?
CPI down, Fed rate futures lower and the USD weakened.
The dollar had a textbook reaction to the July US inflation report, which revealed that the CPI rate slowed to 8.5% year-on-year, from a four-decade high of 9.1% in June, and below market expectations of 8.7%.
The drop in inflation was primarily due to a significant slowdown in energy items (gasoline, fuel oil, and natural gas), but inflation remains high in food, shelter, and medical care services. The year-over-year inflation rate for all items excluding food and energy was 5.9% in July, the same as in June, which is still at a considerable distance from the Fed's target.
Traders reassessed the Fed's pace of hikes, cutting expectations on future interest rates, which had a negative impact on the dollar.
However, calling for the end of the Fed's hiking cycle after only a month of lower inflation may be premature here, as service inflation remains hot. Further readings of below-expected inflation are needed to indicate a sustainable downward trend.
But for the time being, the market assumes that inflation has reached its peak and will start going down from here, believing that the Fed won't raise interest rates aggressively.
If this narrative gains traction in the coming weeks, it will likely keep real yields on Treasury-inflation-protected securities low, weighing on the dollar given the close relationship between the greenback and real yields.
What is your sentiment on DXY?
Vote to see Traders sentiment!
| | |
| --- | --- |
| Long position overnight fee | -0.0043% |
| Short position overnight fee | -0.0035% |
| Overnight fee time | 21:00 (UTC) |
| Spread | 4.2 |
| | |
| --- | --- |
| Long position overnight fee | -0.0140% |
| Short position overnight fee | 0.0041% |
| Overnight fee time | 21:00 (UTC) |
| Spread | 2 |
| | |
| --- | --- |
| Long position overnight fee | -0.0141% |
| Short position overnight fee | 0.0041% |
| Overnight fee time | 21:00 (UTC) |
| Spread | 1.5 |
| | |
| --- | --- |
| Long position overnight fee | -0.0139% |
| Short position overnight fee | 0.0042% |
| Overnight fee time | 21:00 (UTC) |
| Spread | 0.9 |
What Fed rate path is the market pricing in? What is the impact on the dollar?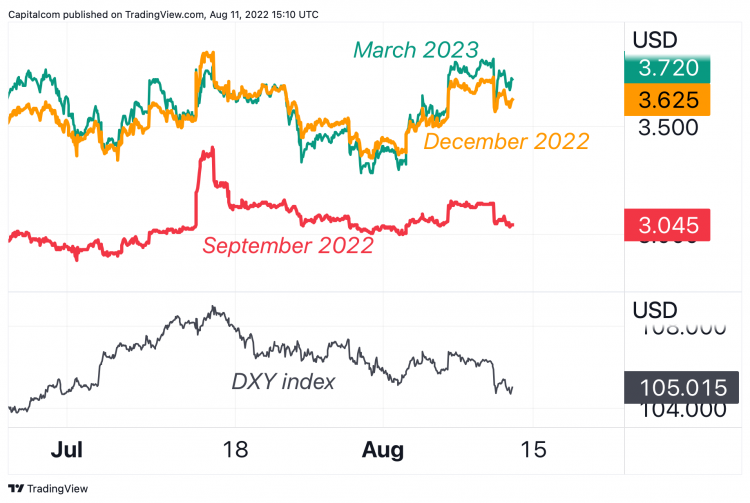 Market pricing Fed rate in September '22, December '22 and March '23 – Photo: Capital.com
At the time of writing, the market expects interest rates to rise to 3% in September 2022, effectively discounting a 50-basis-point increase rather than a 75bp increase. Year-end interest rates are then seen to surge to 3.6%, and rates are expected remain broadly on hold in the first quarter of 2023, with market pricing Fed target rate in March 2023 at 3.7%.
The drop in market expectations for rate increases at the September FOMC meeting is what has recently caused the dollar index to fall, as shown in the chart above.
Further downward repricing of the September FOMC meeting seems quite unlikely now, and this could create a floor for the dollar.
For a new dollar rally to occur, however, Fed speakers must make hawkish remarks that cast doubt on the inflation peak theory and call for rapid interest rate increases.
Markets will likely await the Fed's Jackson Hole Symposium meeting to be held on August 25-27, to get more information on the Fed's next policy moves.
US dollar index (DXY) technical analysis forecasts: 50-dma broken; 103.4 in sight?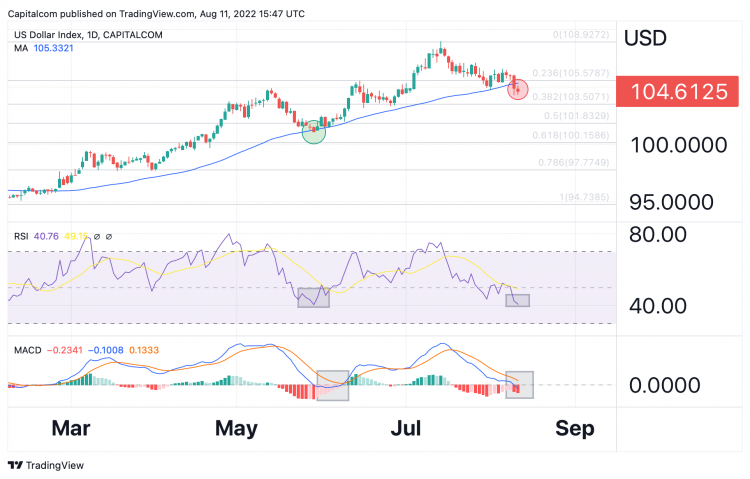 US dollar index (DXY) chart analysis as of August 11, 2022 – Photo: Capital.com / Source: Tradingview
The US dollar index (DXY) has been on a strong bullish trend since mid-2021, rising 12% from a year ago. Recently, DXY price action has fallen below the key dynamic support of the 50-day moving average (dma), which has held firm all year, as the chart above shows.
The daily RSI fell below 50, denoting a bearish short-term momentum, and is point southward to a test of the May lows (40). The MACD line has also fallen slightly below zero, which may indicate that the bullish major trend is being tested. The MACD slightly fell below the zero line in June as well, but the DXY's bounce off the 50-dma gave a false bearish signal.
The Fibonacci retracement analysis (January low/July high) indicates that 103.5 is a good short-term price support level (38.2% Fibo). A breakdown there would prompt bears to target the 50% Fibonacci level at 101.83. If we get to this level, it will be a key support to keep an eye on to see if the major DXY bull trend is over or not.
A short-term alternative scenario sees the DXY bouncing off 103.4 support before meeting sellers near the 105.6 resistance (23.6% Fibonacci retracement level).
Read more...