Footwear company Crocs stomps Street expectations in Q3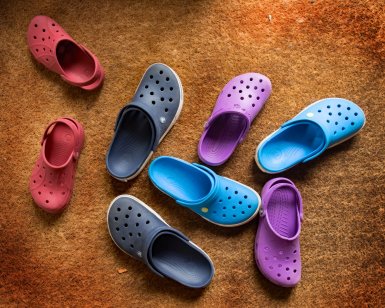 Footwear company Crocs beat Wall Street's expectations Thursday reporting revenue growth of 73% from a year ago.
The company in a press release reported revenue of $626m (£453m) revenue for the third quarter; analyst estimates called for $610m.
Third quarter net income jumped to $153.5m, or $2.42 a share, up from $61.9m, or $0.91 a share, in the prior-year period. Minus one-time items, Crocs earned $2.47 a share, beating Wall Street's expectation of $1.88 per share.
Direct-to-consumer revenues jumped more than 60% for the quarter, while wholesale revenues rocketed up 88%. Crocs's digital sales increased nearly 69%.
Revised outlook
The company raised its full-year outlook, predicting fiscal 2021 revenue to increase between 62% to 65% over last year's levels. The previous range had been 60% to 65%.
Company leaders also forecast a 20% year-over-year revenue growth in fiscal 2022.
Disruptions
During the quarter, the Colorado-based company continued to experience several disruptions, mainly its Vietnam factories shuttering and the supply chain crisis.
"Globally, our teams are managing through the supply chain disruptions to mitigate the impact on our business," said Crocs CEO Andrew Rees.
On a conference call, Rees said the retailer is shifting production to China, Indonesia and Bosnia and exploring more air freight to transport its product. However, the company said air freight cost should not increase significantly from its current cost.
Crocs also is currently looking at US East Coast ports as possible alternatives to those located on the West Coast.
Cash flow
The company reported cash on hand of $436.6m at the end of the third quarter, compared with $135.8m at the end of last year.
At the end of the quarter inventories jumped to $212.5m, up from $175.1m at the end of last year.
Company officials said Crocs took advantage of low interest rates; borrowing at the end of the quarter was $686m.
During the third quarter, the company bought back $150m in common stock. The 1.1 million shares cost an average of $142.17 per share.
Read more: Crocs shoes turnaround showing results