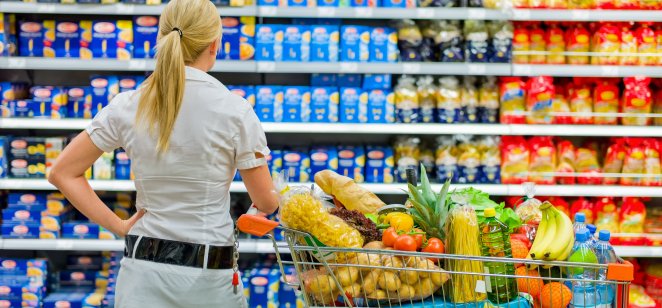 Content
Two US food company stocks have navigated consumer inflation differently with General Mills (GIS) rising 6% to reach an all-time high while McCormick & Co. (MKC) dropped by as much as 4%.
Neither company has been immune to red-hot inflation ramping up the prices of consumer staples as both companies recently reporting quarterly earnings.
General Mills (GIS) stock price
Founded in 1866, General Mills manufactures and markets branded consumer foods worldwide. Its portfolio of brands includes household names such as Cheerios, Nature Valley, Blue Buffalo pet food, Häagen-Dazs and Pillsbury.
What is your sentiment on GIS?
Vote to see Traders sentiment!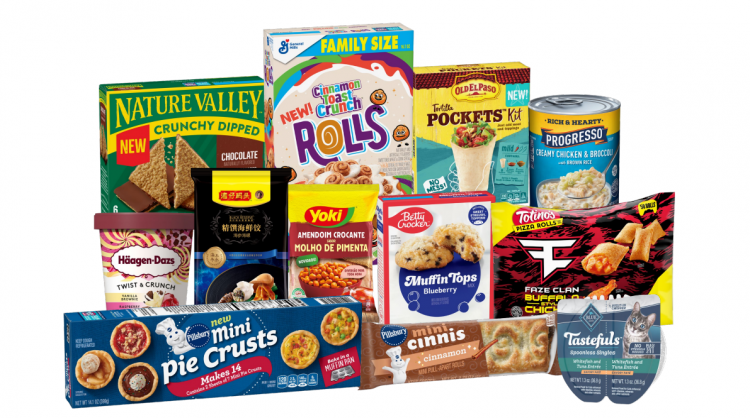 General Mills
General Mills Q4 earnings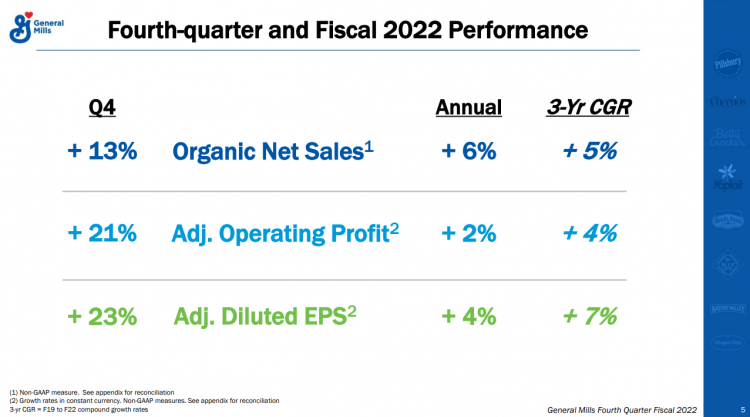 General Mills
For its fiscal fourth-quarter ended 29 May, General Mills reported adjusted earnings of $1.12 on net sales which grew 8% to $4.89bn (£4.03bn, €4.70bn), beating analyst expectations of earnings of $1.01 per share on sales of $4.81bn.
"Though significant inflation and supply chain disruptions put pressure on our margins, we responded quickly to address those challenges and keep our brands on shelf for our customers and consumers," General Mills' chairman and CEO Jeff Harmening said in a statement.
General Mills outlook
Looking ahead, the company expects double-digit inflation pressure on its cost of goods sold for the current fiscal year while supply chain issues are expected to moderate compared to the prior year.
"While consumers are migrating to private brands, this is being offset by a shift from restaurants to at-home eating, and General Mills' volumes have remained rather resilient," Morningstar analyst Rebecca Scheuneman wrote in a note obtained by Capital.com.
"We're laser-focused on looking at what's happening from an inflation standpoint, how we're going to offset that from a pricing standpoint, how we're going to build our brands and how we're going to innovate," Jon Nudi, president of General Mills' North America Retail division said on a conference call.
For its current fiscal year, General Mills is forecasting organic net sales growth of 4% to 5% and adjusted earnings in the region of breakeven to 3% growth on the prior year.
The food giant also increased its quarterly dividend by 6% to 54 cents per share.
McCormick & Co. (MKC) stock price
McCormick's stock fell by as much as 4% as it missed profit expectations and reduced its outlook for the year due to "persistently high" inflation and supply chain challenges.
"We think the market has ascribed a lofty value to the name given its track record of consistent top-line growth but fails to consider the macro and competitive challenges that could forestall its trajectory," Morningstar analyst Erin Lash wrote in a research report.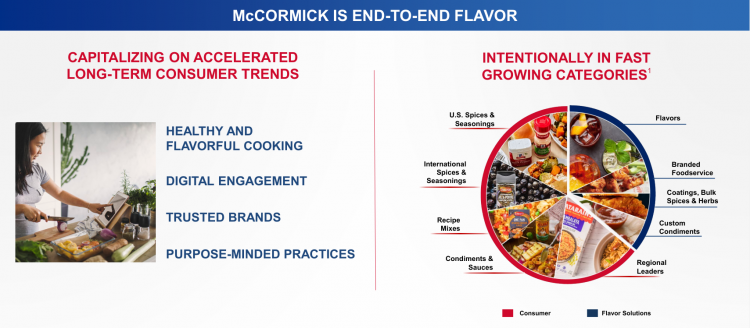 McCormick
Founded in 1889, McCormick & Company (MKC) makes and distributes spices, seasoning and condiments to both consumers and the food industry. It is known for products such as Frank's RedHot Sauce and Old Bay Seasoning.
McCormick Q2 earnings
For its fiscal second-quarter ended 31 May, McCormick reported adjusted earnings of 48 cents per share on sales which were 1% lower at $1.54bn.
Analysts had been expecting earnings of 65 cents on sales of $1.61bn, according to figures widely available on financial news sites.

McCormick
"We are currently navigating a challenging global environment including persistently high cost inflation and supply chain challenges, significant disruption in China from COVID-related lockdowns and the conflict in Ukraine," McCormick's chairman and CEO Lawrence Kurzius said in a statement.
The company's second-quarter gross margin declined by 550 basis points due to higher material and transportation cost inflation as well as an unfavourable product mix which was partially offset by price hikes and a corporate cost savings plan.
McCormick outlook
For its 2022 fiscal year, McCormick said it expects sales growth of 3% to 5% but lowered its adjusted earnings guidance to $3.03 to $3.08 per share from its prior range of $3.17 to $3.22.
"We are capitalizing on the long-term consumer trends that accelerated during the pandemic: healthy and flavourful cooking, increased digital engagement, trusted brands and purpose-minded practices," Kurzius said on an earnings call.
Morningstar's Lash doesn't think the company is sitting still.
"For one, we anticipate McCormick will maintain a stringent eye on its cost structure – extracting inefficiencies and forgoing unnecessary discretionary spend. Further, McCormick is poised to raise prices again in August (after hiking sticker prices twice since the fourth quarter of fiscal 2021)."
Further reading...