Flux price prediction: What is flux?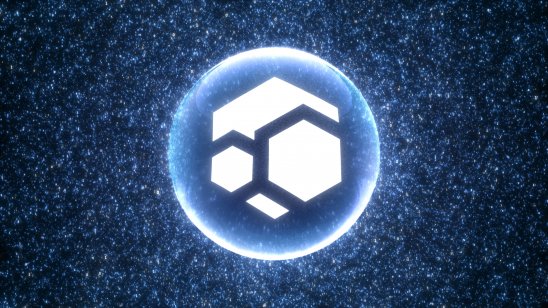 Flux is a platform which aims to use cloud computing to power a system of app development, but what is the flux coin ? Let's take a look and see what we can find out, and also examine some of the flux coin price predictions that were being made as of 3 March 2023.
Flux explained
One of the buzz terms in technology over the last few years has been Web3, the version of the internet which, depending on who you talk to, is either with us already or is about to take over the web. Since blockchains both rely on and promote decentralisation, in a way not too dissimilar to cloud computing , this means that systems can become useful places for people to design and build their own decentralised applications (DApps). Blockchains can also serve as a place for remote file storage, again not unlike the cloud.
One platform that aims to do these things is Flux. This network, founded by Tadeas Kmenta, Parker Honeyman and Daniel Keller in 2018, was originally called ZelCash and created as a hard fork from the ZCash blockchain, but rebranded as Flux in March 2021.
Flux has its own operating system called FluxOS which is based on the Linux operating system. This manages the network by verifying computer power, running, deploying as well as managing the DApps on the network. It also has a wallet called Zelcore and a development program called FluxLabs.
As the flux whitepaper says: "The Flux Ecosystem is a suite of decentralised computing services and blockchain-as-a-service solutions which offer an interoperable, decentralised, AWS-like development environment. Flux utilises a native POW (proof-of-work) coin to power this ecosystem, providing incentive for hardware hosters, governance on-chain, and bad actor mitigation via staking requirements for running hardware.
"Flux node operators can choose from three tiers of hardware requirements to stand up after providing the necessary Flux capital soft-locked in their wallet. This allows anyone to be rewarded for providing hardware to the network, from anywhere in the world."
Every blockchain needs its own native cryptocurrency and Flux has the FLUX coin. The people behind the crypto take part in Flux-based airdrops on other blockchains, which can be accessed using Zelcore's fusion app. People do, however, have to hold FLUX in order to participate in these airdrops. FLUX coin is mined via a proof-of-work (PoW) consensus mechanism. This means that computers solve increasingly complex mathematical equations in order to add more blocks to the blockchain and thus bring new coins into circulation. The coin can be staked, bought, sold and traded. Holding FLUX also enables you to run your own Flux Node on the network, meaning you can earn even more of the coin.
Perhaps most importantly, though, the Flux system has its own blockchain, meaning FLUX is very much a coin. That said, since all coins are tokens, even if not all tokens are coins, references to such things as a flux token price prediction are not, strictly speaking, inaccurate.
Flux price history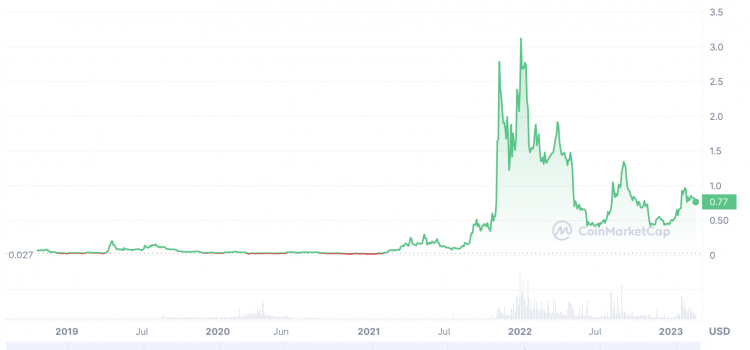 Flux price history from launch to present. Credit: CoinMarketCap
Let's now cast our eyes over the flux price history. While past performance should never be taken as an indicator of future results, knowing what the coin has done in the past can help give us some much needed context when it comes to either making or interpreting a flux price prediction.
Flux first came onto the open market in August 2018, at a time when the cryptocurrency market as a whole was settling down after the bubble of late 2017 and early 2018. At this stage, flux was worth somewhere between $0.02 and $0.03. There was some growth, though, with the coin topping $0.07 in October that year, but it soon settled back down to previous levels. In April 2019, there was excitement in the run up to the launch of the Zelcore+ wallet, and the coin not only topped $0.10 but even broke through the 20 cent barrier. This boom was brief and the coin fell down again and, by the autumn of that year, it was back below the $0.10 mark, where it would stay for more than a year.
Early 2021 was a real boom time for crypto and flux responded well, breaking back through $0.20 in April and reaching a high of $0.3744 on 15 May. After that the market fell down and flux dropped below $0.10 in July, before things got better later on in the year. A market boom in November, sparked by bitcoin (BTC) reaching an all-time high, saw flux explode to new levels, breaking past the dollar on 7 November during a bull run that peaked at an all-time high of $4.17 following the news that it had been listed on the Binance (BNB) exchange. There was a fallback after this and it closed the year at $2.39.
While 2021 was a strong year for crypto, 2022 was a pretty weak year. Flux started well, reaching $3.31 on 3 January, but then it fell down. A series of market crashes saw it spend the summer below the dollar, reemerging in the autumn, before the the collapse of the FTX (FTT) exchange saw it shoot back down and close the year at $0.4638, an annual loss of more that 80%.
Cryptocurrency has made something of a comeback in 2023 and flux's overall position has improved, with the news of its latest halving, a process where the amount of the coin released is reduced, on 8 February helping it to a high of $0.9884 that day. Since then, it has ultimately declined and, on 3 March 2023, it was worth about $0.7645. At that time, there were 227.5 million FLUX in circulation out of a total supply of just under 286 million. This gave the coin a market cap of $213m, making it the 158th largest crypto by that metric
Flux price prediction round-up
With that all out of the way, let's now take a look at some of the flux price predictions that were being made as of 3 March 2023. It is important to remember that price forecasts, especially when it comes to something as potentially volatile as cryptocurrency, can very often turn out to be wrong. Also, keep in mind that many long-term crypto price predictions are made using an algorithm, which means that they can change at a moment's notice.
First, CoinCodex had a rather gloomy short-term flux price prediction for 2023, suggesting that the coin could drop to $0.727130 by 8 March and then continue its decline to reach $0.478091 by 2 April. The site's technical analysis was, fittingly, bearish, with 17 indicators sending downbeat signals against 12 making bullish ones.
Next, DigitalCoinPrice made a flux coin price prediction that suggested the crypto could trade at $1.64 this year before moving to $2.72 in 2025. By the end of the decade, the site said that the flux coin value could stand at $5.58 before it went on to make a flux price prediction for 2030 of $7.78. The site also forecast that flux could break through the $10 barrier the following year to trade at an average of $10.94 before reaching $14.77 in 2032.
Meanwhile, CryptoPredictions.com had a flux crypto price prediction that said the coin could close 2023 at somewhere between $1.03 and $1.04. The site then went on to make a flux price prediction for 2025 that claimed the crypto could start the year at $1.57, reach $1.76 in July and close the year at a potential $1.90 before possibly hitting $2.42 at the end of 2027.
Finally, WalletInvestor had a far more downbeat flux price prediction, with it suggesting investors would have a tough time over the next 12 months. The site said that the crypto could lose a lot of its value in the coming year to potentially trade at a mere $0.0962 by early March 2024.
When considering a flux coin price prediction, it's important to keep in mind that cryptocurrency markets remain extremely volatile, making it difficult to accurately predict what a coin or token's price will be in a few hours, and even harder to give long-term estimates. As such, analysts and algorithm-based forecasters can and do get their predictions wrong.
If you are considering investing in cryptocurrency coins and tokens, we recommend that you always do your own research. Look at the latest market trends, news, technical and fundamental analysis, and expert opinion before making any investment decision. Keep in mind that past performance is no guarantee of future returns. And never trade with money that you cannot afford to lose.
FAQs
Is flux a good investment?

It is hard to say. A lot will depend on how much of a niche the Flux platform can carve itself in the blockchain and cloud computing space. How the crypto market performs as a whole will also have an impact.

Remember, you should always carry out your own thorough research before making an investment. Even high market cap cryptocurrencies can be affected by bear markets. So investors should be prepared to make losses and never purchase more than they can afford to lose.
Will flux go up or down?

No one can really tell right now. Although the likes of DigitalCoinPrice are upbeat in their assessment of the crypto, sites such as WalletInvestor are far more gloomy. Remember that price predictions turn out to be wrong more often than not, and that prices can, and do, go down as well as up.

In volatile cryptocurrency markets, it is important to do your own research on a coin or token to determine if it is a good fit for your investment portfolio. Whether FLUX is a suitable investment for you depends on your risk tolerance and how much you intend to invest, among other factors. Keep in mind that past performance is no guarantee of future returns. And never invest money that you cannot afford to lose.
Should I invest in flux?

Before you decide whether or not to invest in flux, you should do your own research. As well as studying both the flux coin news and the way the crypto works, you should also look at other cloud and DApp-related crypto coins and tokens.

Ultimately, though, this is a question that you will have to answer for yourself. Before you do so, however, you will need to conduct your own research and never invest more money than you can afford to lose because prices can go down as well as up.