Flex office provider WeWork (WE) continues to lose money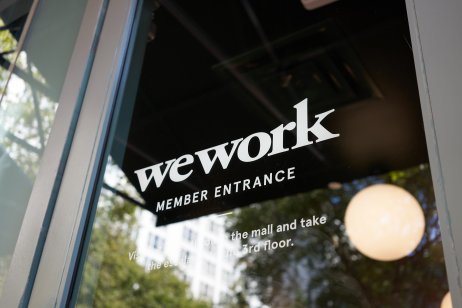 Flex office provider WeWork showed massive losses during its first quarter as a publicly traded company, recording a net loss of $802m (£597.16) but an improvement over third quarter 2020's loss of $941m.
However, during a conference call, company leaders said leasing activities increased during Q3, a sign it's positioned for better earning results as the office space markets bounce back after being nearly decimated by the pandemic.
However, the company's gross revenues declined to $661m during the quarter, down from $811m the same period last year. The company said losses shrank by slashing expenses.
The company reported adjusted EBITDA losses of $356m for the quarter, a $93m improvement compared to Q2 2021 when adjusted EBITDA losses of $449m.
SPAC
WeWork went public in October, after being on the cusp of bankruptcy and cancelling its initial public offering. In 2018, WeWork was bailed out by the Japanese conglomerate SoftBank, now its largest shareholder. The special purpose acquisitions company (SPAC) is known as BowX Aquistions.
According to a company release, the company operations went through $1.5bn of cash during the first three quarters, but company officials said the cash drain is slowing. In Q3, operations spent $380m, less than $618m it spent during Q2. After the SPAC, it has $1.3bn in cash, including $477m available.
High expectations
In 2019 WeWork was the darling of Wall Street. It had a valuation exceeding $47bn with customers that included Apple, Facebook and Google. The company experienced rapid growth during the period, but also chalked up massive losses. Many of its 762 global locations were populated only by empty desks.
Yet, the once most-valued start-up nearly collapsed under questionable leadership and uncertain finances, which led to the IPO being cancelled. For the next couple of years, the company struggled and finally went public in October.
Enter Cushman
WeWork received another lifeline last month when commercial real estate brokerage giant Cushman and Wakefield invested $150m in WeWork. The investment gives the brokerage 15 million shares of WeWork's Class A common stock.
Cushman said as the investment is common sense, as corporations start to bring employees who have been working from home during Covid back to flex workspaces.
Read more: WeWork set to go public on NYSE following successful vote