Five 'killer charts' on how to trade markets in a recession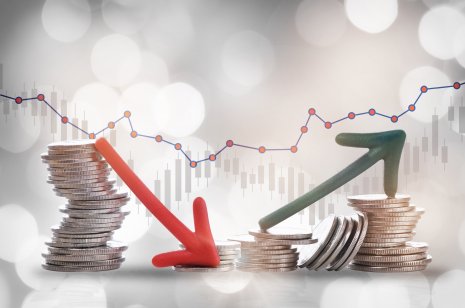 As of May 2022, no major country in the globe is facing a recession, but investors have already begun pricing in the impending effects of an economic downturn.
Indeed, waiting until the official start of a recession to witness its repercussions on the markets is a fatal trap for novice investors.
The role of expectations is the most important variable that governs financial markets, and unless there are unexpected and massive shocks – for instance, the outbreak of Covid-19 in March 2020 – investors always tend to anticipate future economic developments and adhere to a playbook that has been used many times before.
Here are five "killer charts" that show how financial markets trade when fears of an economic recession mount...
1) The S&P 500 index (US 500) anticipates drops in US service sector activity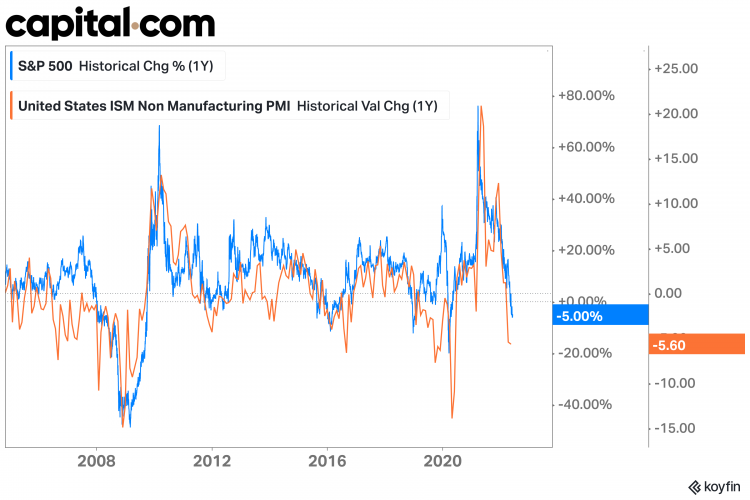 S&P 500 vs US ISM non-manufacturing index: 1-year rolling returns and change – Photo: Capital.com / Source: Koyfin
Historically, the performance of the S&P 500 index (US 500) has been highly correlated with changes in the ISM non-manufacturing PMI index, a gauge of the service sector activity in the United States.
When comparing the rolling 1-year performance of the S&P 500 index to the yearly change in the non-manufacturing ISM index, the two series exhibit the same pattern.
In most cases, however, the S&P 500 index (blue line) moves ahead of the ISM non-manufacturing index.
Before the ISM services index reaches its lowest, the S&P 500 index begins to reverse its downward trend, and it starts to drop before the barometer of services activity reaches its peak.
In any event, even if stock markets tend to anticipate the release of macroeconomic data, paying attention to the development of services activity is a vital compass for recognising S&P 500 index trends.
What is your sentiment on US500?
Vote to see Traders sentiment!
2) Copper prices move hand-in-hand with South Korean exports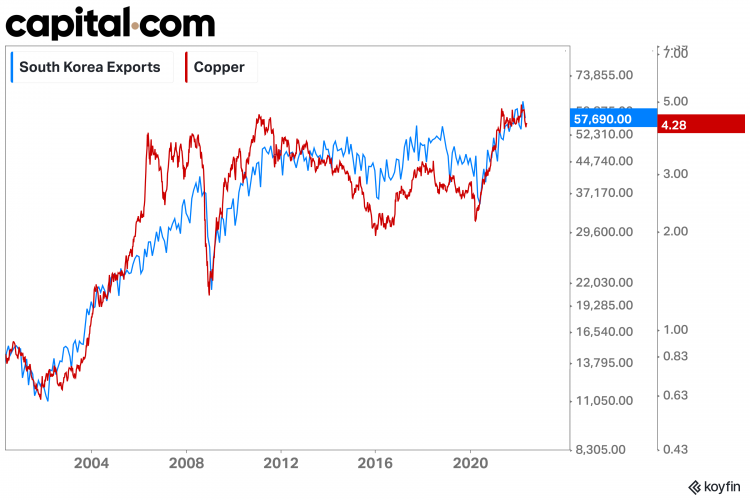 Copper prices are linked to South Korea's exports – Photo: Capital.com / Source: Koyfin
Copper has a strong relationship with the health of the global economic cycle, and exports from Korea are a typical leading indicator of the growth momentum in trade flows.
The chart above shows how copper prices (red line) are tightly linked to the South Korea's monthly exports (in USD mln) (blue line).
South Korea's economy is one of the most open in the world, with 70% of its GDP coming from trade. When economic growth is threatened, copper is one of the commodities that suffers the most, and Korean exports typically reflect the slowdown in global trade.
Copper traders should keep a careful eye on global trade flows and export momentum in South Korea in order to detect any global economic downturn.
3) Long consumer staples/short discretionary before unemployment picks up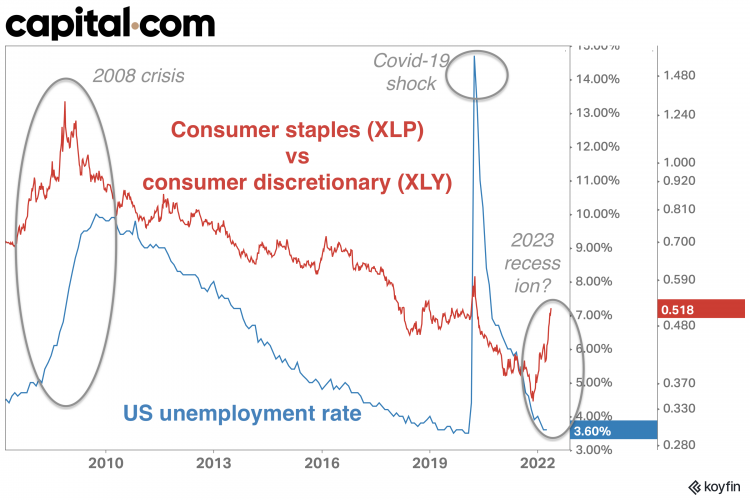 Consumer staples-to-discretionary ratio tends to anticipate a rise in unemployment – Photo: Capital.com / Source: Koyfin
The consumer staples sector (XLP) – which includes firms that produce everyday items like food or personal care goods – tends to outperform the consumer discretionary sector (XLY) – which instead includes firms that produce non-necessary but desirable goods, such as automobiles, linked to income levels – when the economic momentum begins to worsen.
Typically, the staples-to-discretionary sector ratio tends to rise in anticipation of worsening job market conditions, as measured by the US unemployment rate.
This happened before the financial crisis of 2008/2009 and during the Covid shock in March 2020.
The staples sector has recently outperformed the discretionary sector. Is it a sign that the market anticipates a fresh increase in unemployment and, as a result, increased chances of a slowdown in consumer spending?
4) Silver-to-gold ratio and AUD/CHF fall in times of turmoil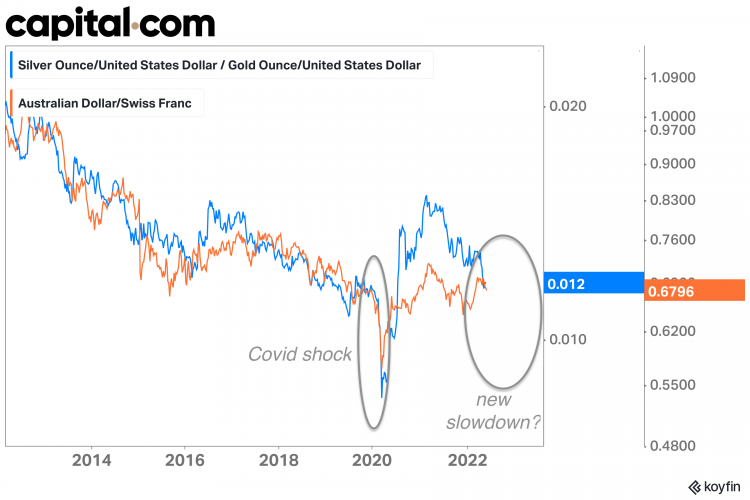 silver-gold ratio vs AUD/CHF – Photo: Capital.com / Source: Koyfin
The Australian dollar-Swiss franc (AUD/CHF) currency pair has a strong link with the silver-to-gold ratio, which gauges the relative strength of one ounce of grey metal versus an ounce of yellow metal.
When there are economic shocks that make investors less inclined to undertake risks, the silver-gold ratio and the AUD/CHF pair tend to fall, since the two serve as barometers for broader market risk sentiment.
5) Oil feeds inflation, but a recession kills oil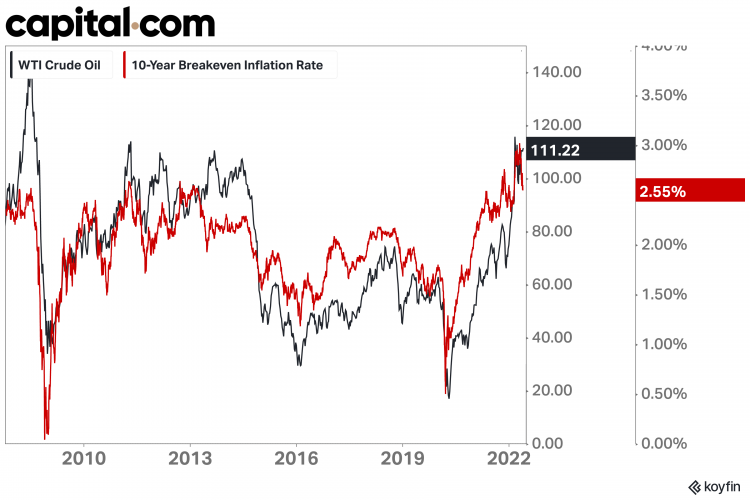 Correlation between oil prices and US breakeven rates – Photo: Capital.com / Source: Koyfin
Oil has an unbreakable link to market long-term inflation expectations, which are generally quantified by the 10-year breakeven rate.
Investors believe that sustained increases in oil prices will lead to greater structural inflation in the future.
This is the reason why, as oil prices rise, the 10-year breakeven rate tends to climb as well, and vice versa.
Energy fuel expenditures, which are also related with transportation and food prices, make up a significant portion of the overall consumer goods basket.
When a recession occurs, or when its scent is in the air, the price of oil substantially drops.
Oil traders must thus keep a careful eye on the breakeven rate's evolution in order to comprehend how the market consensus predicts a slowdown and subsequently profit from falling oil prices.