FedEx (FDX) stock jumps 10% on higher margins, share buyback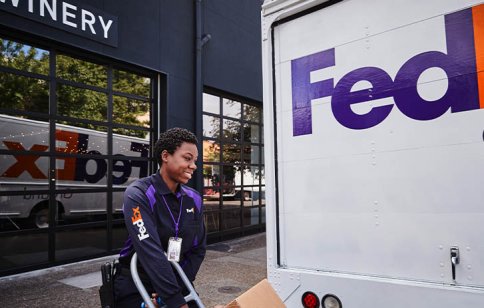 FedEx stock traded nearly 10% higher Friday following upbeat financial performance and a $5bn share repurchase programme, despite higher labour costs and Covid-19-related supply-chain disruptions.
FedEx stock reached a $260.49 session high, up 9.26% from Thursday's $238.42 closing share price, shortly after the opening bell. Shares moved slightly lower in afternoon trading before closing at $250.46, up 5.04% on the day.
Over 8.71 million FedEx shares traded Friday, versus the 2.96 million average daily trading volume, according to data maintained by Yahoo! Finance. FedEx stock trades over the NYSE under the ticker FDX.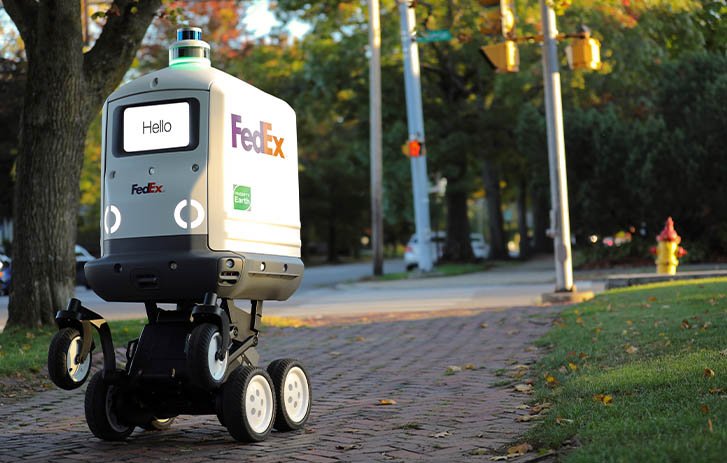 A FedEx delivery bot - Photo: FedEx
Positive financials
After the market close Thursday, FedEx reported $1.30bn net income, or $4.83 per share, in its fiscal second quarter 2022, on $23.5bn in revenue. The quarterly performance outpaced a $4.29 per-share earnings' estimates on $22.4bn in revenue.
Despite the ongoing labour shortages and supply-chain disruptions, FedEx was able to adjust prices to offset costs and benefitted by the Covid-19-related expiration of an aviation excise tax, as well as a $191m boost resulting from favourable guidance provided by the US Internal Revenue Service.
While FedEx estimated $470m in losses due to shipping costs, higher wages and supply-chain disruptions, "These costs were partially offset by higher revenue per package, driven by a service mix and pricing initiatives."
The losses were most prevalent in the FedEx Ground unit, accounting for an estimated $285m.
While daily shipments grew 3%, revenue per shipment increased 14% in the quarter, leading to a 33% increase in operating income and a 14.7% increase in operating margins.
"Strategic investments that we have made to our networks and systems have enabled us to provide critical delivery capacity and supply chain expertise to support the needs of our customers," said FedEx COO Raj Subramaniam in the earnings release.
What is your sentiment on FDX?
Vote to see Traders sentiment!
"Our focus remains on continued revenue quality improvement while managing our cost headwinds and labour availability challenges" ~ FedEx CFO Mike Lenz
Share repurchase
Additionally, FedEx announced a new share repurchase programme totalling $5bn on top of the current 25 million share repurchase programme underway since 2016, which still has 2.30 million more shares to purchase.
"The company's new share repurchase programme demonstrates our expectation of strong profit and cash-flow performance in FedEx's fiscal second half, and our commitment to delivering long-term value for stockholders," said FedEx CFO Mike Lenz in the earnings release. "Our focus remains on continued revenue quality improvement while managing our cost headwinds and labour availability challenges."
As part of the overall share repurchases, FedEx announced $1.50bn in accelerated share repurchases, of which 80% will be completed upon the programme's inception. The share repurchases are scheduled to be completed before the end of FedEx's fiscal year on 31 May.
The new repurchase programme will be funded with $6.80bn in cash on hand at quarter end. Through its 2022 fiscal year, FedEx has repurchased roughly $750m of its stock.
Revised outlook
Going forward, FedEx expects continued growth in US production and global trade supporting financial performance, assuming no additional Covid-19-related shutdowns.
As a result, FedEx released revisions to its previous full-year 2022 outlook, with earnings in a $18.25 to $19.25 per-share range on $20.50 to $21.50bn in revenue. The new guidance is a slight decline from previous guidance of $18.25 to $19.50 per-share earnings on revenue higher than the previous $19.75 to $21bn range.
Read more: FedEx (FDX) stock forecast: uncertain outlook amid rising labour cost