Fed, the dollar and the stock market: Beware of FOMO – 5 charts to watch
Subscribe to Weekly Highlights
The major market events for the week ahead right in your inbox.
Subscribe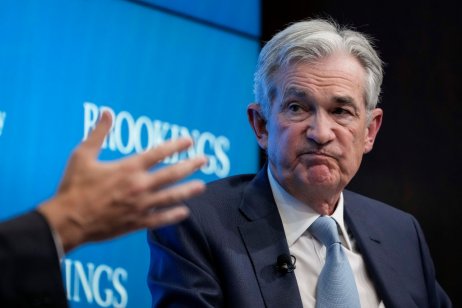 Content
Investors' "fear of missing out" feeling has resurfaced over the past weeks as Fed officials signaled the need to slow the pace of rate hikes, causing the dollar to fall and riskier assets to rally sharply.
The market is effectively questioning the Fed's ability to overtighten as the economy and inflation data show the first signs of a slowdown, despite Fed Chair Powell's pledges that there is still room to hike, that interest rates will peak at a level higher than September's Fed projections (4.6%), and that restrictive conditions will be maintained for longer to avoid repeating the same mistakes of the past.
Following October's lower-than-expected US CPI figures (7.7% y/y vs 8% predicted), producer price inflation also dropped (0.2% m/m vs 0.4%), job vacancies fell by about 300k to 10.3 million, and the Chicago PMI plummeted to recession-like levels (37.2 vs 47 expected).
Expectations of future interest rate hikes from the Fed have been lowered in response to the most recent set of data. Fed funds rates are now expected to peak at 4.96% in May 2023, with investors anticipating an almost 40 basis point of CUTS in the second half of 2023, as the table below shows.
Fed rates expectations: Market is pricing cuts in H2 2023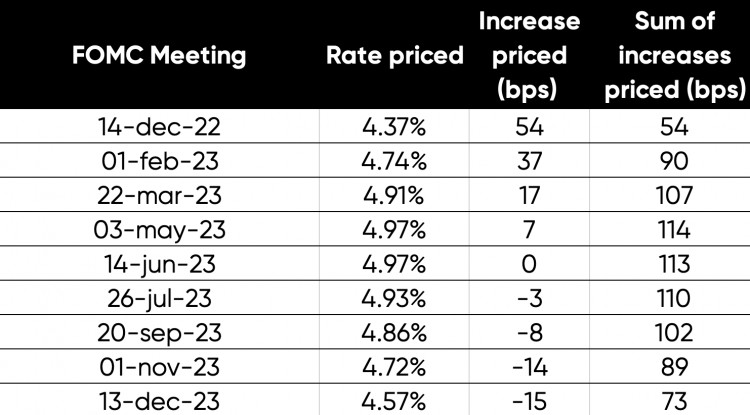 Fed interest rates: What is the market pricing in? Data: Tradingview
As prospects for Fed rate hikes slowed, yields differentials between the US and the rest of the G7 narrowed, causing the dollar to fall against other majors, particularly versus the Japanese yen (USD/JPY), the euro (EUR/JPY), and the pound (GBP/USD), which had been the forex laggards in 2022.
The worst-performing currency year-to-date, the yen, has risen 10.5% since mid-October lows, posting its strongest month since June 2013.
The euro climbed 10% after dropping as much as 17% from January to the end of September, on pace to achieve its highest quarterly gains since Q3 2010.
The pound enjoyed a spectacular 18% gain from its low of 1.0340 on September 26 to its current value of 1.225, marking its strongest quarter since the second quarter of 2009.
What is your sentiment on US500?
Vote to see Traders sentiment!
FX market: Dollar declines are widespread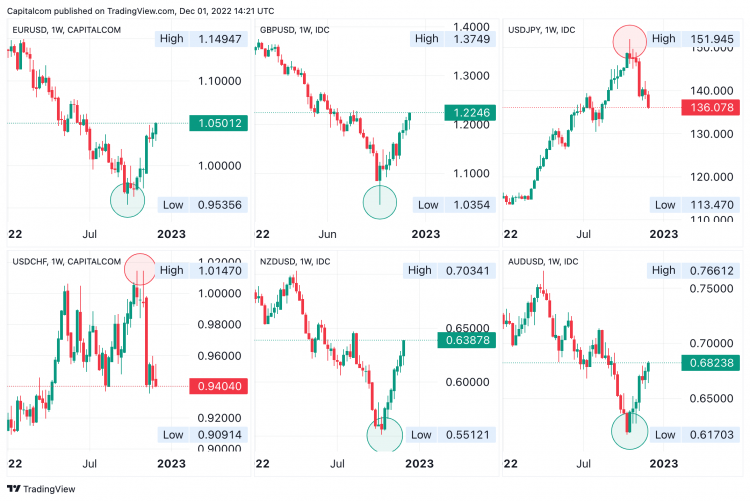 Performance in major currency pairs during 2022 – Photo: Capital.com, Source: Tradingview
Bad economic news is, in this particular context, good news for bonds and stocks since a recession or a slowdown is regarded the solution to bring inflation and rates down.
As rates declined across the yield curve, the value of Treasuries rose, particularly at the longer end of the curve.
Since its lows on October 24th, the US long bond (30-year Treasury) has risen 37% in price. The 10-year Treasury note climbed nearly 20% as rates plummeted 70 basis points from 4.33% to 3.6%.

Further inversion of the Treasury yield curve also occurred, with the gap between the 10-year and 2-year yields reaching a record low of -70 basis points for the first time since September 1981.
Bond market is pricing in an imminent recession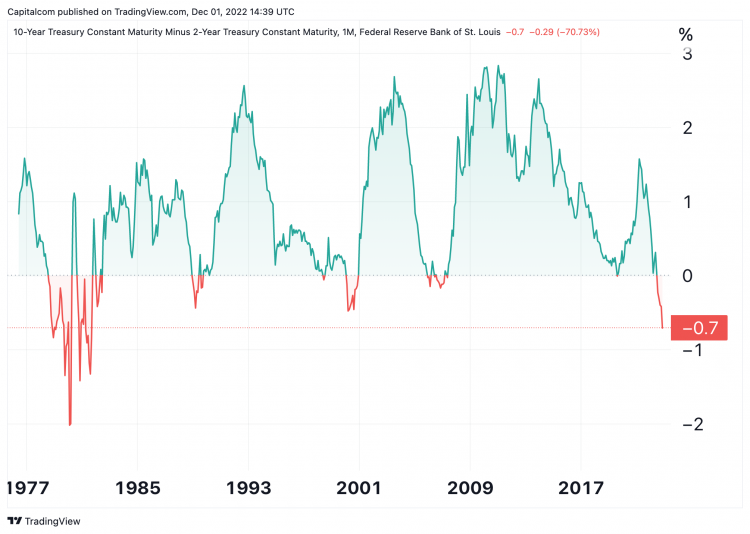 US yield curve inversion (10y-2y spread) at the highest since September 1981 – Photo: Capital.com, Source: Tradingview
As rates had been the death knell for risky assets throughout 2022, recent swings have provided considerable respite to equities markets, with the S&P 500 (US 500) recovering above 4,050 points and smashing both its 200-day moving average and the 2022 bearish trendline. The broader US stock market has surged 17% since its bottom on October 13.
Bear market rally in equities rages on: S&P 500 breaks key resistance levels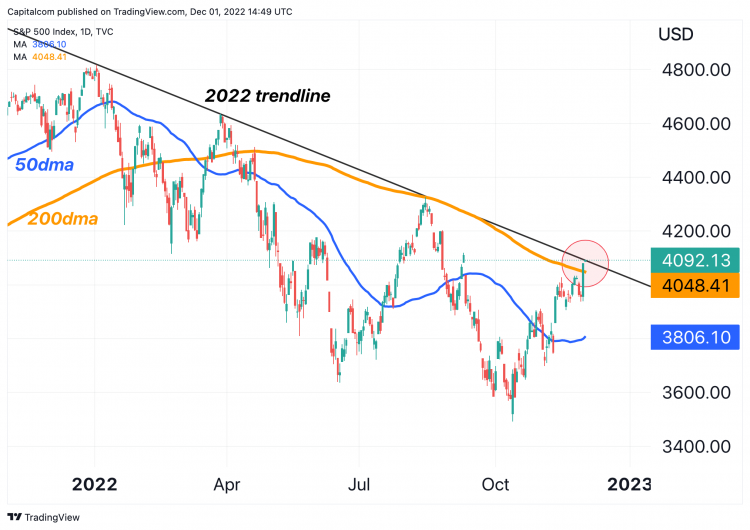 S&P 500 daily chart: price action testing 200dma and 2022 trendline – Photo: Capital.com, Source: Tradingview
What's next? Euphoria magnifies even little data disappointments
Markets are showing signs of excessive enthusiasm as all the positive news appears to have been priced in, leaving space for unwelcome surprises, in my opinion.
Currently, 92% of S&P 500 companies are trading at a price above their 50-day moving average. This is a level that has historically preceded a turnaround, so investors should exercise cautious at these levels.
Share of S&P 500 stocks trading above 50-day moving average – Photo: Capital.com, Source: Tradingview
Despite some early encouraging signs, the fight on inflation is far from done. Before we can see a clear downward trend in inflation towards the 2% objective, I believe we must first see a period of below-trend growth and rising unemployment. Inflation risks continue due to labour market tightness, rising wages, unresolved geopolitical worries in the global energy market, and stickier-than-expected service inflation. That is why the Fed wants to maintain interest rates low for longer.
There are still important risk events between now and Christmas in a market characterized by strong bullish momentum, including US non-farm payrolls, US November CPI, and seven G10 central bank meetings.
As the year comes to a close, institutional investors may begin to take profits or reduce losses on this bear-market surge, resulting in some abrupt price reversals.