Faster tapering, 2022 rate hikes on the Fed's agenda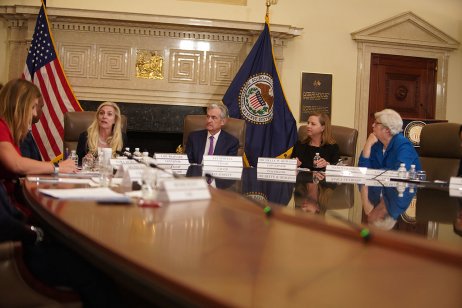 Analysts are predicting the US Federal Reserve will increase the pace at which it reduces its purchases of Treasury and mortgage securities when the Federal Open Market Committee (FOMC) meets this week.
This reduction in purchases – a process known as tapering – is already under way after the FOMC agreed in November to begin paring back its purchases by $15bn (£11.3bn) a month. Its $120bn of purchases would decline to zero by June.
Now, with inflation hitting new highs not seen since the 80s or 90s, analysts at Bank of America said the Fed could double its taper pace to $30bn a month at its meeting this week.
"The Fed has all but pre-announced a faster taper," Bank of America economists said in a report provided to Capital.com. "Chair Powell and several Fed officials made an 11-hour hawkish pivot in their communication before the blackout period, with Chair Powell wanting to 'retire' the word transitory when talking about inflation and explicitly stating they would consider tapering faster".
Pick up the pace
A doubling of the taper pace would set the Fed up to conclude its purchases in March 2022 and open the door to initiate rate hikes at that time as well.
A more moderate approach would be a 50% increase in the pace to $22.5bn a month, which would have that taper process complete sometime in April, according to Andrew Brenner, head of international fixed income at boutique investment firm National Alliance Securities.
While analysts mostly agree the Fed will make some sort of hawkish turn to increase the pace of tapering, there are some who are more dovish and want to see no changes made and the current plan play out.
They argue Covid-19 cases are surging in part due to the Omicron variant and that the economy could use the continued support if there are more lockdowns. The jobs market also has not returned to pre-pandemic levels – non-farm payroll employment rose by just 210,000 in November missing analyst estimates of 573,000.
Inflation causes a response
The expected change in approach is mainly driven by a rise in inflation expectations.
Headline consumer price index inflation hit a 39-year high of 6.8% year over year in November and core inflation (eliminating volatile energy and food prices) hit a 30-year high of 4.9% in that same period, according to a report from the US Bureau of Labor Statistics released earlier this month.
"Inflation data continues to come in hotter and based on commentary from our analysts, companies seem to be having no problem passing it along to customers, keeping inflation sticky on the upside," Morgan Stanley analysts wrote in a note sent to Capital.com. "With Omicron now looking like a lower risk to growth than two weeks ago, this only raises the probability that the Fed will indeed taper its asset purchases much faster than the last tapering episode in 2014".
Rate hikes approaching
This week's meetings will conclude on Wednesday with a press conference and a release of the "dot plots," or a poll of the FOMC members on issues such as when they expect rates to rise.
Bank of America predicts the dot plots will show FOMC members are largely behind two 0.25% rate hikes in 2022 and three hikes in both 2023 and 2024. That would mark a big swing in sentiment compared with the September meeting when just three of the 15 members were calling for such a hike next year.
The most hawkish predictions say the Fed could show an inclination to raise rates three times in 2022, while a more dovish Fed would remain in the one-to-two times range, Brenner said.
While rate hikes are generally expected to bring about a slowing economy in their aftermath, research from Deutsche Bank suggests growth will continue to be high for the first year after rate hikes are implemented.
On average, real gross domestic product growth in the first year of the hiking cycle was plus 4.8%, but that slowed to plus 2.7% in the second year and plus 2.1% in the third year, according to a Deutsche Bank report provided to Capital.com.
"Statistically, it does appear that 2022 has a very low probability of negative growth," Deutsche Bank analysts wrote. "However, the probabilities will build from 2023 onwards if history is to be believed".
Read more: Fed maintains flexibility as it sets out on taper strategy