Facebook boosts earnings amidst controversies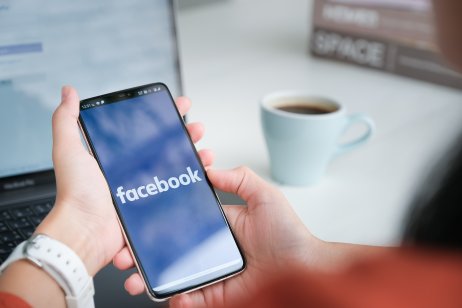 Facebook's share price rose more than 3% on Nasdaq in after-hours trading Monday as the US social media giant reported an earnings increase.
Facebook boosted its profit 17% to $9.19bn (£6.68bn) in its latest fiscal quarter from $7.84bn a year earlier, according to the company's latest earnings report.
The rise, which beat analyst expectations, according to Refinitiv, came as Facebook is batting a number of controversies tied to privacy breaches and whistleblower allegations that the company puts profits ahead of people.
"False picture"
CEO Mark Zuckerberg became emotional as he defended the company's track record during a call with analysts. He said large companies should be scrutinised, but Facebook's critics have used leaked documents to "paint a false picture" of the company.
"The reality is that we have an open culture where we encourage discussion and research about our work so we can make progress on many complex issues that are not specific to just us," he said. "We have industry-leading programs to study the effects of our products and provide transparency to our progress."
The company's decisions are designed to balance issues such as free expression or strong encrypted privacy with support for law enforcement or locking down data as much as possible.
Safety and security investments
"It makes it a good sound bite to say that we don't solve these impossible trade-offs because we're just focussed on making money. But the reality is, these questions are not primarily about our business, but about balancing different difficult social values. And, I repeat calls for regulation to provide clarity because I don't think companies should be making so many of these decisions ourselves."
He said the company has made "massive" investments in safety and security with more than 40,000 people and is on track to spend more than $5bn in that area in all of 2021.
Facebook has also established a new independent model for academic researchers to access data safely, and Zuckerberg called the company's controversial oversight board "a model of self-regulation."
Revenue up 35%
Facebook's revenue jumped 35% year-over-year to $29.01bn from $21.47bn, but fell below the $29.57bn expected by analysts, according to Refinitiv.
The company announced plans to spin Facebook Reality Labs (FRL) into a separate financial reporting segment in the fourth quarter of the current fiscal year. FRL develops augmented reality and virtual reality products along with hardware.
The company's other revenue segment will cover Facebook, photo and video sharing social media site Instagram, and Messenger and WhatsApp communication tools.
Focus on youth
Zuckerberg said the switch will provide investors with "additional visibility" into the company's augmented reality and virtual reality segments. But the switch will reduce Facebook's operating profit by $10bn.
The company will also direct its focus to young users in the wake of allegations by a whistleblower, former Facebook employee Frances Haugen, that the company faces a sharp drop in youthful users.
Read More: Tesla shares swell to a new $1trn valuation high
The difference between stocks and CFDs
The main difference between CFD trading and stock trading is that you don't own the underlying stock when you trade on an individual stock CFD.
With CFDs, you never actually buy or sell the underlying asset that you've chosen to trade. You can still benefit if the market moves in your favour, or make a loss if it moves against you.
However, with traditional stock trading you enter a contract to exchange the legal ownership of the individual shares for money, and you own this equity.
CFDs are leveraged products, which means that you only need to deposit a percentage of the full value of the CFD trade in order to open a position. But with traditional stock trading, you buy the shares for the full amount. In the UK, there is no stamp duty on CFD trading, but there is when you buy stocks.
CFDs attract overnight costs to hold the trades, (unless you use 1-1 leverage)which makes them more suited to short-term trading opportunities. Stocks are more normally bought and held for longer. You might also pay a stockbroker commission or fees when buying and selling stocks.